*This post is also available in: Español
Zebra Fisgona hosts a complete portfolio of tours in Bogotá for travelers looking to get off-the-beaten-path and experience this vibrant city with a local. 
During a recent "staycation" in the historic La Candelaria neighborhood of Bogotá, I was stressed trying to find a tour that wasn't a tour if you know what I mean. Something that wasn't with a big group of people involving megaphones where the guides simply recite a script. Something that feels impactful at the end. Something that was so good I have to tell every person I meet they need to do this experience. I wanted to do something unusual, weird, exotic…then I found Zebra Fisgona (zebrafisgona.com). 
---
Meet Zebra Fisgona  
Zebra Fisgona (translates to the curious zebra) is definitely an unusual name. It's so unusual that you need to be specifically searching for unique tours in Bogotá to stumble upon their webpage. The clients they attract are searching for something different. You'll find them if that's what you're looking for. 

The company was founded by duo Juanita and Alejandra with a mission to show visitors the real Bogota. They've created a number of unique experiences, hosting tours themselves, and partnering with other local entrepreneurs that immerse you into local life in a city that can be hard to understand. You'll get to see the streets through their eyes, hearing their personal stories instead of a script, while going at a comfortable pace that feels like you're with an old friend you haven't seen in ages. 
---
Our intro to La Candelaria 
Since I was on a mission to get to know the La Candelaria neighborhood, their "Perfect Introduction to Bogota at La Candelaria Tour" fit the need of what I was looking for. With a quick confirmation of availability, I was confirmed for the tour.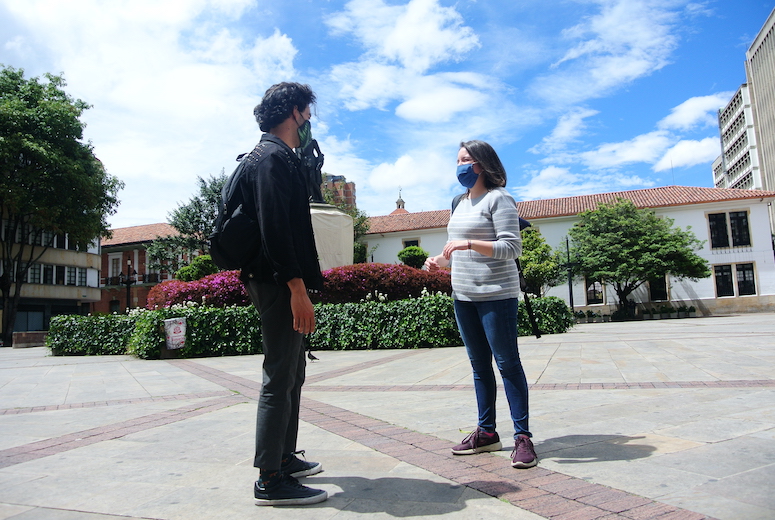 Juanita was our guide for the day and was early to meet us at Plazoleta del Rosario. We were both excited as this was her first tour since the pandemic started and as a tour guide myself, I was excited to have a real experience of this part of the city.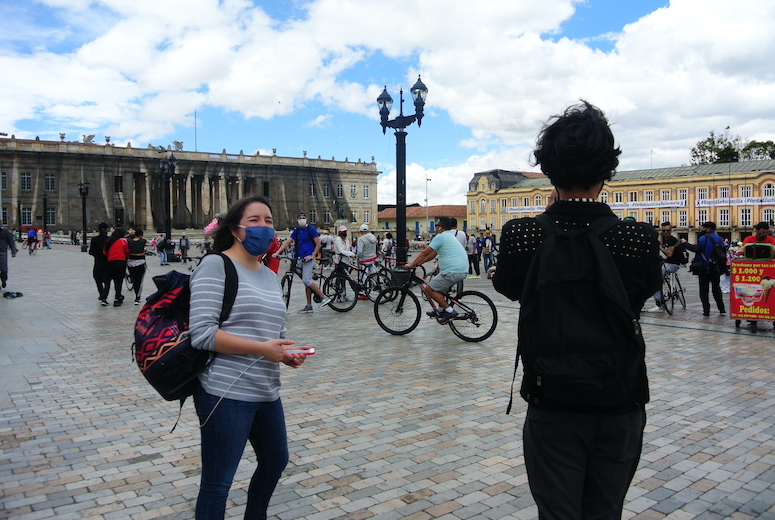 After talking and laughing, she got down to business and we officially began our intro to the neighborhood with some serious subject matters. Colombia has a complicated and violent political history and we started with the murder of political leader Gaitan. The way she told us the story didn't feel scripted but brought the history to life and you could imagine it all happening right then and there. 
She then took us to parts of La Candelaria that I had never been to before, exposing the secrets that only locals would know. We visited architectural gems and got recommendations on fabulous cafés and restaurants to visit later on. There were lots of great photo moments and quick historical facts along the way. She also offers an additional tour that includes a cacao and coffee workshop you can do on certain days that I would recommend as well!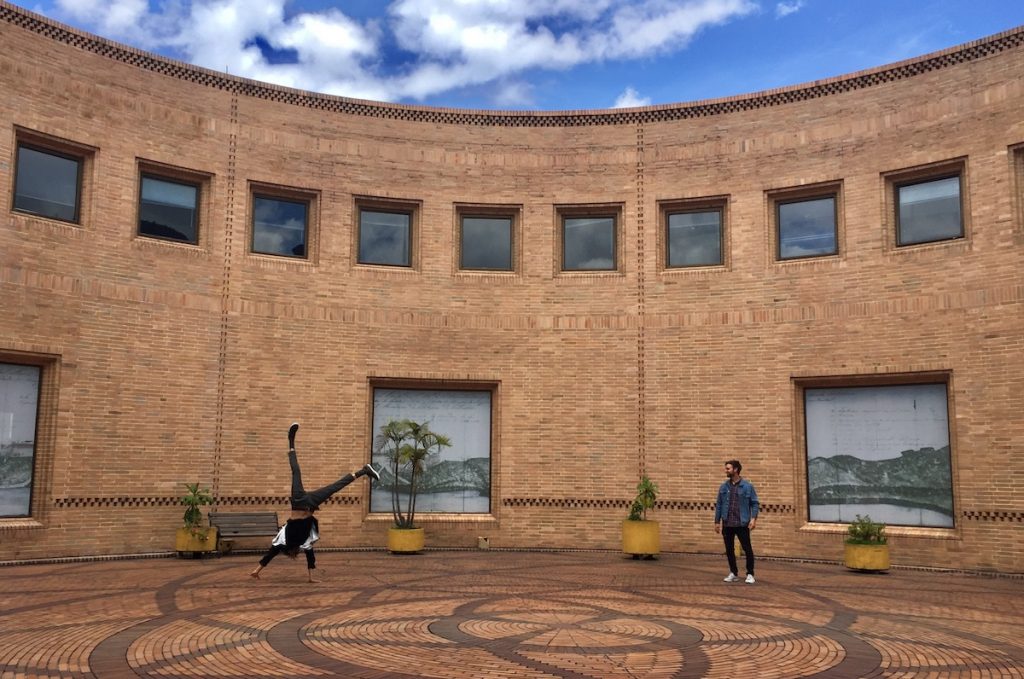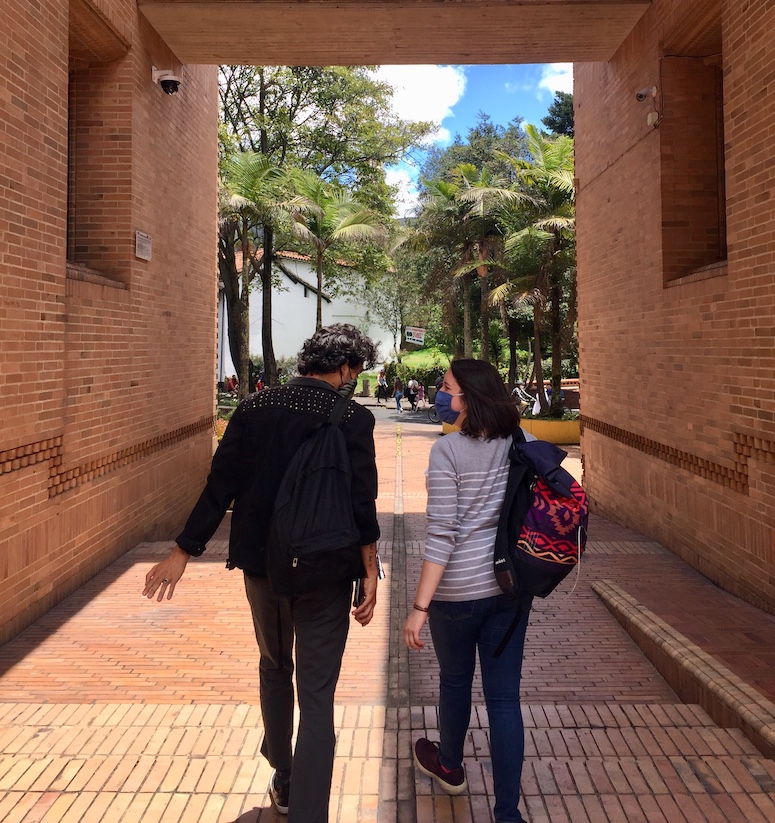 The most impactful moment of the tour is visiting Fragmentos, a gallery designed by Colombian artist Doris Salcedo and built by female victims of the conflict in Colombia. I won't ruin this moment for you, so it's just something you have to experience.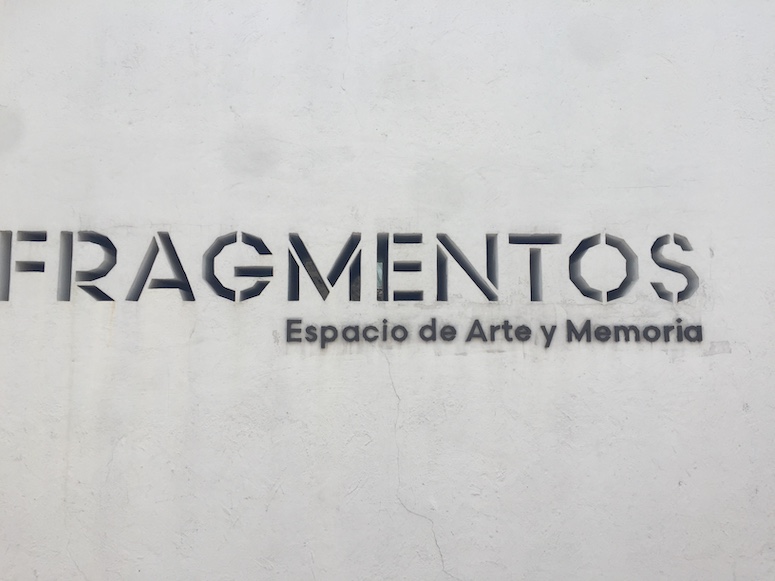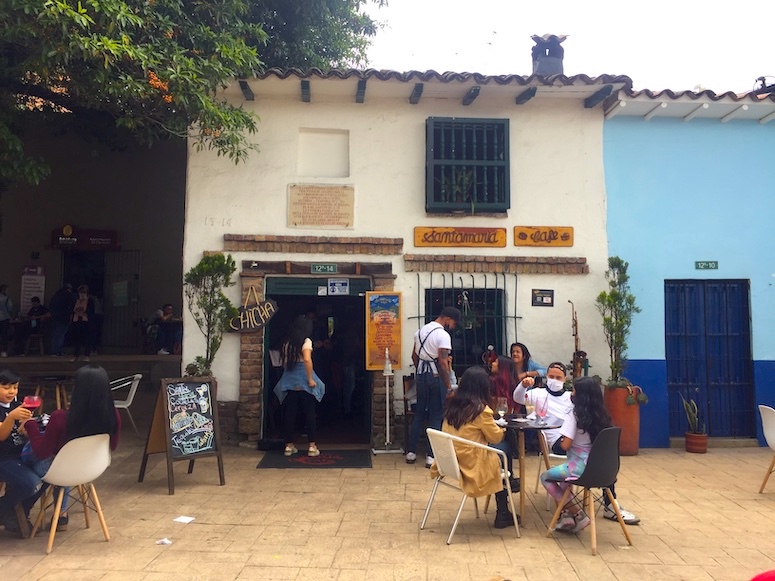 The 3-hour tour goes by fast and we ended in Chorro de Quevedo, where it all started in Bogotá. I loved how personal this tour was and that Juanita offers the flexibility to do what you want at your own pace. We may have hired a friend for the day at first, but now we have a new friend in Bogotá. 
---
Experience more of Bogotá 
The tour of Candelaria that we did is just one of many experiences in the portfolio of Zebra Fisgona because there is so much more to discover in Bogotá! Here are a few of the other top experiences to sign up for: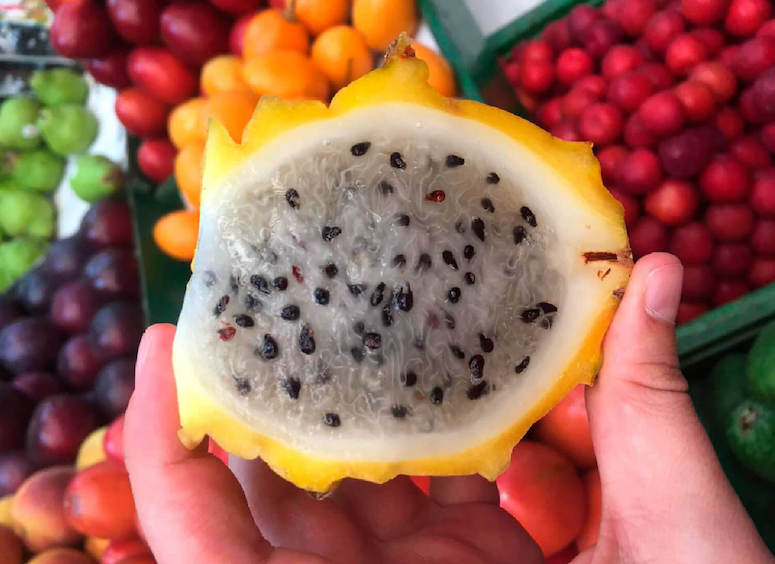 Bogota's Kickstart Tour: La Candelaria with Cacao & Coffee Workshop: Welcome to Bogota! Start your trip in our city in the best possible way. This private tour acquaints you with the hotspots and hidden gems of La Candelaria, our historic district, its colonial streets, colorful houses and hidden stories. Mix all of this up with a Cacao & Coffee Workshop and Tasting at a shop located in the heart of this magical place. This private tour combines the best of what Bogota has to offer in just 4 hours!
Bogota's Anti-tour! Farmer's Market, Hip area & coffee or beer tasting: This is a private, fully immersive, and of the beaten path tour. Here you will not only discover hidden gems and hip neighborhoods but also experience the real life of Bogota at the spots where locals actually hang out, as you enjoy insightful storytelling. We boost this day with a coffee or beer tasting at great hidden spots!
Hiking at the Andes Mountains from Bogota: Chingaza National Park: Fresh air, indigenous mysteries and breathtaking landscapes at the Andes Mountains Range!Welcome to Chingaza National Park, a place to forget about the city and reconnect with nature as you explore the natural wonders of this unique ecosystem, find only in 5 countries! Join us on this Private Day Tour to Chingaza, our favorite natural spot, just 2 hours away from Bogota!
For the Love of Coffee! Authentic Coffee Farm Experience from Bogota: Looking for an authentic coffee farm experience near Bogota? Get your coffee-lover buds dancing, cause we have the perfect private tour for you! Discover the secrets of Colombian coffee and all the steps that lead to the perfect cup. All by the hand of coffee growers, who will take you into their coffee plantation and make you part of their daily activities.
Shanty Town Tour in Bogota: Graffiti Art & Social Change: Would you like to discover an inspiring story during your visit to Bogota? Be part of the positive transformation of El Codito, a well-known shantytown located northeast of the city. This graffiti tour is lead by community leaders, strong hardworking women who found in this art a way to change the neighborhood and wellbeing of its inhabitants, specially the youth. Walk with us, as you discover the stories hidden on the amazing murals and people. Astonishing art, powerful messages, fun, and heart moving experiences are what you should expect on this private graffiti tour to Codito.
Rent a Friend: Discover Bogota in your own way: Looking for a personalized experience in Bogota? Rent a local friend by day or night, and enjoy our city in your own way. This option has been designed to meet your needs and desires. So, tell us about yourself, your preferences, and what you would like to do or see, so we can choose the ideal person to go with you. Your friend will give you a lot of recommendations, but, at the end of the day, you choose what to do, where to go, and when to end.
---
Is Zebra Fisgona for you?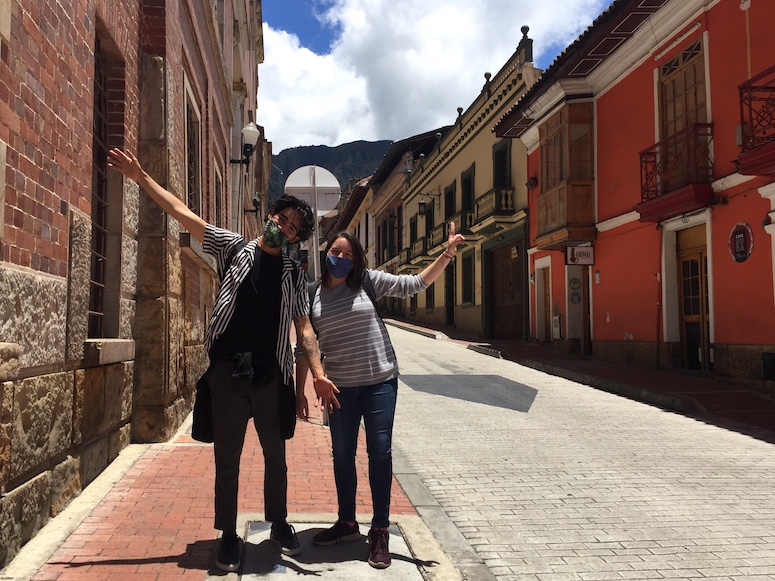 If you're into leaving Bogotá with an authentic and meaningful experience, Zebra Fisgona is for you. It truly feels like having a friend show you the city and they are a "zebra" amongst the many tours you can choose to do here. 
Ready to experience Zebra Fisgona? Reserve your spot here.
For more information on Zebra Fisgona, visit their website zebrafisgona.com and be sure to follow @zebrafisgonatours on Instagram and Facebook for their latest updates. 
*This post is also available in: Español