*This post is also available in: Español
Cartagena is easily the most visited city in Colombia and once you visit you can see why. The famous walled city is filled with charming Spanish colonial buildings, year-round hot weather, gorgeous boutique hotels & hostels, and remote islands that you can visit for the day.
However, I honestly did not love Cartagena the first time I went. I found it to be too crowded with tourists, too expensive, and I was constantly harassed by people trying to sell tours and sunglasses. I decided to give it a second chance and I am glad I did! I learned from mistakes during my first trip, did a bit more research the second time, and found some hidden gems that will make you fall in love with the city as well.
Here is my guide on how to properly visit Cartagena, Colombia.
---
Things to know before you go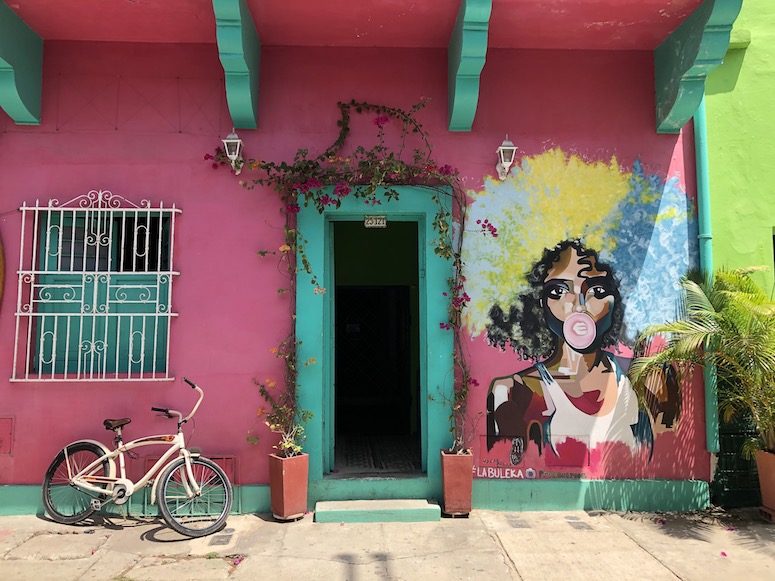 Getting there: If you're coming from Bogotá, you need to fly. The budget airlines Wingo and Viva Colombia have direct flights as well as Avianca and Latam. Avianca is my personal favorite out of those options and you can typically snag a one-way flight for $30 USD. There are also tons of direct flights to Cartagena if you're coming from the states.
When to go: If you want to avoid the crowds, don't go to Cartagena on the weekend. This is what I learned between the first trip and the second trip because Cartagena is where Colombians go for a weekend getaway, especially if there is a holiday. If you have the flexibility to be there during the week it will make a huge difference in terms of overall crowdedness.
Cost of taxi from the airport to Cartagena: You'll be glad to know that Uber does work in Cartagena so you can use the app to get a ride to and from the airport. Uber will cost approximately 18,000 pesos or a taxi will approximately 12,000 pesos. There is an electronic kiosk after you exit customs where you can enter the address of where you are staying and it will print off a ticket showing the correct price so you do not get ripped off.
Drinking water: The water luckily is drinkable on the mainland in Cartagena so you don't need to worry about this making you sick. However, don't drink the tap water if you're staying on an island unless otherwise told it's ok.
Cash and ATMs: Since Cartagena caters to tourists you will find plenty of spots to exchange money or use an ATM.
It's HOT: Expect Cartagena to be hot & humid all year. The temperature never really varies and it will feel 32°C during the day and 24°C at night. There is very little rain from December to April and then May to November experiences the heaviest rainfall. However, it's a tropical climate so it will normally only rain for about an hour and then the sun comes back out.
Other resources: LureCartagena.com is a valuable resource for the finding out the current hotspots on where to eat, stay, and what to do in Cartagena.
---
Where To Stay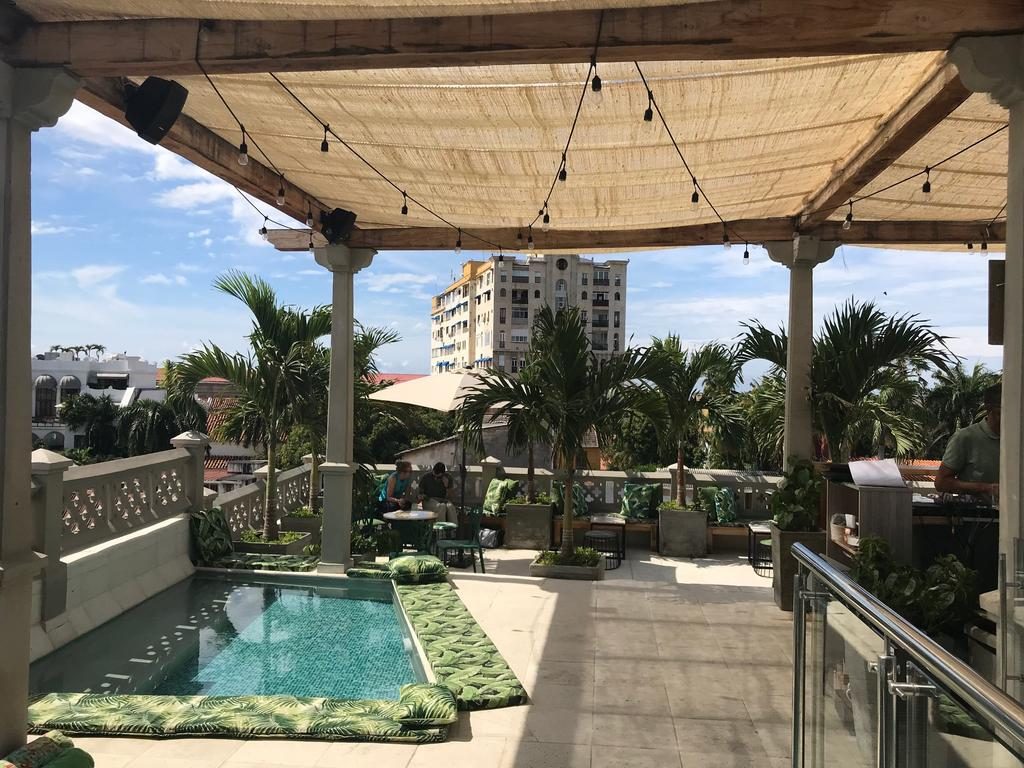 There are a few main areas to stay within Cartagena including the historic walled city, the local and bohemian Getsemani neighborhood, and the modern high-rises in Bocagrande. Here are are a few of my top places to stay – no matter what your budget is.
Townhouse ($$$): This boutique hotel boasts tropical style and one of the best rooftops you'll find in Cartagena. The rooftop has two small lounge-style swimming pools with an amazing restaurant and cocktail bar as well. The location is also in the heart of the historic center with lots of action around.
---
Casa Lola ($$$): Casa Lola is set in the middle of the relaxed and local Getsemani neighborhood and features luxurious tropical decor, a rooftop pool, and amazing staff that cater to any of your needs. The hotel also has a delicious breakfast included.
---
Fenix Beach ($$): If you want an island escape that's still close to the city of Cartagena, check out Fenix Beach. This boho-chic tropical oasis is only a 10-minute boat ride from Cartagena but feels a world away. The property has a pool, restaurant, basic accommodation, and lots of Instagramable photo spots.
---
Soy Local ($$): If you're looking for the amenities and style of a boutique hotel without the price tag, Soy Local is where you want to be. The location is right in the middle of Getsemani and features a gorgeous rooftop pool area to cool off in the Cartagena heat. Delicious breakfast is also included in the price.
---
Republica ($): Republica offers affordable and stylish accommodation in the center of Cartagena with shared dorms starting around US$12 / night and private rooms for US$70 / night. The property has two swimming pools, a restaurant, bar, and social activities each night.
---
IslaBela ($$$): This gorgeous eco-hotel is a MUST-STAY for one night if you want to have a private, beautiful beach experience in the Rosario Islands. There are currently five cabins available, starting at $315.000 COP/night ($90 USD) with breakfast and free kayak usage included in the rate. The natives of the island are actually co-owners of each bungalow and they receive 50% of the profits when guests stay at their particular bungalow as part of IslaBela's philosophy to benefit the local community. Each cabin is equipped with a queen bed, private bathroom, fan, and solar-powered energy.
Selina ($$): Amid the late-night salsa bars and cantinas of Getsemani's historic neighborhood, Selina Cartagena's restored colonial building is complete with two outdoor swimming pools, a rooftop terrace, cowork space, bar, courtyard lounge, and a seafood restaurant that serves Colombian dishes daily. Plus, the private suites and community rooms are decorated with modern furniture and locally designed murals.
---
What to do 
Walk around the walled city: The highlight of Cartagena, and why most people visit, is to see the famous walled city. The charming and colorful streets are perfect for taking photos stopping in cute cafés & shops along the way. You can obviously wander around on your own, but joining a free walking tour is a great way to hit up some of the main sights efficiently.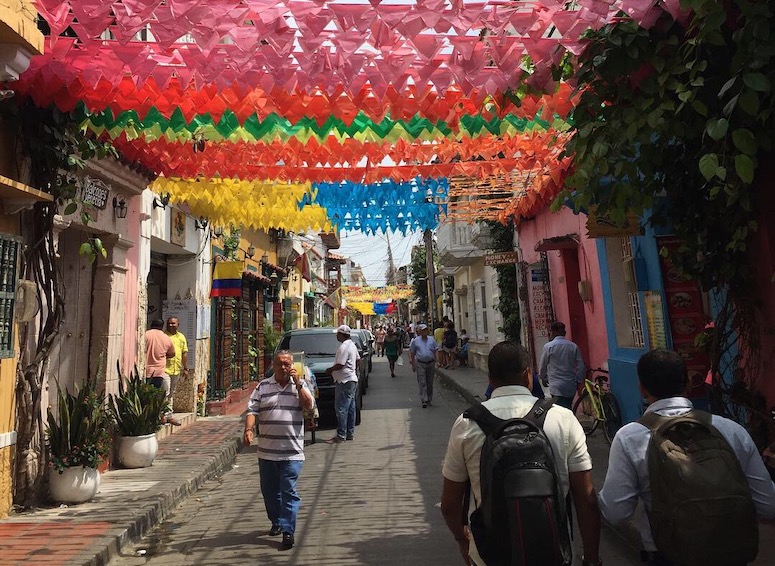 Then explore Getsemani, the local side of Cartagena: Just outside the tourist crowded walls of Cartagena is Getsemani, a little neighborhood where local life and tourism collides. This neighborhood is filled with vibrant murals that are perfect photo opts, local street vendors, and cafés & restaurants that are much more affordable than the walled city. The heart of Getsemani is Plaza Trinidad and is where tourists and locals gather in the evenings to watch street performers. While in the plaza be sure to try some empanadas (you'll see the massive cart full of them) and other street food.
Go on a street food bike tour: This unique street food tour will be conducted on a bike with a professional tour guide and team making sure you feel relaxed, and most importantly, that you will not go home hungry. The tour starts in Getsemani and follows a well-thought route around the old city, accompanied by traditional Colombian snacks. Biking at a relaxed pace gives you time to enjoy the views and still see all of the old city. Visit THIS LINK to reserve your spot.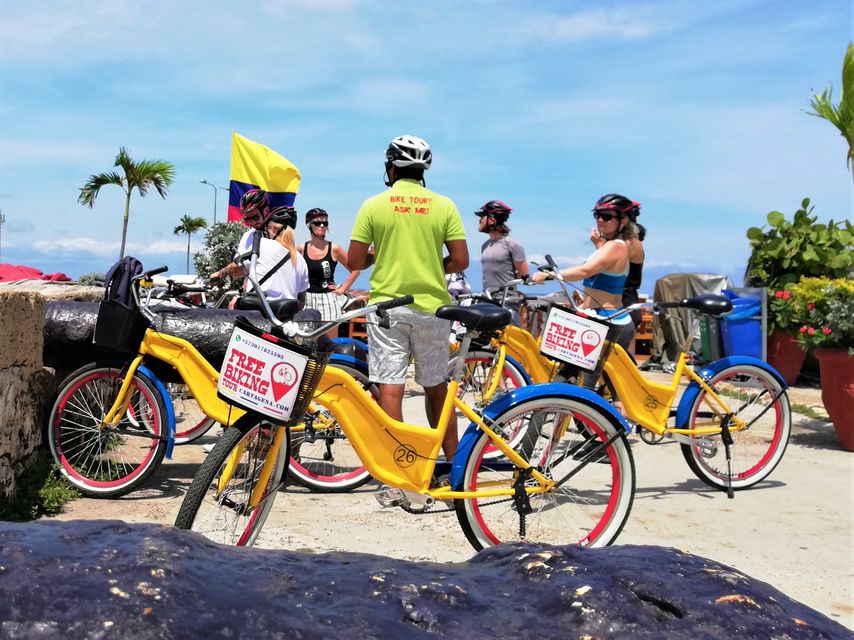 Sail on a catamaran: If you want to spend a luxurious day on a catamaran you can join the sailing day trip offered by Bona Vida Catamaranes. They take you around the bay and Rosario Islands where you can enjoy lunch on the boat and snorkel. If you don't have time for a full day of sailing, you can also enjoy a 2-hour sunset cruise. Or if you are traveling with a group you can rent a private boat to ride around the islands in style.
Take a mud bath in Colombia's tiniest volcano: Taking a mud bath inside the El Totumo "volcano" is a quirky tourist activity in Cartagena to add to your bucket list. I originally did a tour here and I would not recommend going with a tour group because it's super crowded and was a waste of time picking other passengers up. Instead, go on your own after 12 pm (all the tour groups are gone by this time) and use an Uber or Cabify to get there. Put "El Totumo" as your end destination and it will take around 45 minutes, costing approximately 100K pesos. Then offer the driver 100K pesos in cash to wait for you for an hour and bring you back to Cartagena. Once at El Totumo there is a 10K peso entrance fee and then you need to pay 15K pesos for a combo of being massaged, washed in the river, and having someone take pictures of you (5K pesos paid to each person).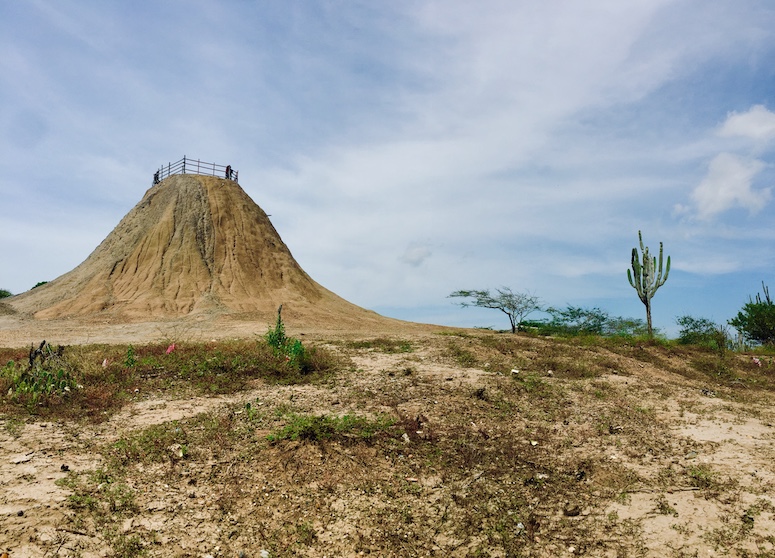 Head to a beach club on Tierra Bomba: One of my favorite discoveries in Cartagena is the hidden gem of Tierra Bomba Island. This island is only a 10-minute boat ride from the city and offers several stylish beach clubs that make an easy escape from the city. I spent the day at the new Eteka Beach Club and we were literally the only people there that day. The day pass costs 160K pesos and includes round-trip boat transportation, welcome drink, 3-course meal, towel, and use of all the facilities. Other beach clubs on the island to check out are Fenix Beach Club and Blue Apple Beach.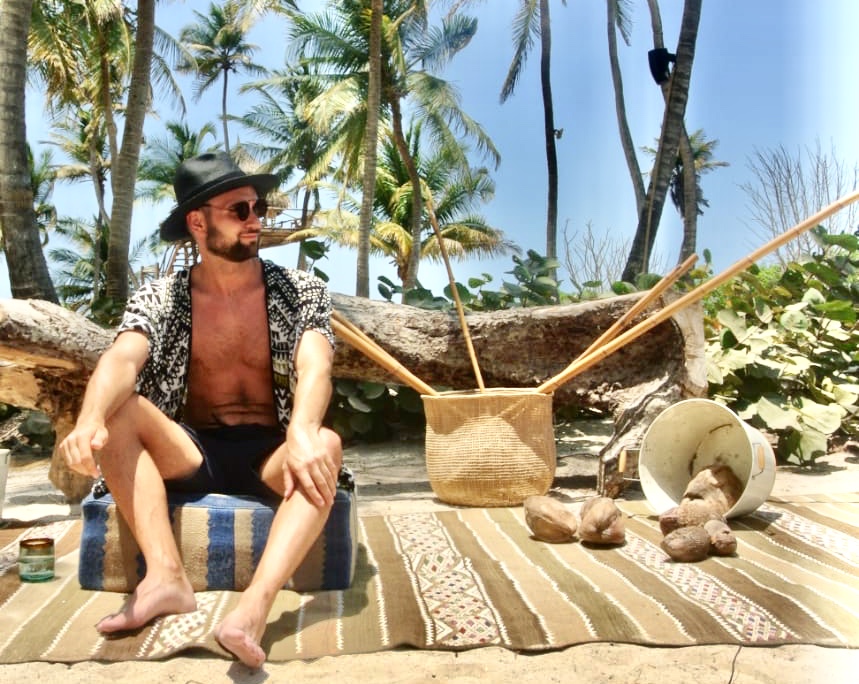 Enjoy a private beach day in the Rosario Islands: Escape the public crowded beaches of Cartagena by taking a day trip to IslaBela where you'll get to enjoy a white sand beach and turquoise water. The day trip package includes boat transportation, lunch, a welcome drink, and use of the facilities for just $50 USD. Visit THIS LINK to reserve your spot. Please stay overnight at IslaBela if you have the time. It's one of those situations where the boat arrives to head back to Cartagena and you're just not ready to leave. By staying overnight, you actually get an entire bonus day of beach time because the boat heads back around 3 pm the next day. So instead of only getting 5-hours to enjoy the sun & sand, you'll be getting over 24-hours and the total cost isn't much more than the day-pass if you're traveling as a couple or group of friends. Visit THIS LINK to reserve a cabin.
Take a food tour of Mercado de Bazurto: If you want to get off the beaten path, a visit to Mercado de Bazurto is a must-do. You can visit the market on your own or go on a tour with a local insider to make sure you don't miss out on the best food.
Enjoy a boozy brunch on a rooftop: Every Saturday from 11 am – 3 pm at the Townhouse Rooftop you can enjoy a tropical boozy brunch. The cost is 100K pesos and includes unlimited mimosas, Bloody Marys, beers, and juices as well as their special brunch menu.
Spend the day at the Selina rooftop pool: If you're not staying at Selina, they have the perfect day pass package for you to hang out at the pool. The cost is $70.000 COP, paid at the reception, and you get a $50.000 credit to use at the restaurant/bar. There are two rooftop pools so be sure to go to the one that has the Tacos La Neta Restaurant for the best vibe. You can count on there being good music and cool people to meet.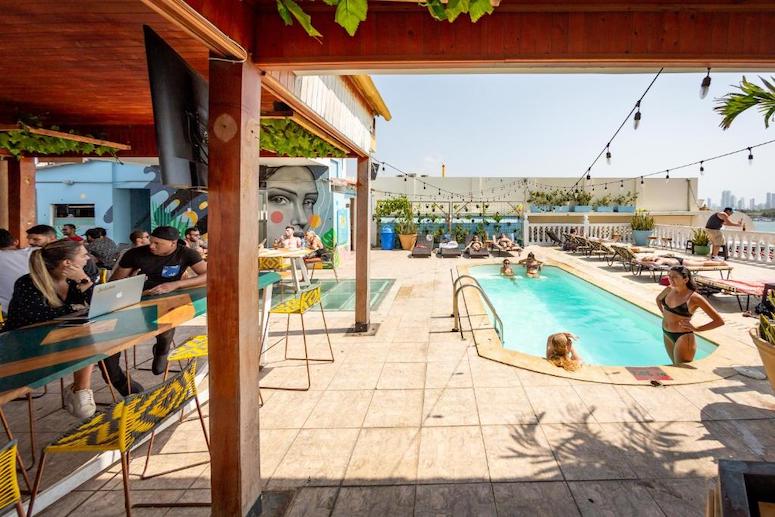 Have a photographer take Instagram photos: This idea may sound kind of cheesy at first, but having a photographer take professional photos of you in Cartagena is one of the best souvenirs you can bring home from your trip. Here's a tour via Airbnb Experiences where a local photographer takes you to the best photo spots.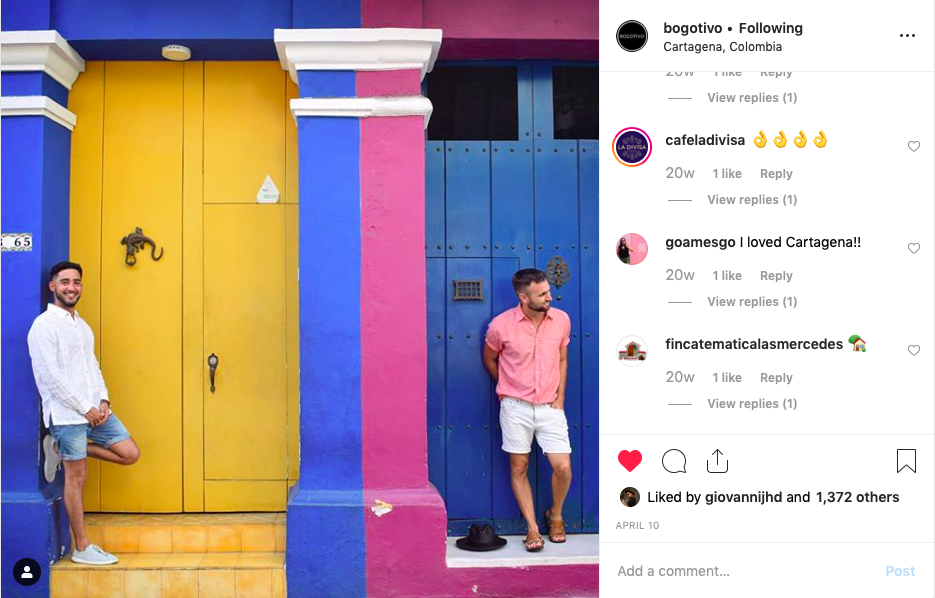 Watch a live salsa show: Whether you know how to dance salsa, want to practice, or just sip on rum and watch – check out 1968 for a spectacular salsa show. They are open Wednesday – Saturday from 8 pm and typically host a salsa class at 8:30 pm and then the show starts around 9:30 pm. You should definitely make a reservation in advance and reviewers say to skip the food and only order drinks and watch the show. On Wednesday there is free cover but over days have a 20K peso entry fee.
---
Where To Eat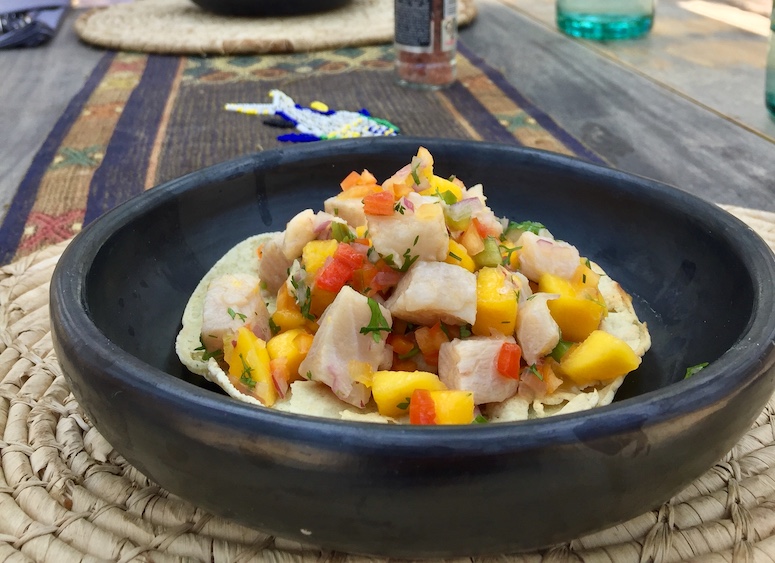 Mardeleva: Mardeleva is one of the newer restaurants around but is quickly rising to be one of the top eateries. The setting is tropical chic and they typically have a live band playing around dinnertime. They are famous for their flavorful & fresh seafood dishes that combine truly show the unique tastes from cuisine around Colombia's coasts.
Celele: This restaurant is quickly becoming one of the best places to dine in Cartagena. The cuisine features creative Caribbean style dishes in the perfect quintessential Cartagena ambiance.
Bohemia: Bohemia is set within a charming courtyard of the El Marqués Hotel and is the perfect spot for a fine dining experience in Cartagena. The food is prepared by well-known chef Andrés Hoyos and he creates fusions of Colombian cuisine with international flavors with creative presentation.
---
Coffee & Cafes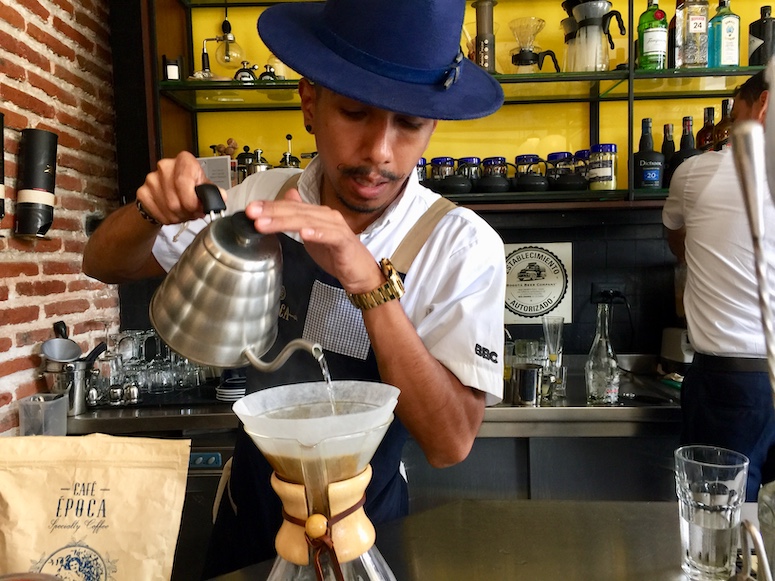 Época: If you're into third-wave coffee culture, then Época delivers. They have every brewing method available: Chemex, french press, espresso, cold brew, etc and the café itself is beautiful. This also makes a good spot for a quick breakfast or lunch.
Café San Alberto: Another amazing spot to try advanced coffee brewing methods in Cartagena. The coffee comes from Buenavista, a small sustainable farm in the interior of Colombia. They have won several awards for their coffee production and one you try it you will see why!
Café del Mural: Over in the bohemian Getsemani neighborhood is Café del Mural, a hidden gem that is serious about the coffee they serve. They also offer a popular 2-hour coffee experience where you learn how to roast beans, develop tasting notes, and learn about various brewing methods.
---
Where to drink & dance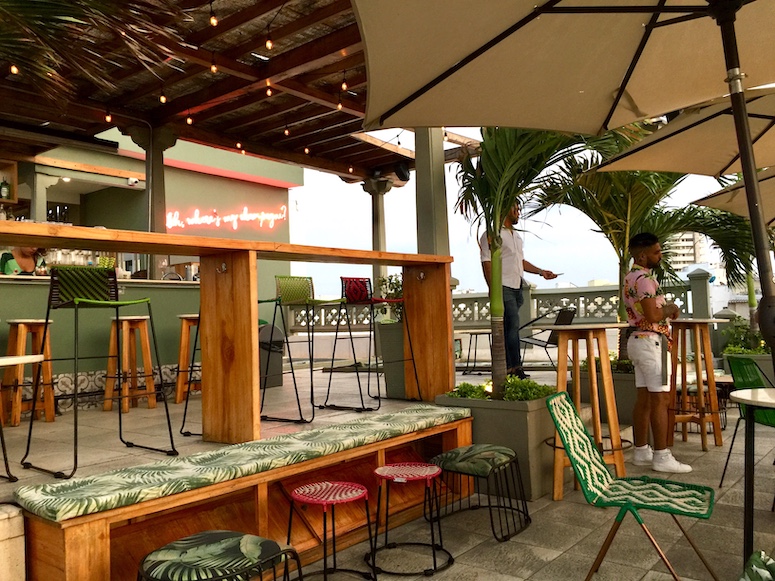 Townhouse: Town House is definitely worth stopping by for one of their craft cocktails or champagne drinks and has lots of great photo opt spots. They also have a boozy brunch every Saturday from 11 am – 3 pm for 100K pesos.
Alquimico: If you're looking for somewhere cool & trendy to hangout in Cartagena, Alquimico is the spot to go. The establishment is three floors, with a restaurant, pool table area, and a rooftop bar. Plus the cocktails are amazing!
La Jugada: Across from Alquimico, you'll find La Jugada which is another three-story establishment with a tropical rooftop bar that's worth stopping by for a cocktail.
Bazurto Social Club: If you want to dance with the locals, Bazurto Social Club is known for throwing some of the best parties in Cartagena! It's one of the few spots you can find live Latin music with an incredible dance vibe.
Selina: Selina also just opened a new rooftop bar at their venue and is perfect to pass by for an evening of cocktails or stay until it turns into a party later on.
La Movida: La Movida is one of the hotspots for partying in Cartagena and will have more of an "upper crust" crowd of Colombians here. Expect to pay an expensive 50K cover charge but have a packed and overall fun spot to party.
---
Where to Shop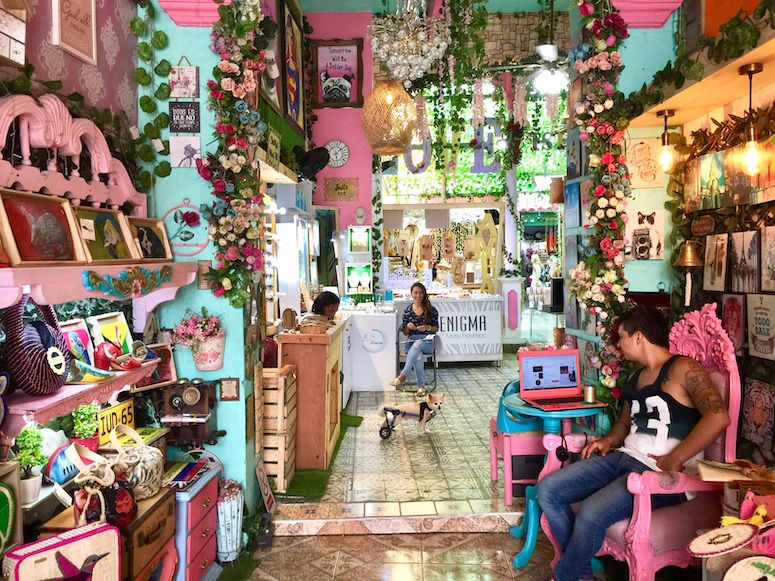 Casa Abba: Casa Abba is an artisan flea market in the heart of the walled city. This was one of my favorite shopping spots I passed by because you have around 30 different booths to choose from and the items here tend to be more unique than you'll find at other artisan markets in the city.
Martin Pescador: Martin Pascador is a luxury men's swimwear brand that was born in Cartagena and is the perfect spot to find a unique pair of trunks that no one will have back home!
Ketty Tinoco: Linen is one of the best materials you can use to stay cool in the heat of Cartagena and Ketty Tinoco is well-known as the spot to go for unique linen-based clothing for men and women.
Selina: Outside of the Selina venue is a small clothing boutique with tropical shirts, shoes, and accessories that fit right in with the colorful style of Cartagena.
*This post is also available in: Español