Bogotá is a bustling capital city where the queer community can feel comfortable being themselves. Most of the gay culture can be found in the Chapinero neighborhood, often referred to as "Chapigay". Here you'll see couples holding hands, stumble upon beautiful cafés, fine dining, and the best nightlife in the city. It's also home to Bogotá's first female mayor who is openly lesbian – an example of how progressive this city is.
We've created the ultimate insider guide for you to discover the best of being queer in Bogotá and unlock the secrets of this LGBT-friendly city.
---
Hotels & Airbnb's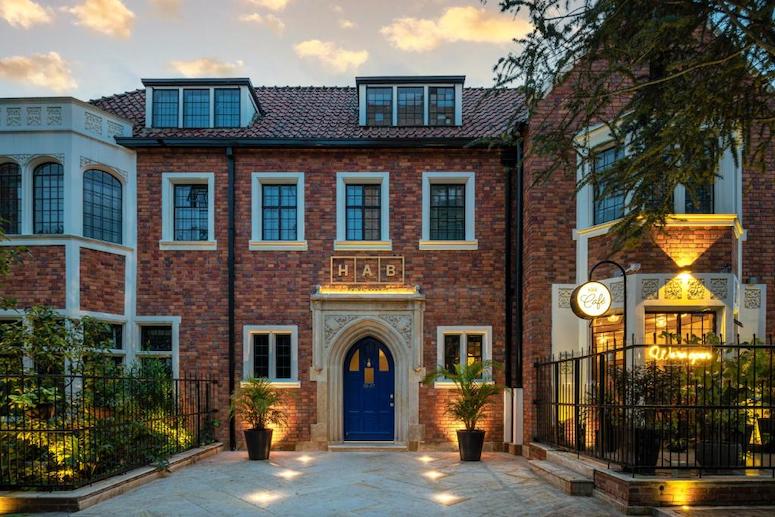 Hab Hotel: The Hab Hotel is a super stylish option in the trendy Chapinero Alto neighborhood. The hotel is inspired by the art & culture in Colombia and you'll see elements of this in the design. Their restaurant, Hab Café, is also an amazing spot to try Colombian cuisine.
City Chic Loft in Chapinero: An affordable airbnb in one of the most central, safe, and trendy sections of Chapinero – the best neighborhood in Bogotá for foodies and the heart of the LGBT. Enjoy an open living space with huge windows, a projector with Netflix, and stylish decor.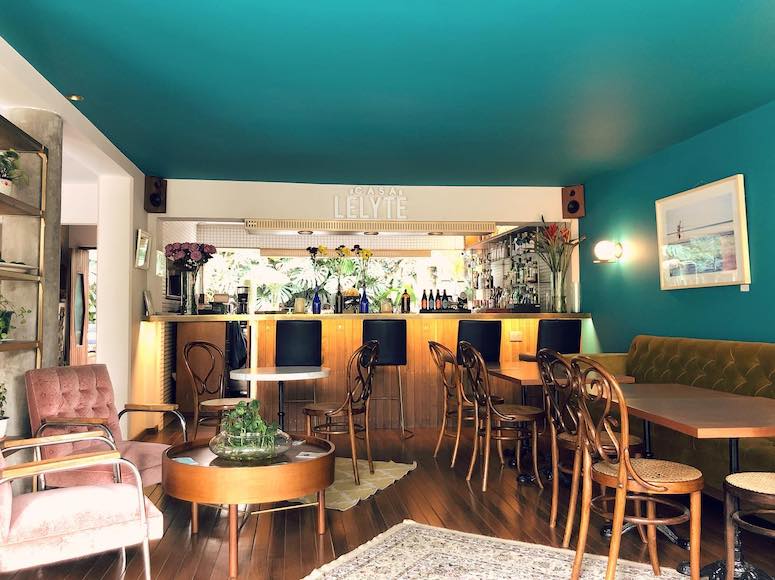 Casa Lelyte: Casa lelyte is a stylish boutique hotel in Bogotá's hip and LGBT-friendly Chapinero Alto neighborhood. The hotel is tastefully decorated and they have an amazing restaurant on the first floor known for its vegetarian dishes. You're also steps away from tons of unique local eateries in Bogotá.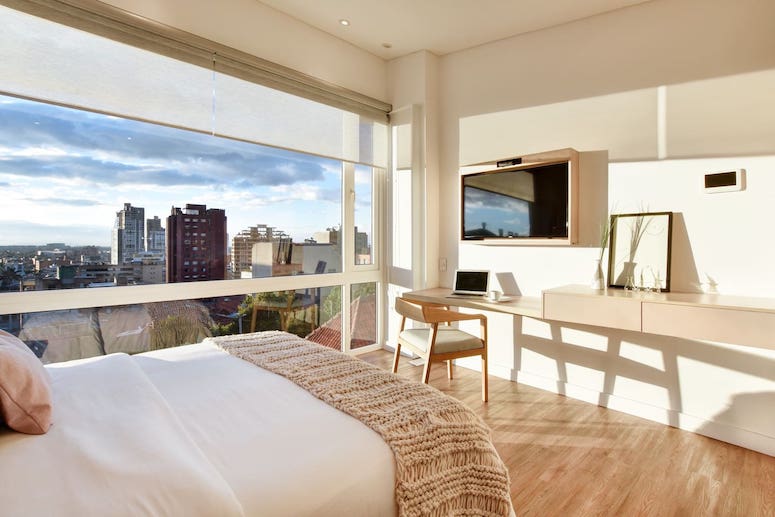 Urban Heights: Urban Heights is also located in Chapinero Alto and a stylish option for people looking for short to long-term stays. The studio apartments feature modern and fresh decor with efficient kitchens, room cleaning once a week, and communal hangout areas in the building.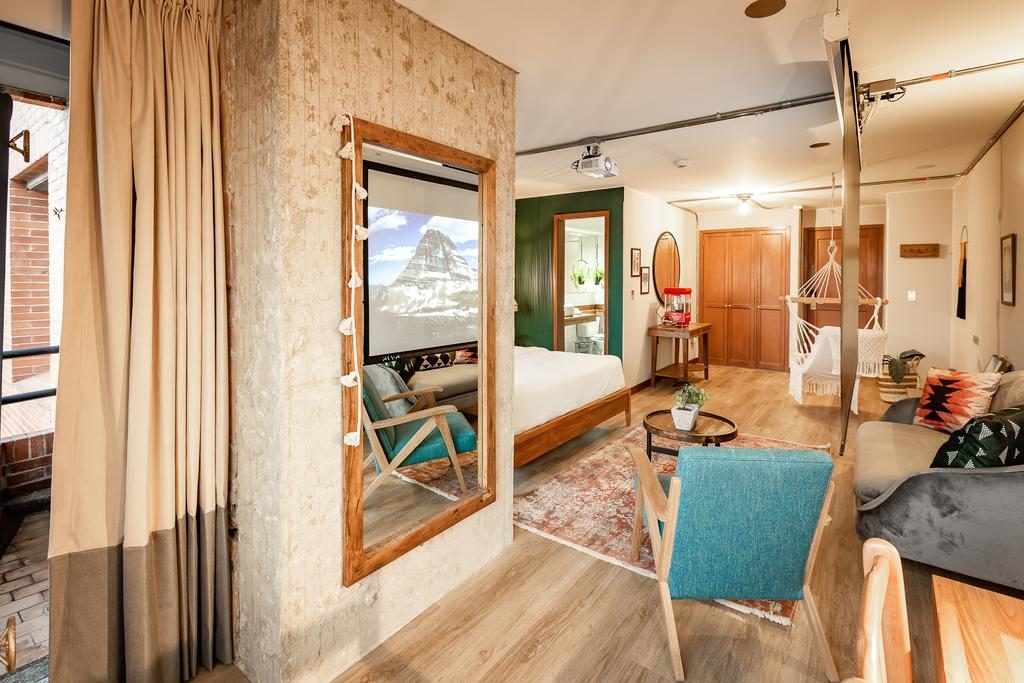 Selina Chapinero: Selina has quickly grown into one of the most trendy boutique accommodation options around the world and offers lots of style. The deluxe and unique rooms are their most stylish options and offer incredible design with features like movie projectors, murals, and beautiful living spaces within rooms. They also host Ru Paul viewing parties every Friday with fun drag queens as your hosts.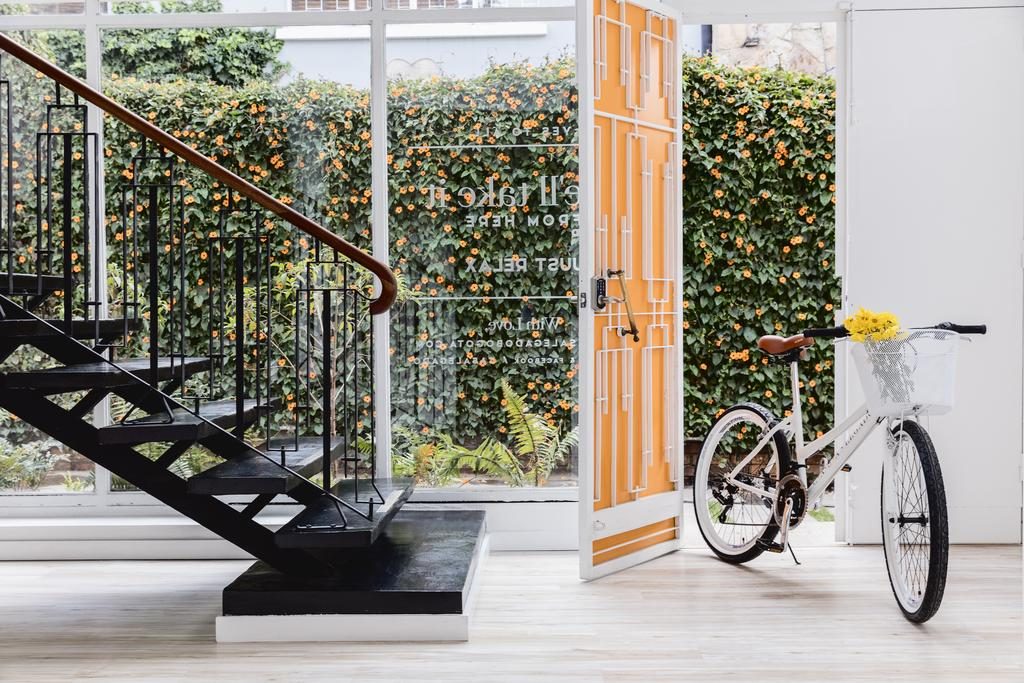 Casa Legado: Casa Legado is a boutique luxury hotel without the feeling of being pretentious. It's in a completely remodeled house where attention to design has been taken in detail.  It's also located in the Quinta Camacho / Zona G neighborhoods so you are walking distance from Bogotá's most charming cafes and fine dining options.
---
Gay-Friendly Experiences
Looking for unique gay-friendly tours in Bogotá? Our unforgettable experiences are led by the best gay hosts in the city to give you a queer perspective that other tour companies can't offer. If you're interested in one of the below experiences please message us on Instagram at @bogotivo or Whatsapp +573502213271.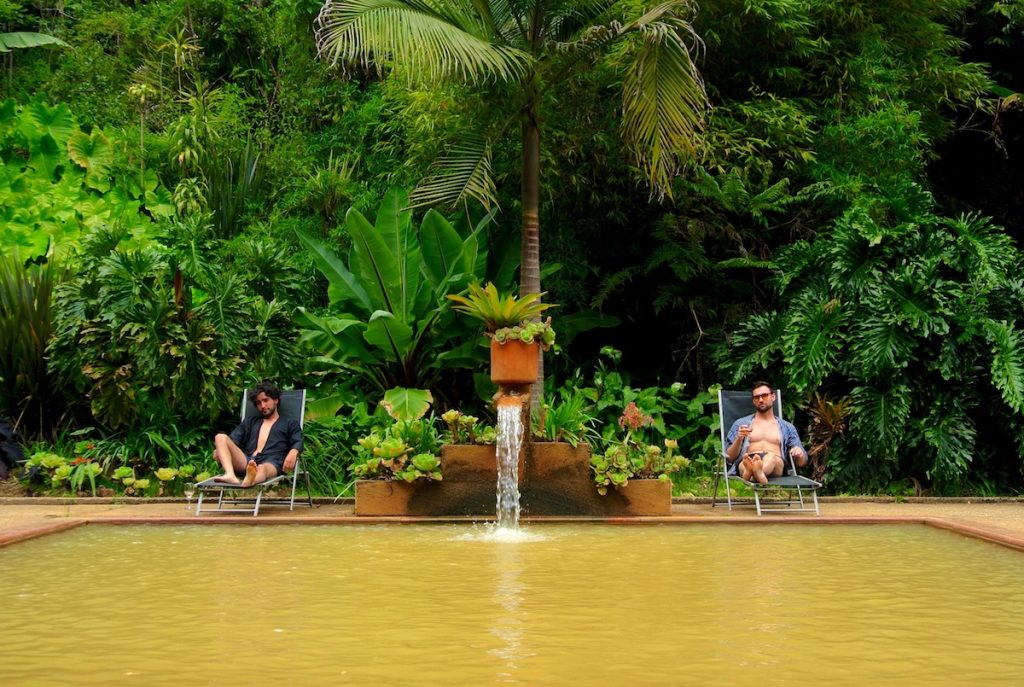 A Private Day at The Hot Springs
8-Hours | $75 USD or $300.000 COP / Person + $350.000 ($85USD) Transportation
Soak in a magical hot spring oasis that transports you to the feeling of being in the Amazon, but only 1.5 hours from Bogotá. The experience includes exclusive access to this property that is not open to the public, towels, a fruit platter with coffee, lunch, and a welcome drink. Private transportation is paid for separately (350.000 pesos divided between the number of guests).
Brunch + Mimosas + Sunglasses in Zona Rosa
3-Hours | $40 USD or $175.000 COP
Join us for the ultimate brunch experience in Bogota! Our day will start at a local café in the Zona Rosa for an amazing Colombian coffee & empanadas while we get to know everyone. Next, we will walk to Bindi Eyewear, a trendy sunglasses boutique, for music & mimosas before brunch. While here you can try on sunglasses and if you like any, you can purchase to wear at brunch (prices range from 70.000 – 150.000 pesos ($17USD – $38USD). We will also have some extra sunglasses for you to wear too if needed! Now that we are ready for brunch, we will head to a lively rooftop bar for an all-you-can-eat brunch filled with DJs, dancing, and live performances (drinks not included).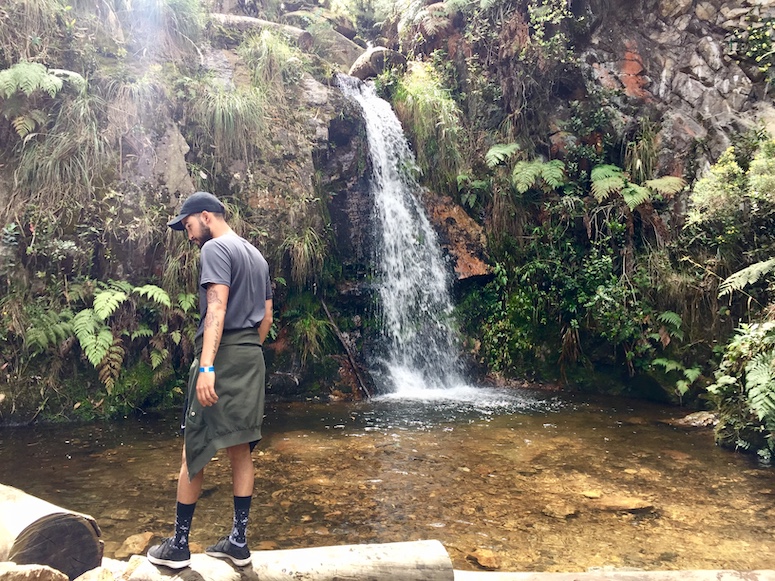 Secret Waterfalls, Breakfast, and Coffee in Chapinero
3-Hours | $35 USD or $130.000 COP
Our day will start in Chapinero, one of the hippest parts of the city. We will meet at a local café to have a healthy breakfast and Colombian coffee (or other beverage) so that we are energized for the day. From here we will begin our urban hike. We will be ascending up the city through various neighborhoods until we get to where the city "ends". The transition is almost like Narnia as the city goes from brick buildings to beautiful countryside. We'll then take a path that leads us to a beautiful secret waterfall and sweeping city views.
Urban Food Tour of Bogotá
4-Hours | $50 USD or $200.000 COP
Our day will start in the bustling downtown area of Bogotá where we will make our way to a lively food hall to try authentic Colombian Ajiaco, one of the most emblematic dishes from here. Then we will shop for fruit and fresh ingredients at the market that we will use to make mojitos later on. Then we'll take polaroid photos in front of vibrant street art in the bohemian La Macarena neighborhood and then visit our favorite bakery for a special dessert. From here we will take the bus to Chapinero, one of the hippest parts of the city. In this neighborhood, you'll find Bogotá's creatives, the ​LGBT community, young professionals, and students. It's also the neighborhood that we live in! While in Chapinero we are going to try specialty Colombian coffee and visit a local eatery for Arepa con Huevo. Finally, we will head to our apartment terrace for a mojito-making workshop.
---
Nightlife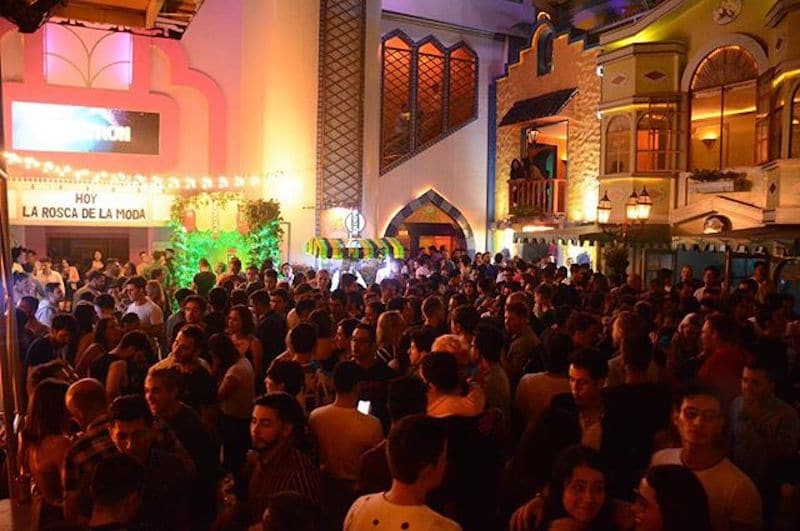 Theatron: Theatron is one of the largest nightclubs in Latin America and feels like an entire city when you enter. It consists of five floors with 13 different ambiances. It's technically an LGBT venue but you'll find all Bogotános here because the party is good. However, if you're going to go, Saturday is the night because it's the only day all ambiances are open. They also have a restaurant called El Muro with drag shows on certain nights of the week.
Don Juan: Don Juan throws special gay events in the city with 2-3 happening each month. You'll need to check their Instagram @donjuan_colombia for the latest ones and they tend to be the circuit party crowd with go-go dances and electronic music.
Video Club: Video Club is one of the best spots to enjoy a night of house/disco/electronic music. The entrance in Chapinero is easy to pass up as it is just an unmarked black door inside a beautifully refurbished warehouse type of building. What's nice is that you have a spot to enjoy the DJ and dance as well as an outdoor terrace where you can actually enjoy conversation with friends. They are also one of the few places that stay open until 5 am.
Kaputt: Kaputt is one of the best nightclubs in Bogotá right now. The place is massive and features several different rooms with Latin music, techno, funky electronic, classic hits, and more. They even have a food truck for when you get the munchies. The line is long to get in but worth the wait.
Recreo de Adan: This bar is more of a place to hang out and they have special events throughout the week like karaoke, drag shows, board games, and more.
ODEM: The recently opened O.D.E.M. venue is the only rooftop in Chapinero and is where you'll find a cool crowd of the LGBT community. The terrace overlooks the gorgeous Lourdes Cathedral and is perfect for after-work sunset drinks and then it turns into a party vibe as the night goes on.
Malamuerte: This is a barbershop during the day turned into a bar at night. It's where you'll find the alternative, leather jacket-wearing gays hanging out.
El Mozo: El Mozo throws huge events in the city and you can expect one event a month. Check their Instagram @elmozoclub for the next one.
---
Restaurants & Cafés
Petunia Reposteria: Petunia is a beautiful pink and rainbow café in Chapinero Alto with a focus on hiring people from the trans community that may have difficulty finding a job in Bogotá. Be sure to order the red velvet pancakes!
Village Cafe: Village café always has 2 x 1 drinks specials as well as an affordable daily lunch menu.
Matchacha: Matchacha is owned by a lesbian couple and serves delicious matcha drinks and desserts.