*This post is also available in: Español
Do you want to experience a magical home full of colorful Colombian charm? Welcome to Encanto de La Luna, a unique property with a private hot spring pool that's located only 1.5 hours from Bogotá. The house is ideal for a group trip with a capacity of 14 guests between the five bedrooms. It's especially family-friendly thanks to also having an outdoor playground on the property. The home features a fully equipped kitchen, several outdoor spaces, BBQ, high-speed internet – and of course the highlight is the swimming pool fed directly by natural hot springs. 
Follow Encanto de La Luna on Instagram @encantodelaluna.co or BOOK YOUR STAY HERE.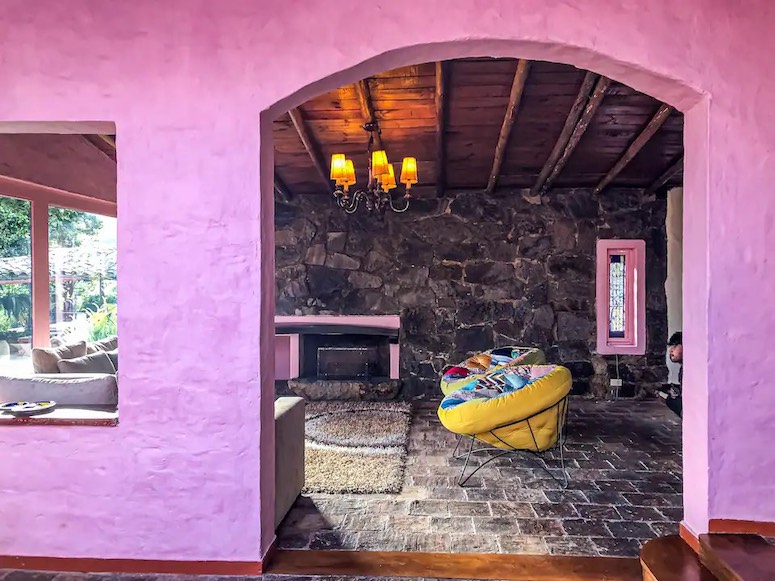 ---
The Spaces 
Encanto de La Luna has two floors, with a total of 5 bedrooms with beds equipped with luxury bedding that will make you feel like you are sleeping in the clouds. Each space has been completely remodeled to provide modern and elegant amenities while preserving the colorful Colombian charm.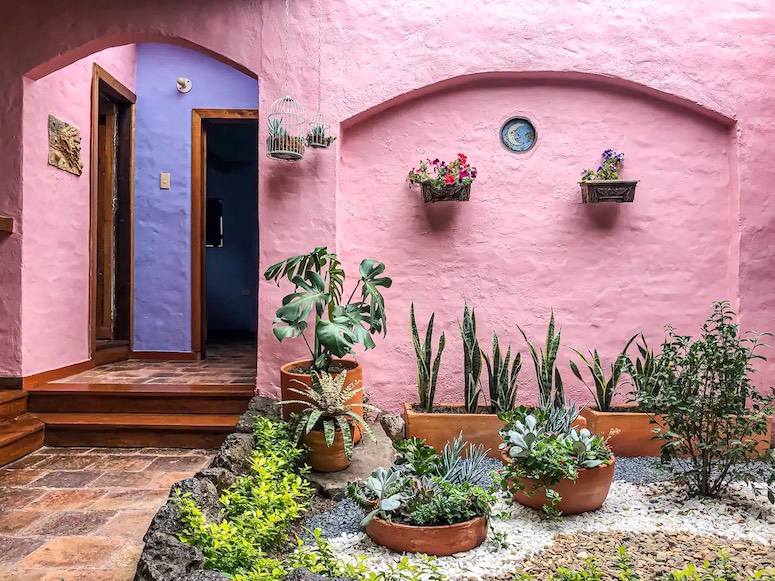 Walking into the home, you'll first notice how open and airy thanks to the large windows that let you take in the mountain views. On the main floor, there's an interior garden illuminated by a skylight, a spacious living room with plenty of seating for hanging out, and a large open concept kitchen, and dining area. Off of the dining area, you'll also find a wrap-around balcony to enjoy the outdoors. 
The three bedrooms on the main floor flow from one to the other. The largest bedroom is the most private and has a double and single bed with its own balcony. The middle room has a double bed and a large window that looks out into the mountains. From the middle room, there is a ladder staircase leading up to the attic room with three single beds and panoramic windows. There is also a full bathroom off the hall shared by the three bedrooms.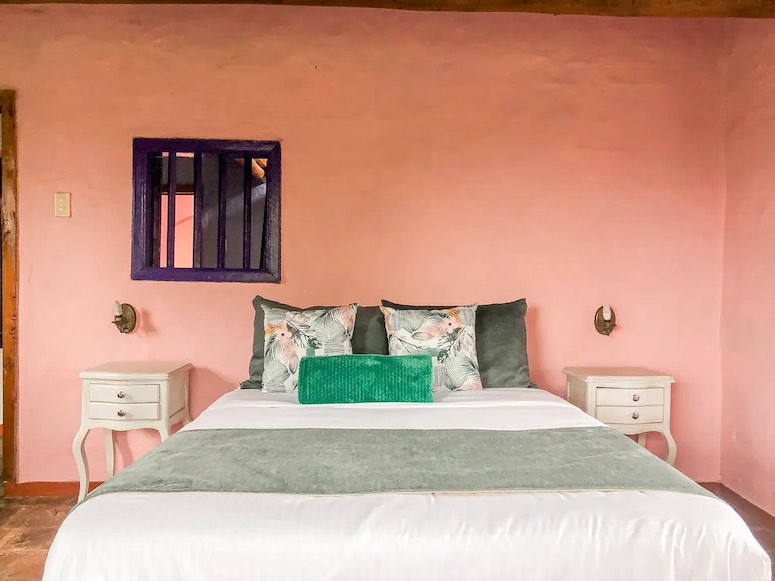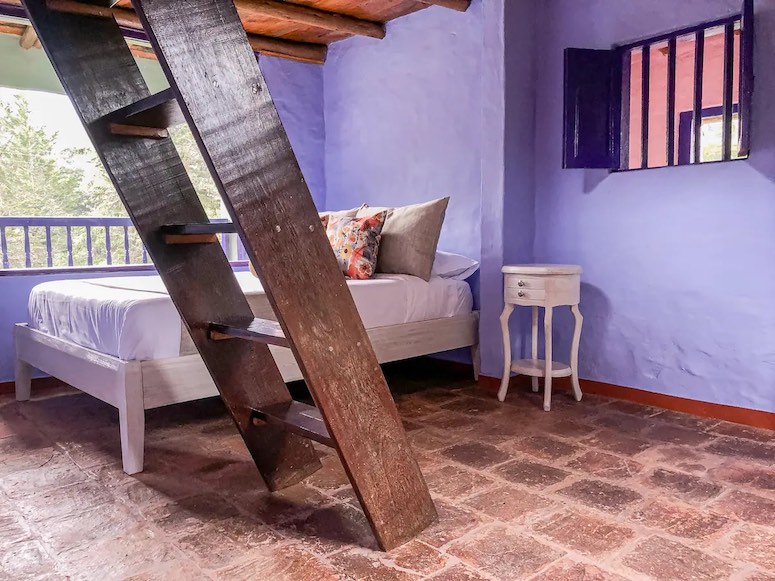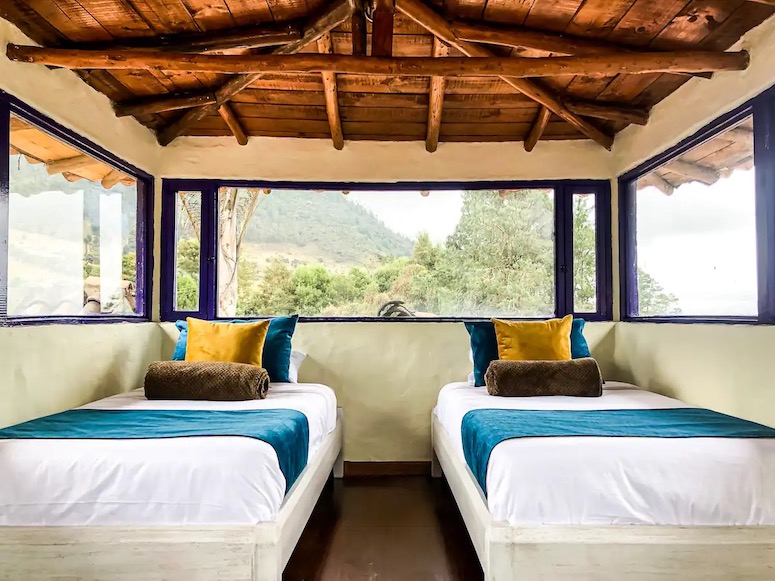 Heading down the spiral wooden stairs brings you to the lower level of the home with a small seating area to watch TV. The remaining two bedrooms are on opposite sides of each other for the most privacy. Each room has its own private bathroom, a double bed, and a single bed that can fit three people in each room.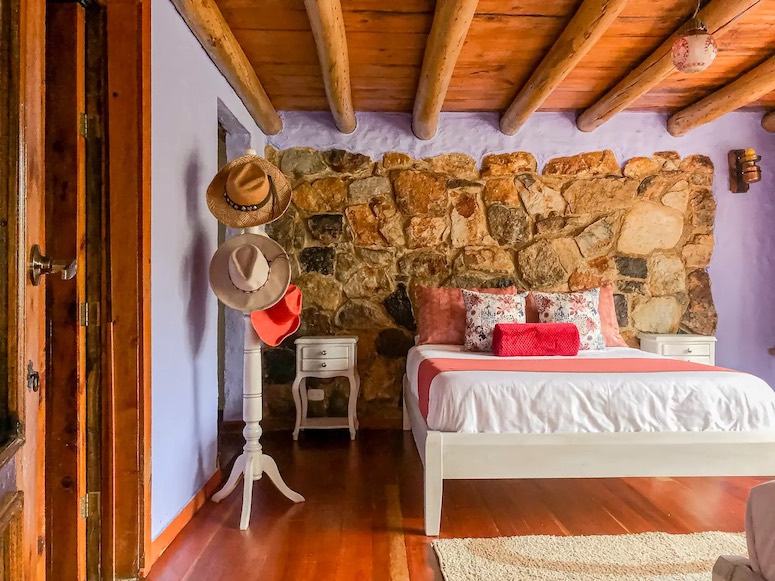 The outdoor area is where you'll probably be spending most of your time. You'll find two covered dining areas, a BBQ, and of course the highlight of the property – a hot spring pool. Natural hot springs are often praised for their health benefits such as blood circulation, stress reduction, pain relief, and improvement of skin problems. The water comes directly from the mountain and has high levels of iron and magnesium. Having a hot spring-fed pool right next to the home means that you get to enjoy the benefits at any time of day. The water temperature comes out at a perfect 37 degrees Celsius (97 F), which makes it perfect to enjoy during chilly nights.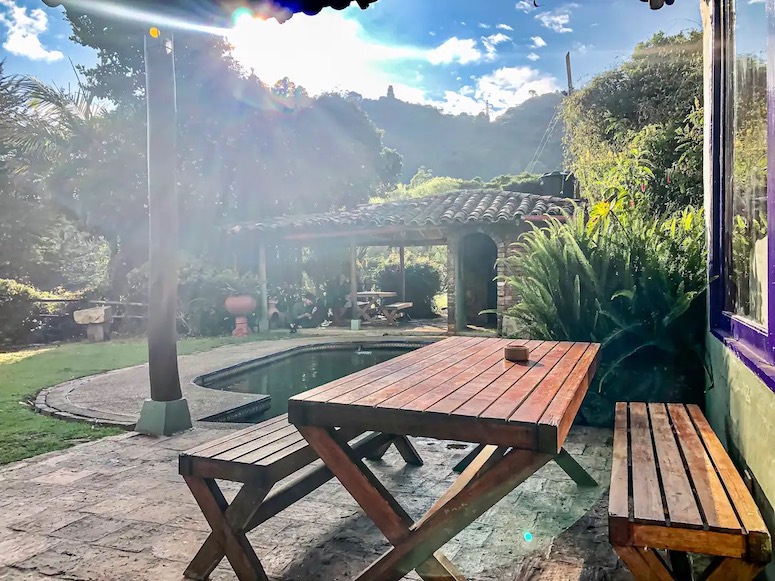 ---
Getting Here
Encanto de La Luna is located in Choconta, near the small town of Macheta, as little as 1.5 hours from Bogotá. The exact location is given after making a reservation but it's super easy to arrive via car, public bus, or even Uber. If you use Uber to arrive, it will cost a maximum of 100K Pesos.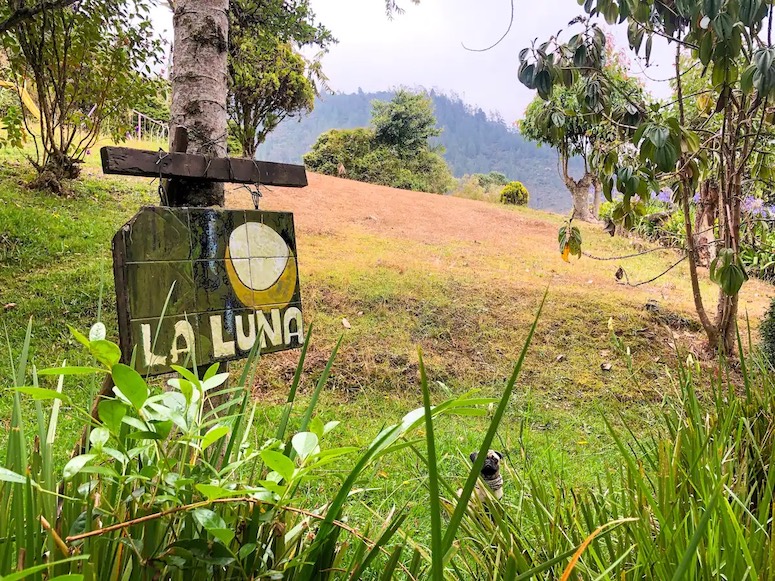 Or from Terminal Norte, the Valle de Trenza or Macarena to Guateque bus leaves frequently and can drop you off at the entrance of the home, but be sure to let them know beforehand. The price of the bus can vary but expect to pay around 15K Pesos. The bus journey is approximately 1 hour. This same bus can easily be used to get back to Bogotá at the end of the trip by getting on the opposite side of the road, so by using Uber to get there and a bus to get back you'll have the most convenient transportation.
---
Is Encanto de La Luna for you?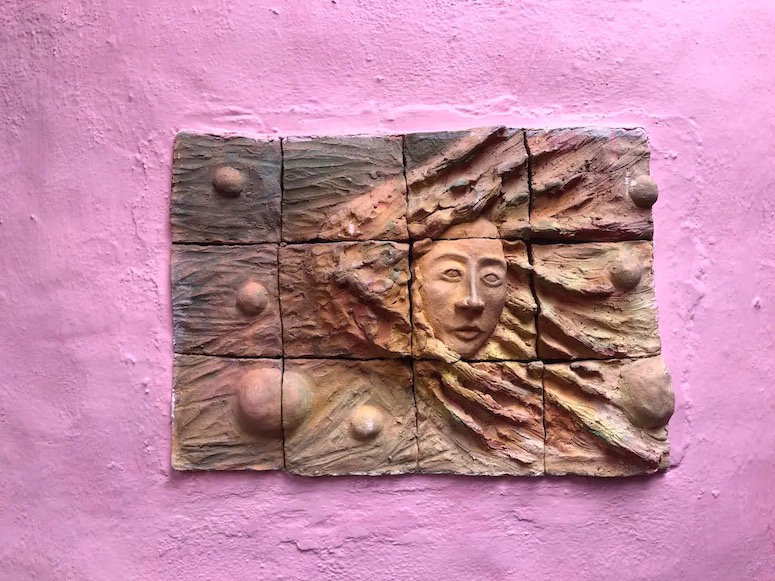 Encanto de La Luna is the perfect option for groups looking to relax in the Colombian countryside. The modern design combined with stylish amenities makes a comfortable stay and it's fully equipped with everything (even high-speed internet) for a comfortable stay. It's perfect for enjoying a special event with family & friends, a birthday, or just having a relaxing weekend away from Bogotá. 
Ready to stay at Encanto de La Luna? Book your stay here.
*This post is also available in: Español