*This post is also available in: Español
Want to get to know the real Bogotá, Colombia? I've worked to create a list of 32 of the must-dos. Don't worry if you can't get to them all! You can always come back.
---
Bike the city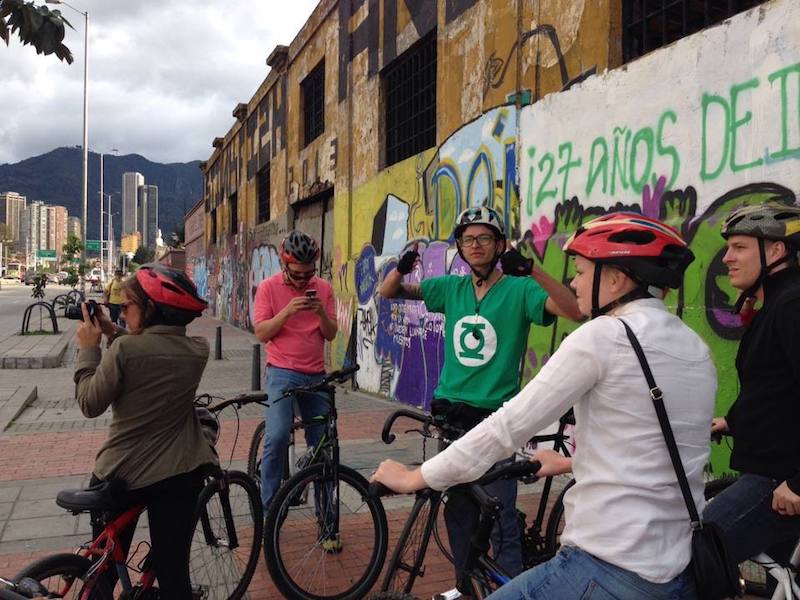 Bogotá is an incredibly bike-friendly city and it's a great way to get around. I've been on the Bogotá Bike Tour before and it's the best first-day activity to get an overall feel for the city. I also love the types of spots they take you which include La Candelaria, a traditional fruit market, a coffee factory, viewing street art, and a game of Tejo, Colombia's national sport. Or if you want to cover a lot of ground with less effort, the Electric Bike Experience with Dougan is also recommended. He has a few different routes that you can choose from which include Downtown, the West, or the North of the city. He even includes a few Colombian bites along the way.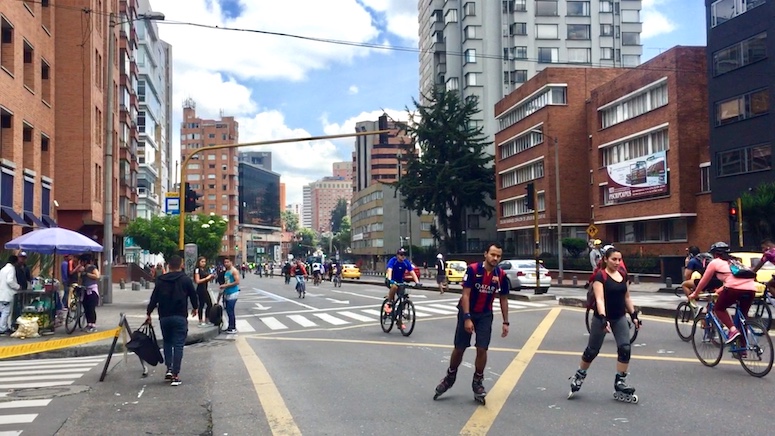 You can also participate in the Sunday Ciclovia. Every Sunday, several car lanes in Bogotá are shut down for locals to enjoy biking, cycling, and running. People really get into it, and for a traveler, it's a fun way to be part of the local bike culture in Bogotá. The main lane takes place along La Septima (7th Avenue) and stretches all the way from downtown to Usaquén. As a visitor, you can download one of the many bike/scooter sharing apps like Muvo, Grin, and Movo. One of my favorite activities to do on Sunday is to rent a bike and ride down the Ciclovia to Usaquén and browse stands at the flea market. 
---
Go to the top of Cerro Monserrate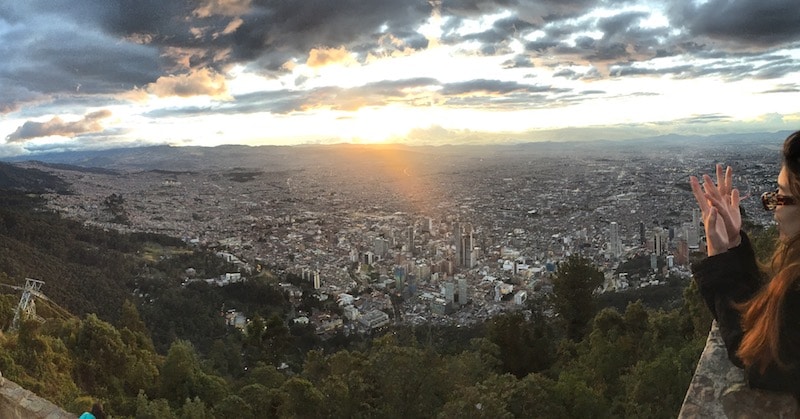 Go to the top of Monserrate for a breathtaking view of the city. Once at the base of the mountain, there is a ticket booth where you can take a cable car to the top for 20K Pesos round-trip. You can also walk up the mountain for free between 5 am and 1 pm, except on Tuesdays. Or buy a one-way ticket up and walk down (path down open until 4 pm). This is always one of my favorite stops in Bogotá because it makes you realize just how huge this city is. You can take your time walking around up top and there are plenty of vendors selling food, souvenirs, and coca leaf tea to help with elevation sickness. If it's a clear day you'll also be able to watch the sunset over the city at 6 PM.
---
Take a cable car to the forgotten side of Bogotá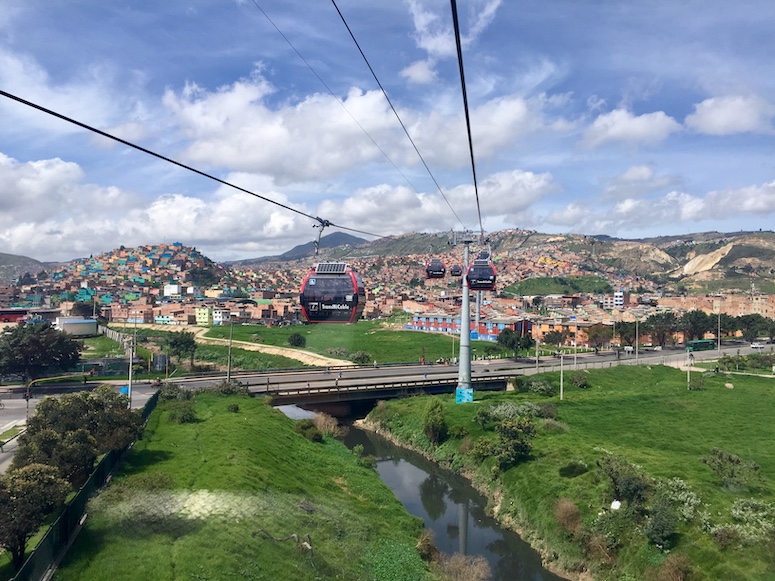 Medellín is famous for its extensive system of cable cars that connect people living in the mountains down to the city, but many people are unaware that Bogotá has a newly implemented cable transport system too. The Transmicable connects people living in the southern hills of the city down to the Southern part of Bogotá, saving them about an hour in an already very long commute. To get here you need to take the Transmilenio to the Tunal station and from there you can transfer for free to the Transmicable. Enjoy the stunning views of colorful houses and murals on the way up and then you can get off at the last station and walk a little around the neighborhood (be sure to get a typical empanada while you're up there). While you can visit this on your own, the experience is truly enhanced if you go with a local guide. Check out the Cable Car To El Paraiso Tour to learn about the neighborhood, locals, and artwork that is popping up.
---
Visit one of the many museums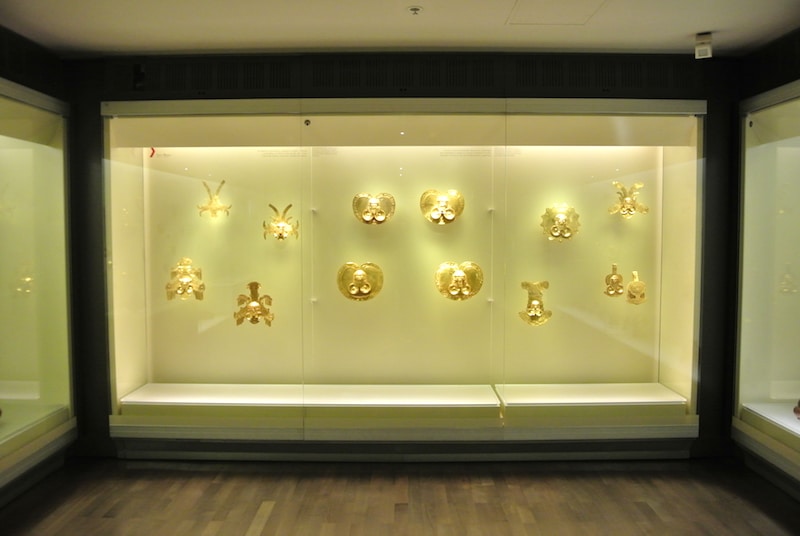 Bogotá has a number of museums to visit and many of them are free on Sundays / very cheap on other days. The Gold Museum is one of the most popular as it's filled with over 6,000 artifacts of Pre-Colombian gold. A few other favorites include the Museo de Bogotá, Botero Museum, National Museum, Museum of Modern Art, Museum of Contemporary Art, Maloka Interactive Center, Emerald Museum, Santa Clara Museum, Planetarium, and Visual Arts Museum.
---
Go on an urban food tour with local bloggers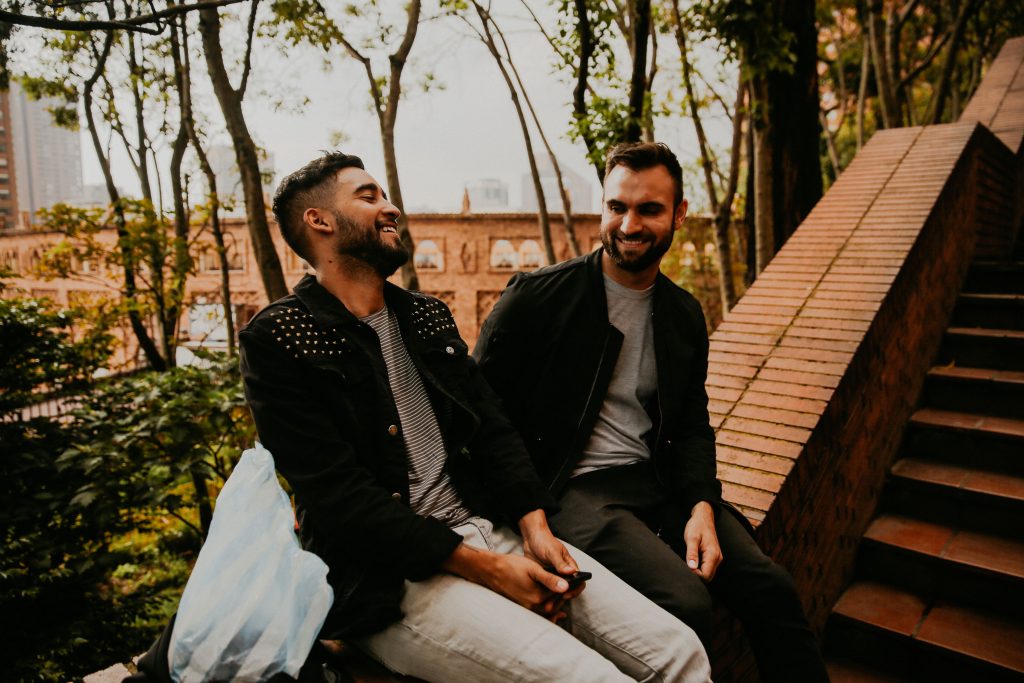 The best way to get to know a city is through the food! Bogotá has an amazing gastronomic scene and the food is one of my favorite things about the city. And the best way to enjoy the food is to have a local take you around. During the Bogotá Bites: Urban Food Tour, you'll be taken around to Bogotá's best eateries by the bloggers of this website. The day starts in the bohemian La Macarena neighborhood where you'll sample authentic Colombian Ajiaco soup, shop for exotic fruit at the market, take polaroid photos in front of street art for you to take home, and visit a bakery for dessert. From here you'll take the bus to Chapinero, known as the hipster area of Bogotá. While in Chapinero you'll visit a beautiful spot to try Colombian coffee, visit a local "fruit boutique" to sample Colombian fruit, and do a mojito making workshop at our apartment terrace to end the tour. Visit THIS LINK for complete details and to reserve your spot.
---
Play Tejo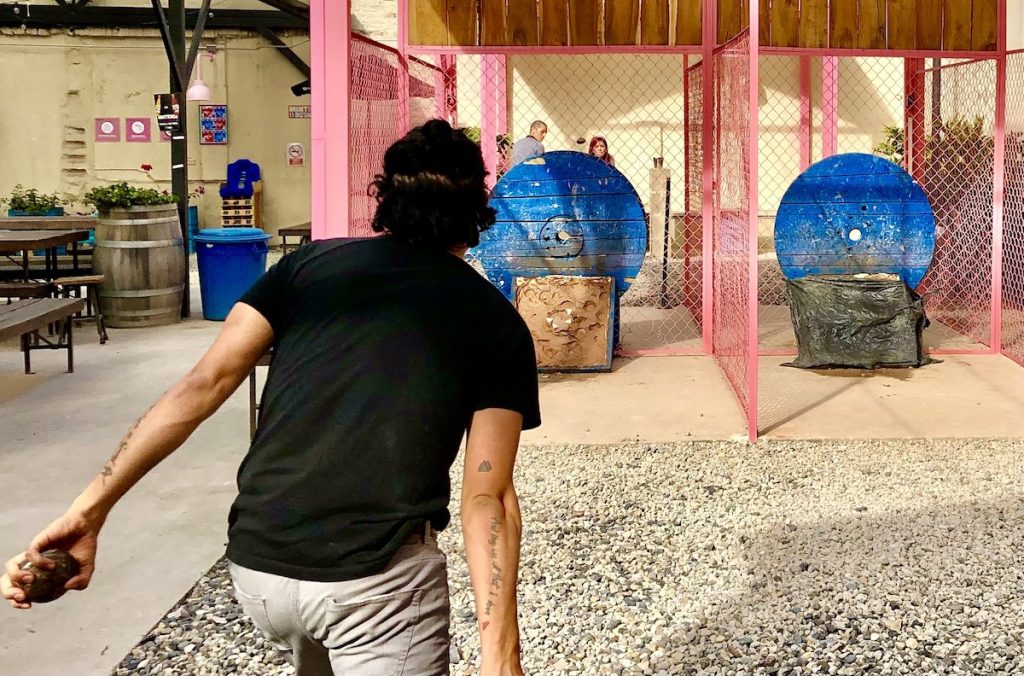 Tejo is a traditional Colombian game similar to "horseshoe" but much more exhilarating as it involves hurling a heavy disc at an explosive target. It's typically played in an old-school cantina, but now you'll also find upscale options in Bogotá to experience the game. The origins of tejo date back to more than 500 years and was originally discovered in the town of Turmequé in Boyacá. The indigenous would typically drink "chicha", a fermented corn drink, and play during their ceremonies or settle differences by throwing a disc made of real gold. Today, the game is enjoyed while drinking a beer instead of chicha and a steel disc instead of gold. But the principles are the same and it's an explosively good time. View our complete guide to playing tejo here >>
---
Get blindfolded during a sensorial fruit experience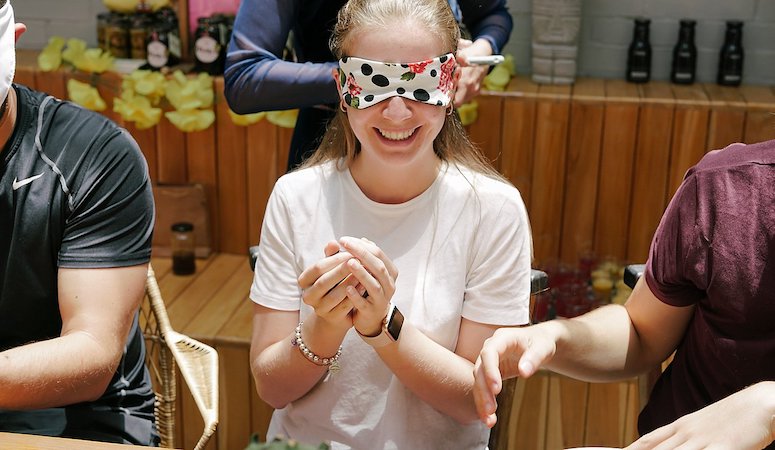 Colombia is home to a huge variety of exotic fruits and one of the best ways to experience them is during the Sensorial Fruit Experience at Uba. You'll be blindfolded during parts of the experience to utilize all your senses to smell, taste, and guess what fruit you are trying. Your hosts Laura & Andrea will guide you through explanations and benefits of the fruit as well as incorporate fruit-related products & juices into the experience. The store also has lots of unique souvenirs to bring back home. Or if you aren't able to make it to their in-person experience they also offer a live experience you can do online (full details here).
---
Drink lots of coffee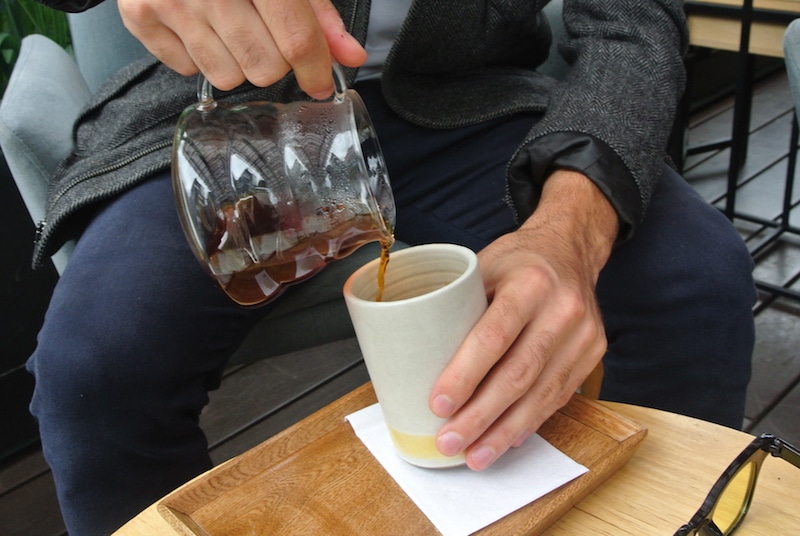 If you're going to be in Colombia you MUST try the coffee. It's the third-largest coffee-producing country in the world, producing 1,785,744,000 pounds per year, and until somewhat recently, the good stuff has been exported. But now locals are embracing high-quality coffee and a number of specialty coffee shops, barista schools, and coffee tours are popping up. The Coffee Tasting Experience I did at Cafe Divino was a great hands-on way to learn about tasting notes and what to look for in a good cup of coffee. Here's a list of some of the amazing coffee spots to visit in Bogotá.
---
Shop at boutiques from local designers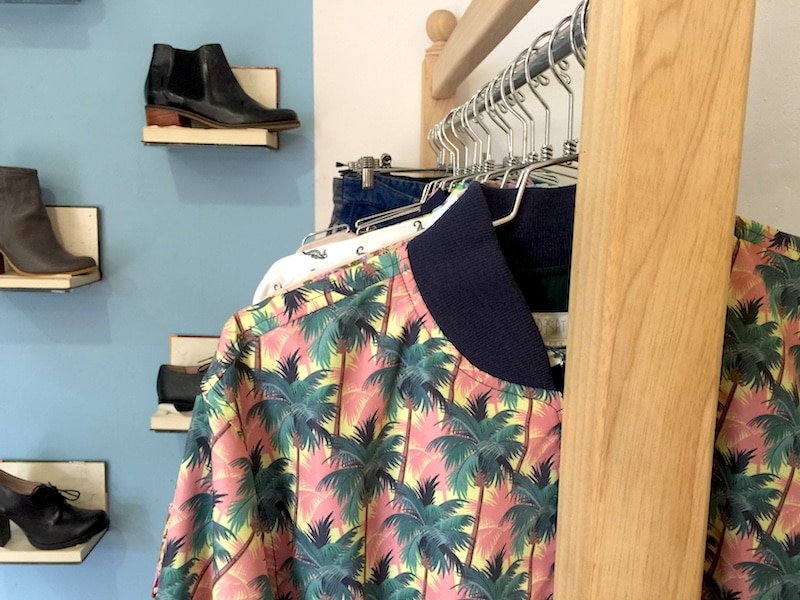 Bogotá is an incredibly hip and edgy city where you'll that the locals like to express themselves with what they are wearing. And where are they getting all of these cool clothes? Possibly from an emerging scene of their own local independent designers. In Bogotá, you can find one of a kind items to bring back home and I find that the prices are very reasonable for the quality you are getting. Plus when you shop locally, you are helping to support the creative design scene in Bogotá rather than buying mass-produced items at the mall. Read my post on the best places to shop items from local Colombian designers. 
---
Eat ajiaco soup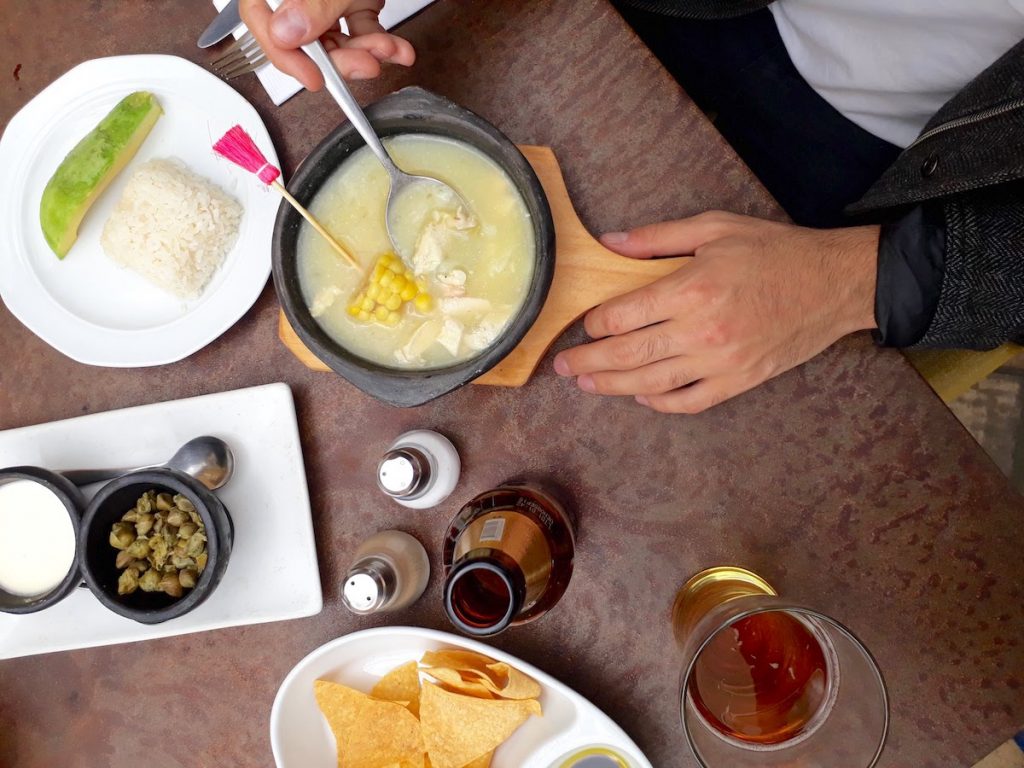 Ajiaco is a type of chicken soup that originated in Bogotá and it is perfect for the chilly weather. Most websites and guidebooks recommend trying Ajiaco at La Puerta Falsa, but I prefer to find a place that is off the beaten path and getting off the beaten path ended up being at a really nice place! I did a search in Spanish found that Hotel de la Ópera won a contest for the best Ajiaco in Bogotá a few years ago. The Ajiaco soup here did live up to its title, but the bonus was that I got to have it on a rooftop overlooking La Candelaria! Besides Hotel De La Opera, La Puerta Falsa is truly one of the best too!
---
Visit the Sunday flea market in Usaquén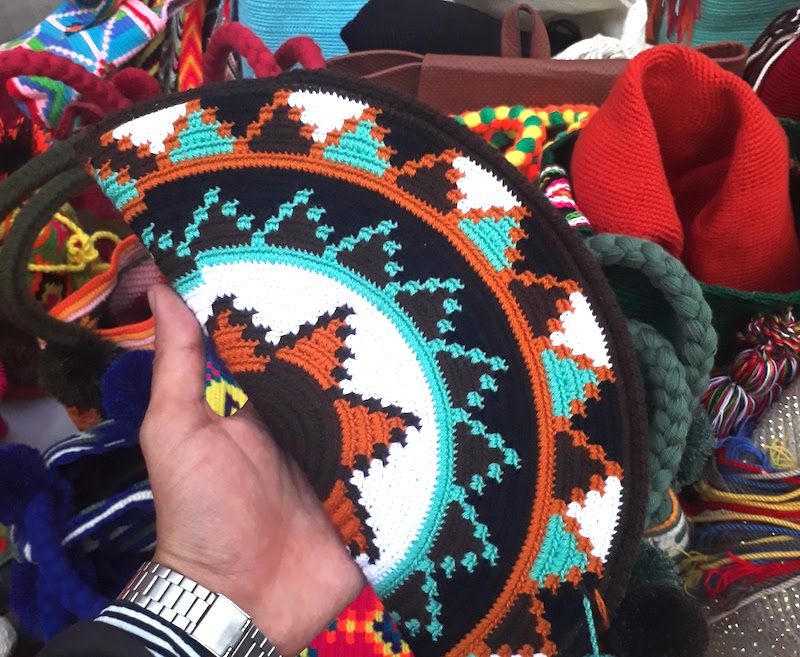 On Sunday you have to spend the day in the Usaquén neighborhood. This is an artistic neighborhood with historical Spanish colonial architecture filled with trendy shops, restaurants, and bars. Every Sunday, artisans from around the city set up booths for the weekly flea market and it's entertaining to walk around viewing handcrafts and trying delicious homemade foods.
---
Find unique antiques at the San Alejo Flea Market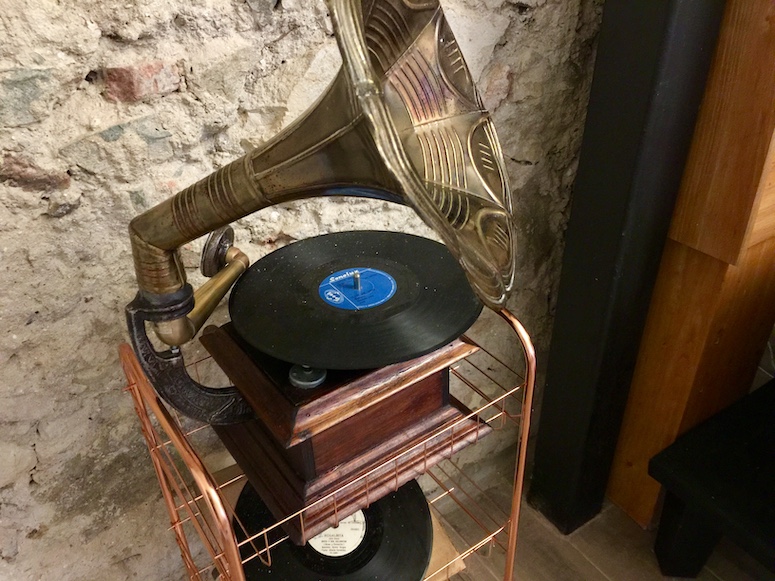 The San Alejo Flea Market is one of the best places to scout interesting antiques, second-hand clothing, and random knick-knacks in Bogota. The market happens every Sunday from 9 am – 5 pm on Calle 24 and Carera 7. Prices here are very reasonable and feel free to negotiate if you see something you like. My of my favorite purchases here was a vintage Victrola record player and a few records with it. I wasn't planning on buying this but it's a place where you truly don't know what you'll stumble upon. 
---
Hike in the city mountains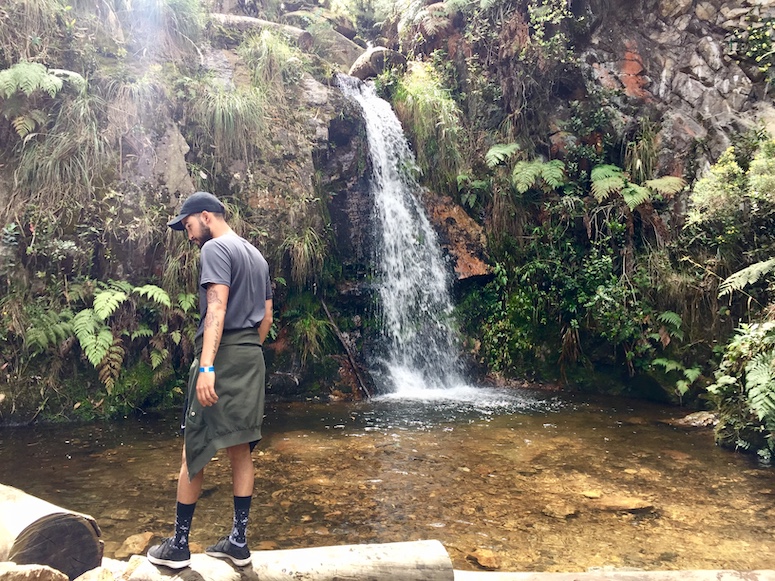 Little be known to most locals and travelers is that you can hike through those stunning green mountains that line the edge of the city. In the mountains, you'll find luscious green paths and small waterfalls that are a much-needed breath of fresh air after being in the city. One of the best hikes you can do is at Quebrada La Vieja, which has recently reopened after being closed for a few years. However, you must sign up for this hike in advance via THIS LINK. The booking website only works before 2 pm the day prior as well as down on the weekends and national holidays so you need to plan in advance when you would like to do the hike. The entrance of the hike is on Calle 71 and Carrera 1 near the Zona G/Rosales neighborhood (follow the directions on Google Maps to arrive). There is also a beautiful waterfall you can visit called Quebrada Las Delicias on Calle 61 (read my complete guide on visiting). You don't need to make a reservation in advance for that one and it's open every day from 7:00 am to 11:00 am. For complete information on all available hikes in Bogotá, visit Amigos de La Montaña. 
---
Gallery hop in San Felipe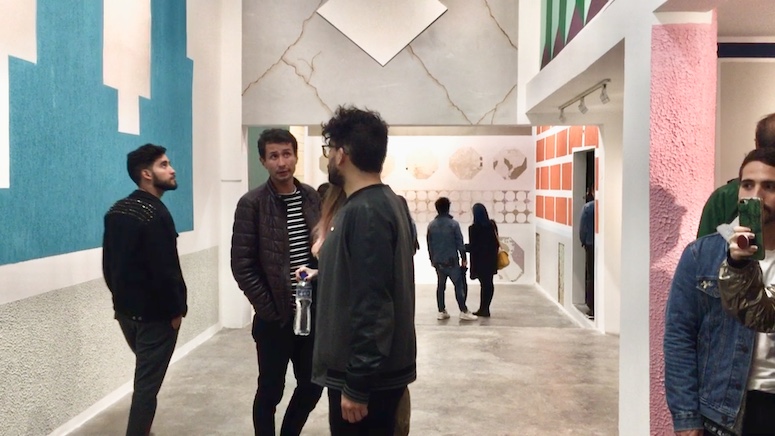 San Felipe is the latest artist district to develop in Bogotá and once a month they host Open San Felipe where galleries open their doors for a weekend of art, food, and music. It's recommended to follow @opensanfelipe on Instagram for dates on when the next event is.
---
Participate in a boozy brunch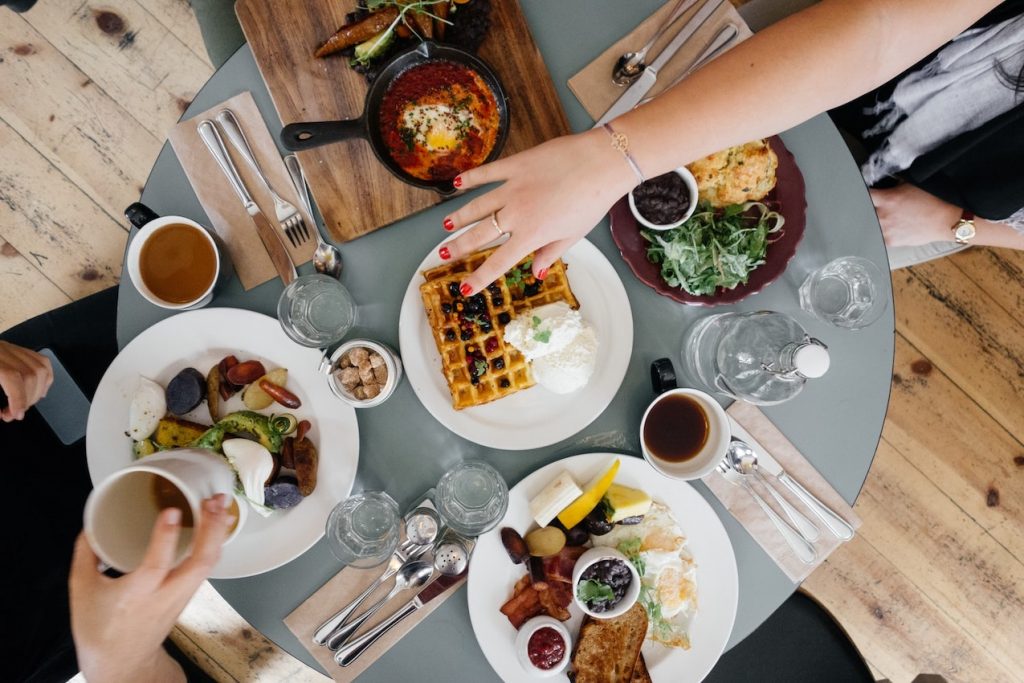 There are some serious brunches happening right now in Bogotá. Some spots offer unlimited mimosas, all-you-can-eat buffets, or turn brunch into an all-out DAY PARTY. But where should you go? Check out THIS POST for some of the top spots.
---
Stay in a treehouse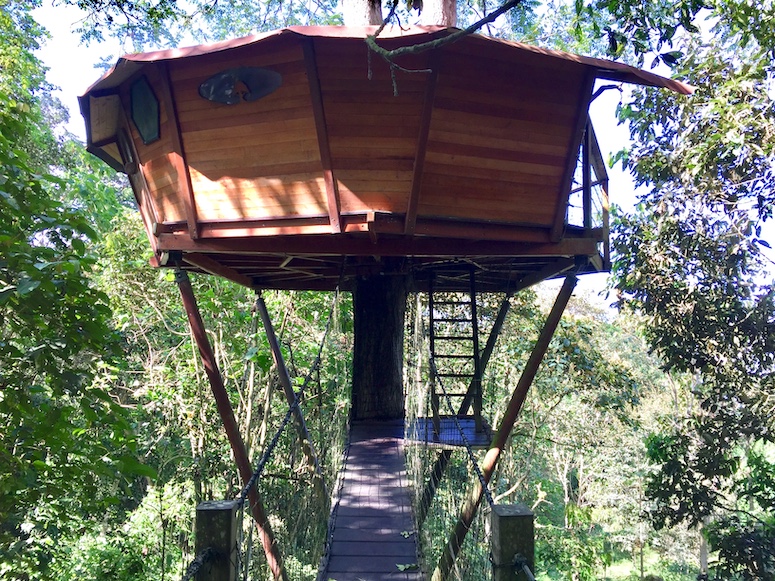 Staying in a treehouse is the ultimate way to fulfill your childhood fantasy and luckily as an adult, you can finally make dreams come true! Treehouse accommodation has been popping up all over the world and the trend has made its way to Bogotá. There are quite a few treehouse options to choose from and I've highlighted some of the best in THIS POST.
---
Get to know the Chapinero neighborhood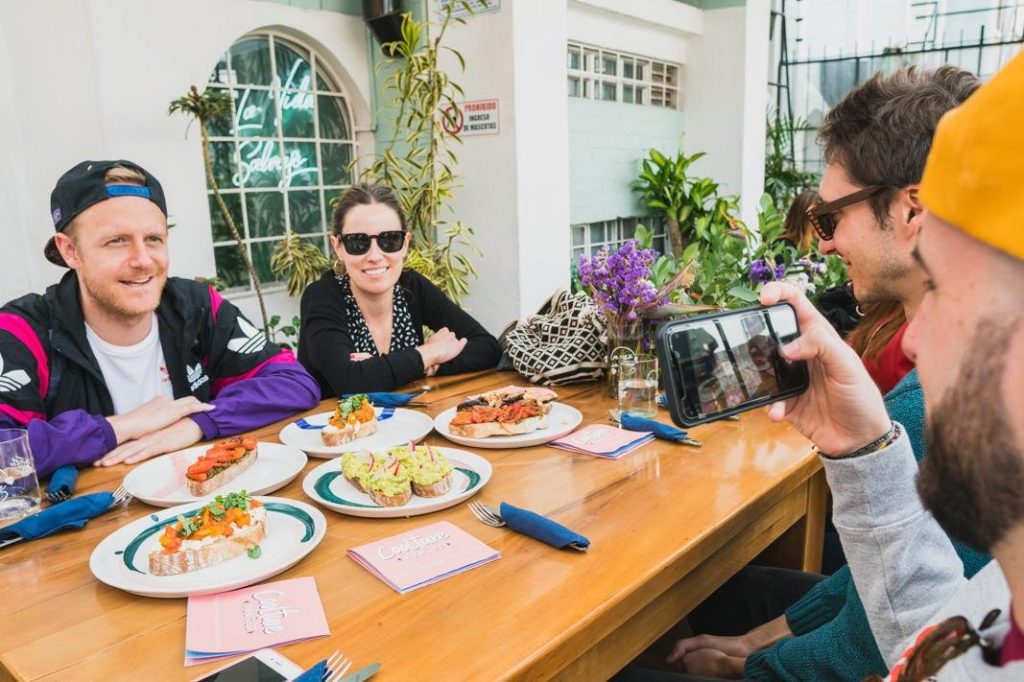 Chapinero is where you'll find Bogotá's under 30 creatives, young professionals, students, and a large LGBT community. The overall feel of the area is a bit more underground with hip eateries, coffee shops, and independent design boutiques to discover. Get to know this neighborhood with local guide Angela by choosing one of her Coolture Routes that range from coffee, drinks, food, and shopping. 
---
Explore La Candelaria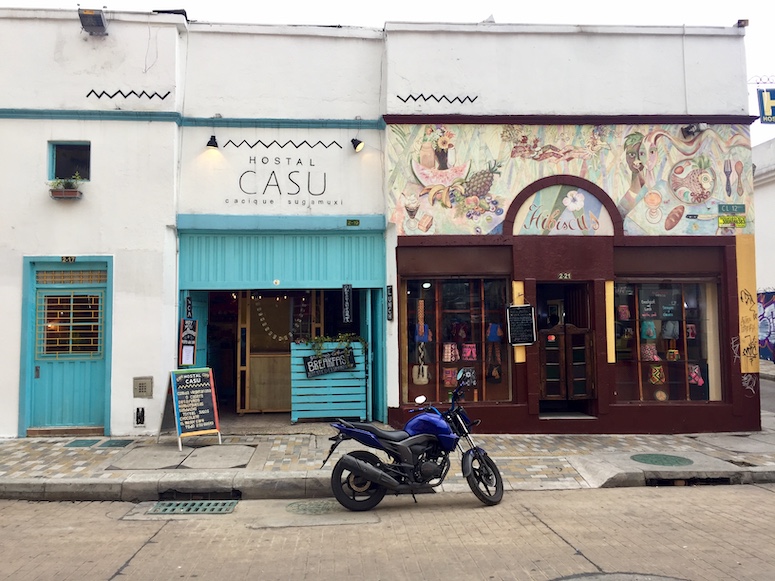 Bogotá's historic district is known as La Candelaria and it's where you'll find many charming colonial streets, colorful murals, and a bohemian vibe that tend to draw visitors in. It's an area that's great to visit during the day for photos as well as the nearby museums. A few favorite spots to visit while you're here include craft beer at Tierra Santa or Café Escobar Rosas, Fragmentos for a gallery, for coffee check out Divino or Varietale, and for food Prudencia or Sant Just is amazing. You also have to walk down the famous Chorro de Quevedo for lots of little bars and street art.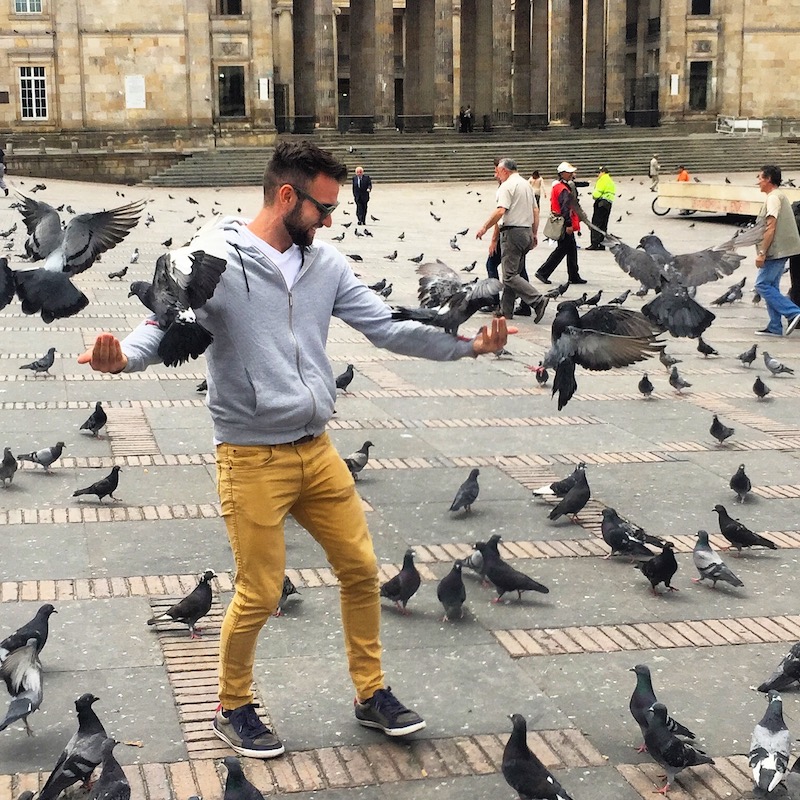 Also, be sure to visit Plaza Bolivar for an iconic photo of Bogotá. Purchase a small bag of corn from one of the vendors for 1K Pesos, put a little in your hand, and hold your arm up and some of the pigeons may fly up to eat it out of your hand. It may be disgusting but playing with pigeons is surprisingly fun!
If you're interested in going on a tour of La Candelaria, THIS TOUR with Zebra Fisgona is by far the best one I've been on.
---
Go on a graffiti tour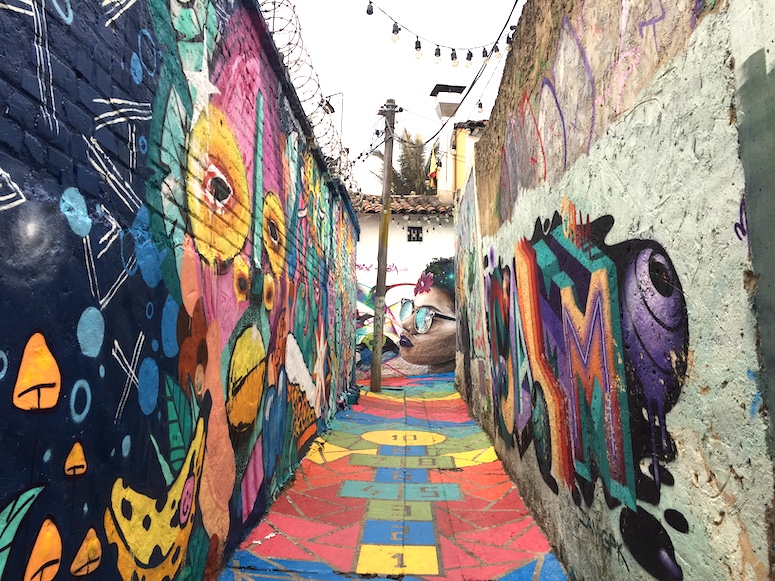 Bogotá has become a blank canvas for graffiti artists and instead of just taking a cool photo in front of the street art you can learn about the history and artists behind it. The Bogota Graffiti Tour is one of the most popular activities in the city. The tour is "free" (you leave a tip at the end) every day at 10 am and 2 pm in Parque de Los Periodistas next to the dome statue. 
---
Watch the sunset from Vista Corona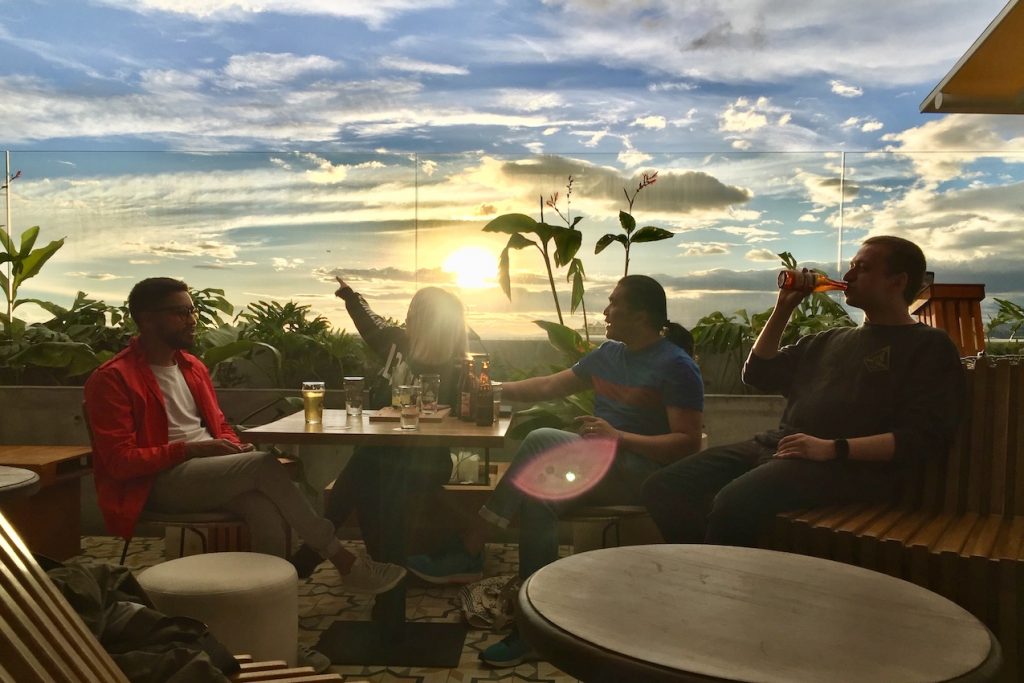 Vista Corona offers one of the most incredible views of the city for sunset. The venue is massive with plenty of seating but can have a wait to enter on the weekends. I also like that indoor/outdoor spaces have a retractable roof so you can enjoy an open-air breeze when it's nice out. Vista Corona is also heavily sponsored by Corona and they give you a free beer every day at 6 pm to enjoy while watching the sunset.
---
Have dinner at El Cielo 
I've done a few tasting menus in various cities and El Cielo is one of the best culinary experiences I've tried. I don't want to ruin what they have in store for you but expect each plate that comes out to keep you engaged, full of surprises, and utilize all of your senses. At the time of this writing, the cost of the 13-course experience is 198K Pesos and the cost of the full 15-course experience is 254K Pesos (go with the full experience if you're going to do it). The experience can be vegetarian-friendly as well if you let them know ahead of time. I also recommend skipping the pricey drink pairing and ordering a bottle of wine off the menu instead to keep your bill from becoming outrageous.
---
See the "Taj Majal"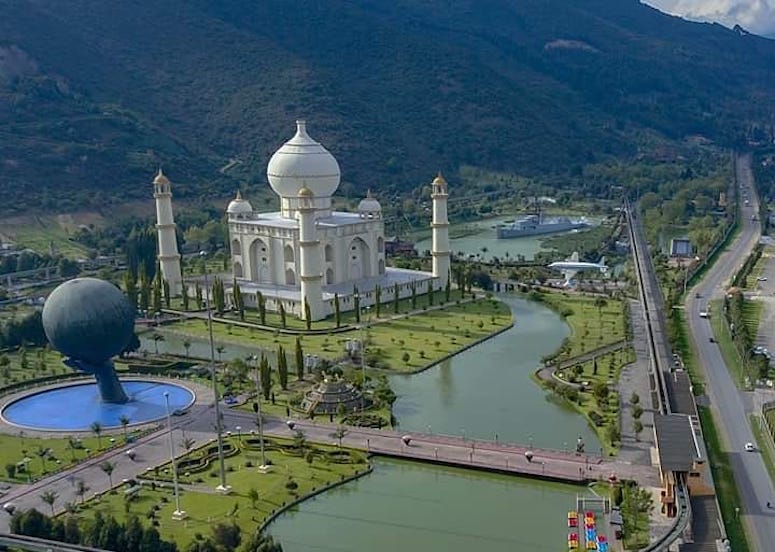 You don't have to travel all the way to India to see the Taj Majal because there is a full-size replica about an hour outside of Bogotá. This quirky tourist attraction is located at Parque Jaime Duque and you can take an Uber to get here. Besides the Taj Majal there are also replicas of the Hanging Gardens of Babylon, the Lighthouse of Alexandria, the Temple of Artemis, and the Pyramids as well as a small zoo of rescue animals. This attraction is just a few kilometers past the Andres Carne de Res in Chia if you want to knock that out on the way back. 
---
Experience Colombian football
Whether you call it Football, Soccer, or Fútbol – you have to experience it in Colombia. People here are passionate about the sport and going to a game is the best way to experience local sports culture. Going to a game is much more fun when you have a group and a local insider to show you how it's done. The Bogota Football Experience includes everything you need like transport, a fun group, entry tickets, and unlimited beer before the game. It starts at $40 / person but this fluctuates based on which game will be happening.
---
Spend a few nights in Villa de Leyva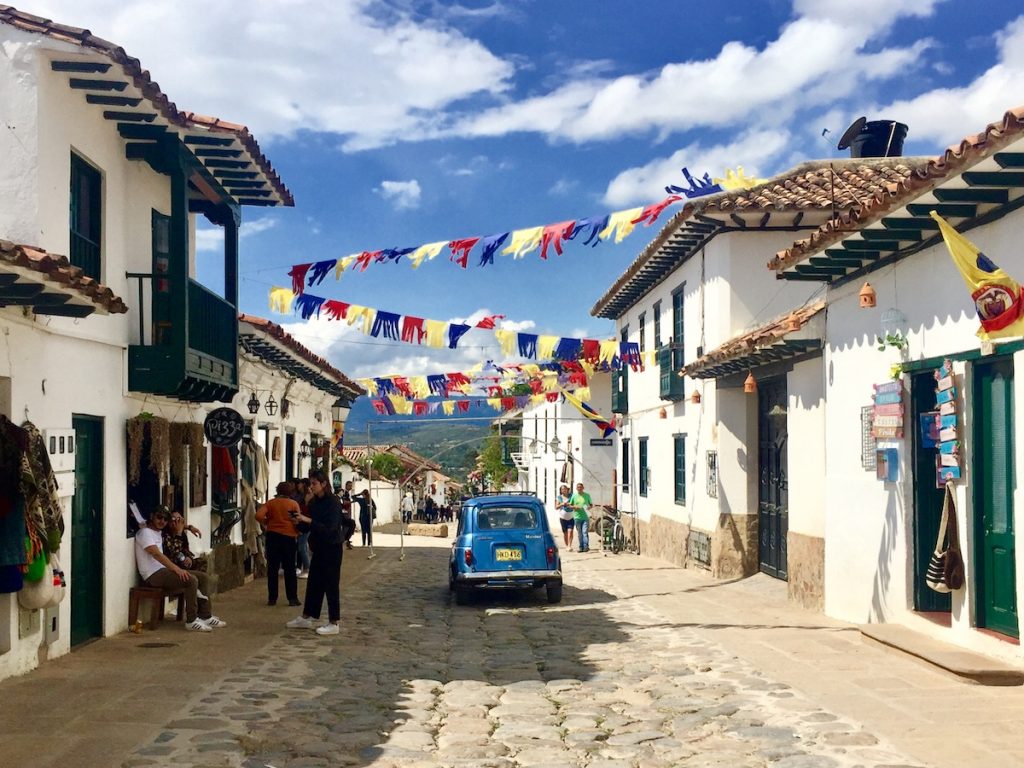 Villa de Leyva is a magical pueblo in Colombia – just a 3-hour drive from Bogotá and a popular weekend getaway for "rolos". This city is like stepping back in time with preserved Spanish-colonial architecture, cobblestone streets, amazing weather, and lots of cute cafés. It has the feeling of an old Italian village with whitewashed walls of the town backing up to dramatic green mountains. While here you can visit a vineyard, shop local arts and crafts, go mountain biking, or just sip on coffee and pastries at one of the many cafés. Read this COMPLETE GUIDE or getting to Villa de Leyva and what to do once you're there. 
---
Go underground at the Salt Cathedral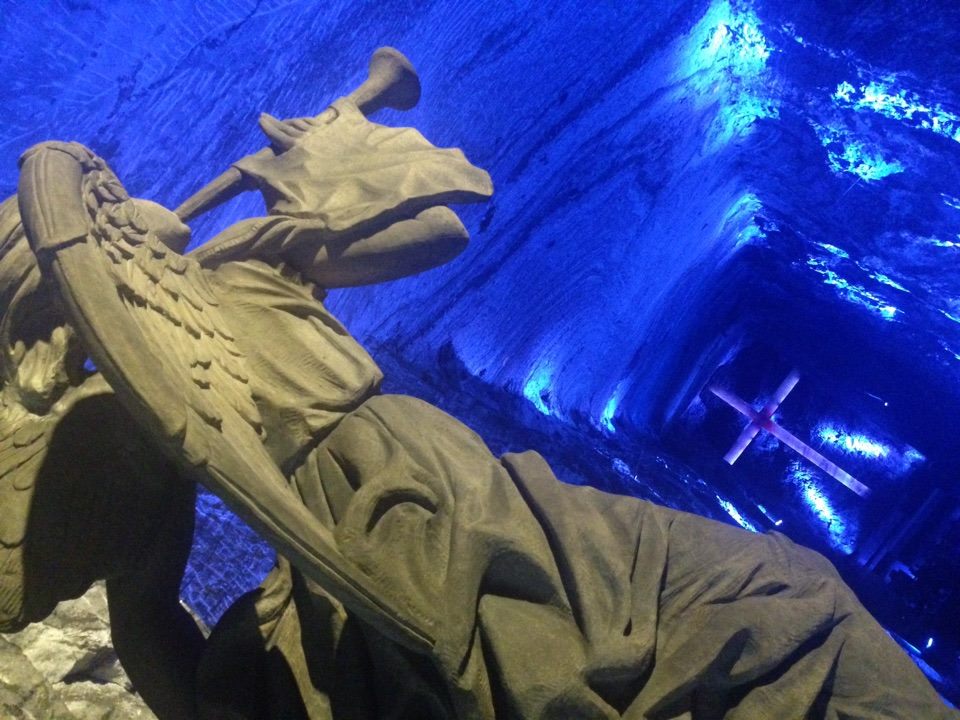 One of the most unique cathedrals in the world might just be in Colombia. Heading about 600 feet underground you'll find famous Catedral de Sal (Salt Cathedral) a place that is architecturally stunning for creating a place of worship in a former salt mine. It's about an hour and a half outside of Bogotá and you can get here using Uber, a private tour, or there is a train that operates on the weekends. The cost of entry is 59 K Pesos.
---
Have a picnic in Parque Virrey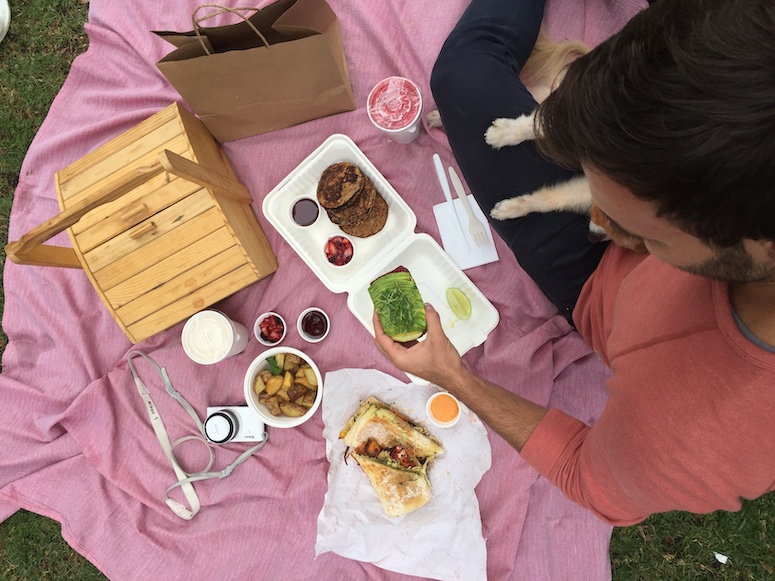 Parque Virrey is a linear, 25-acre urban park with bike routes & pedestrian paths between Calle 87 and 88. Besides being a great place to go for a run or enjoy free outdoor workout equipment, one of my favorite things to do here is enjoying a picnic. Canasto Picnic Bistro makes this easy to do as they are located next to the park and can prepare your order to go in a picnic basket, with blanket included, at no extra charge (just leave an ID). 
---
Rent paddle boats in Parque Simon Bolivar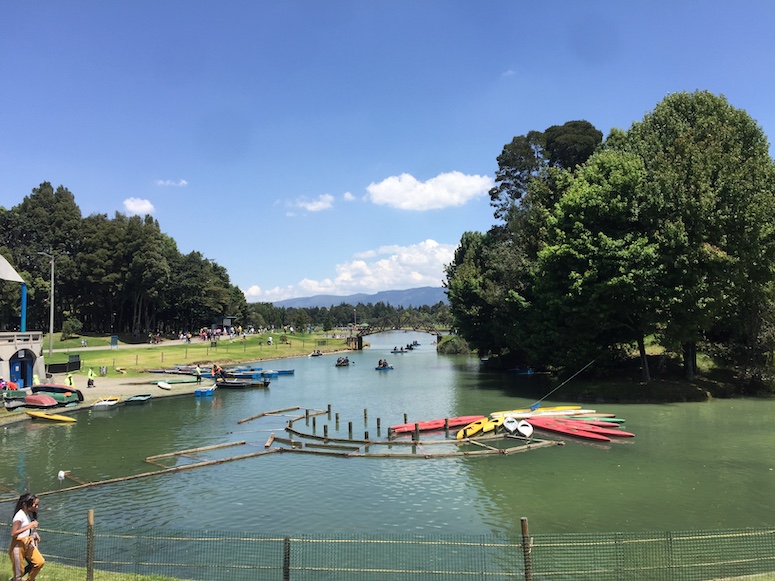 Parque Simon Bolivar is the largest urban park in Bogotá and definitely a breath of fresh air for the city. The park is beautifully designed with running paths and places to sit and picnic, as well as a large lake in the middle where you can rent paddle boats or kayaks. The boats are available for rent any day of the week and cost between 10 – 20 K Pesos depending on how long you use them. 
---
Explore the Botanical Gardens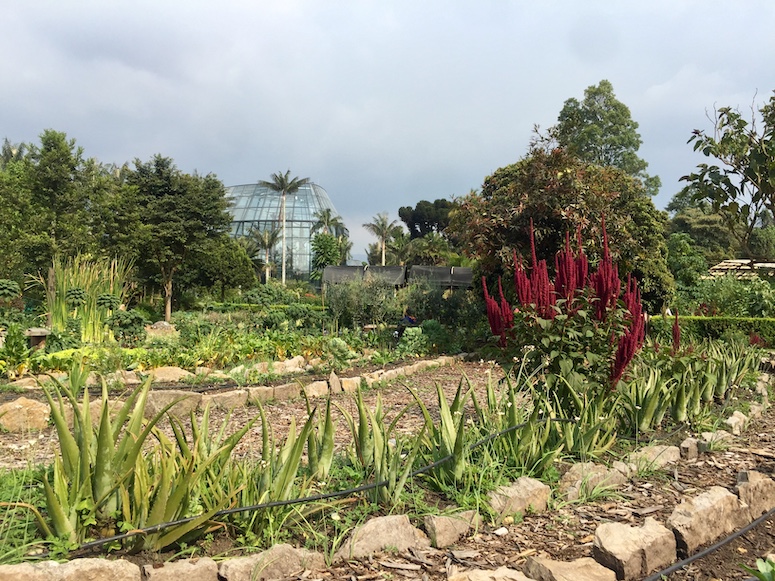 A walk through the Botanical Gardens (Jardines Botanicos) is a refreshing way to spend a few hours in Bogotá. In the gardens, you'll see unique Andean species of flowers, orchids, and other tropical plants. They also have a café on site that brews tea using ingredients from the gardens. 6K Peso entrance fee.  
---
Feel like a kid at Salitre Mágico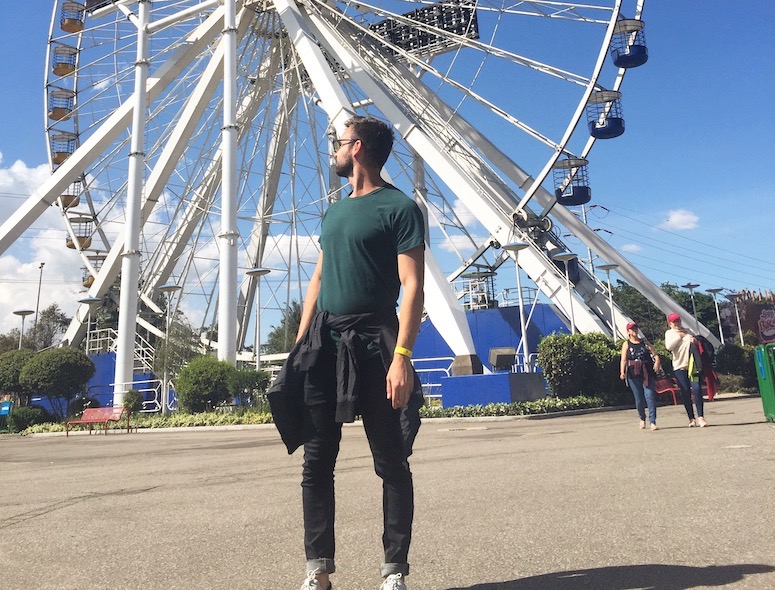 Bogotá has a small theme park called Salitre Mágico that is reminiscent of a state fair but it's a fun day to feel like a kid or bring kids if you have them. You'll find a Ferris wheel, a few small roller coasters, a haunted house, and all the other usual state fair rides. It's highly recommended to go on a weekday if you have availability because the lines can be long on the weekend (or you can pay extra for a fast pass). If you happen to be in Bogotá during the month of October, YOU HAVE to go to Festival del Terror at the park, which takes place at night. They know how to throw a proper Halloween event with tons of haunted houses and a full Halloween production (and be sure to get a fast pass for this because lines are crazy). 
---
Visit the Paloquemao Market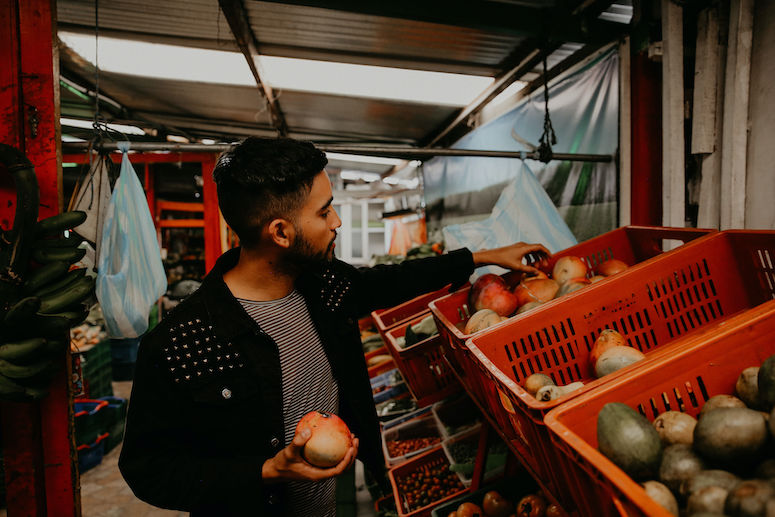 If you're looking for a local & authentic market experience, the Paloquemao Market has a huge variety of fruits, vegetables, meat, fish, and typical Colombian dishes for you to try – plus the prices are amazing! You can visit the market easily on your own, or go with a local guide to show you around.
---
Make your own emerald ring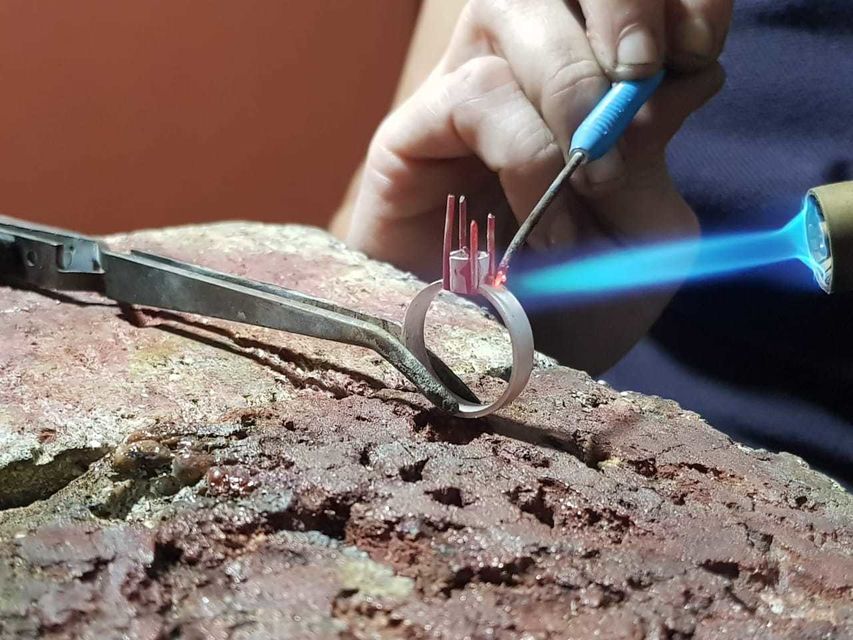 Emeralds are the most important precious stones from Colombia and one of the most unique things you can bring back home is a ring that you designed. During the Emerald Ring Workshop, you'll decide the shape, the stone, and the design of your silver ring, learning the several steps in the production of a ring at your guide's advisory. Visit THIS LINK for complete details.

---
Party at Andrés Carne de Res
Andrés Carne de Res is where to go if you want to experience a crazy Colombian party. There are two locations, one in the city and one in Chia. If you are going to visit Andres Carne de Rés, you need to go to the one in Chia. The Chia location is around 50 minutes from the city so I recommend booking a spot on the Andrés Carne de Res Party Bus because they take care of the transportation both ways, entrance fee, you get free cocktails on the bus ride there, and have a fun group to party with. Once there you can order typical Colombian dishes, drinks, and dance on a table. I think after going you'll have an understanding of crazy Colombian culture. And if you don't want to travel so far, the location right in Bogotá is perfect to visit too.
*This post is also available in: Español