*Esta publicación también está disponible en: Español
Camping has come a long way and now you can enjoy "glamping" (glamour camping), as little as 25-minutes from the chaotic center of Bogotá. This is a comfortable way to enjoy the outdoor aspect of camping with modern amenities and allow yourself to reconnect with nature – plus there are some SUPER CHIC places to stay. From tiny cabins, treehouses, renovated busses, teepees, and more – here are the easiest glamping & eco-tourism getaways from Bogotá, Colombia.
---
Mango Haus en La Mesa
Approximately 2 hours from Bogotá – BOOK NOW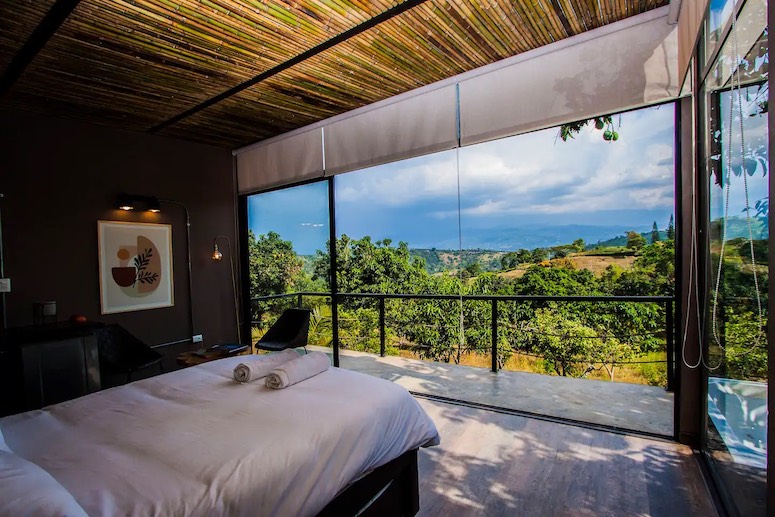 Mango Haus is located within the Villa del Pilar farm between La Mesa and Anapoima with a warm climate. This spectacular space is surrounded by fruit trees and has a spectacular view that overlooks the mountains. Here you can find peace and rest and completely disconnect from the city. The cabin features a modern design, a jacuzzi, and a terrace. Perfect for couples looking for privacy.
---
EnCubo Glamping in Guatavita 
Approximately 1.5 hours from Bogotá – BOOK NOW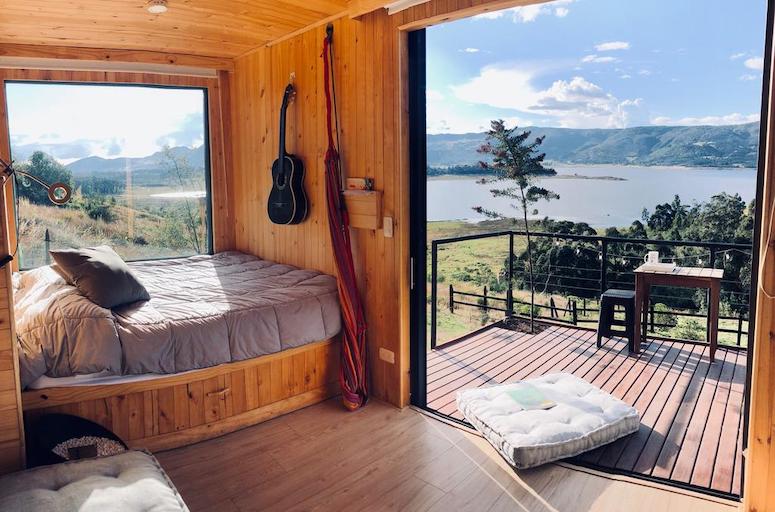 Transitioning away from the traditional bubble and teepee style glamping options sits EnCubo, a small cabin on the Laguna de Guatavita constructed from a shipping container. The container has floor to ceiling windows that let you take in views of the surrounding area as well as a patio and roof deck to enjoy the outdoors. While in Guatavita, the hosts can help you book a romantic sailboat excursion on the lake or horseback riding. 
---
Ecoglamping Reserva Paraíso Andino in La Vega
Approximately 2 hours from Bogotá – BOOK NOW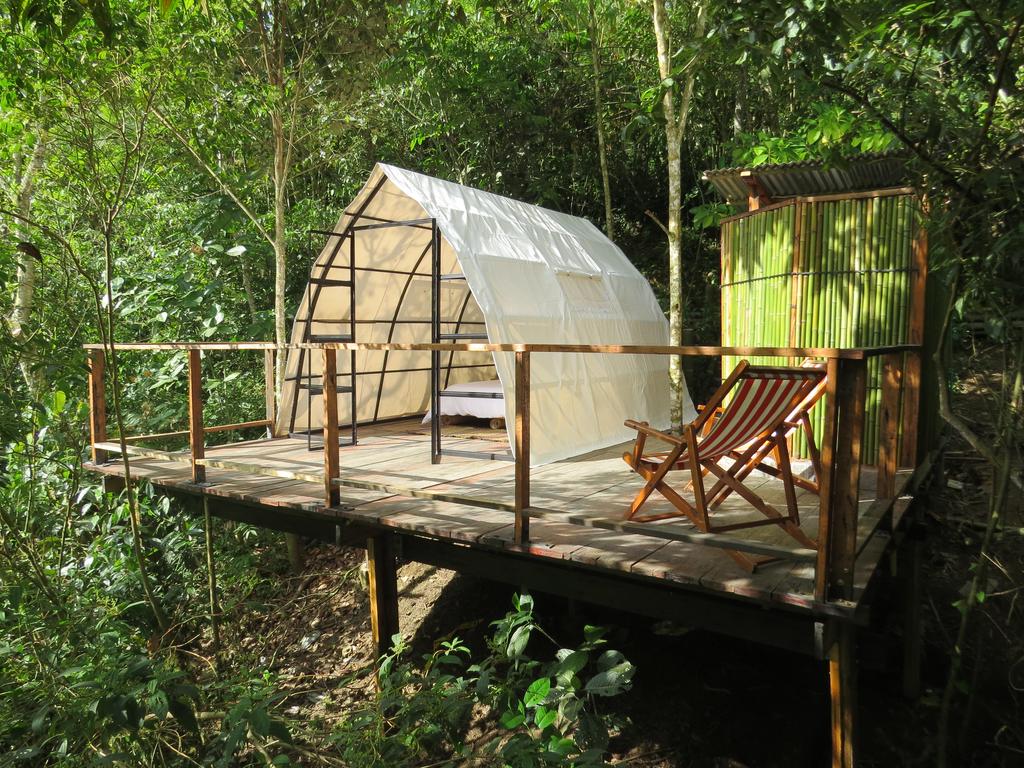 Enjoy a unique and personalized Glamping experience at Ecoglamping Reserva Paraíso Andino in La Vega. Meals here are cooked using organic ingredients from the property and the hosts are happy to teach you about the natural surroundings if you're interested. The best parts are the mountain views from the tent and the beautiful hikes on the reserve.
---
Glamping Dome in Chinauta
Approximately 2.5 hours from Bogotá – BOOK NOW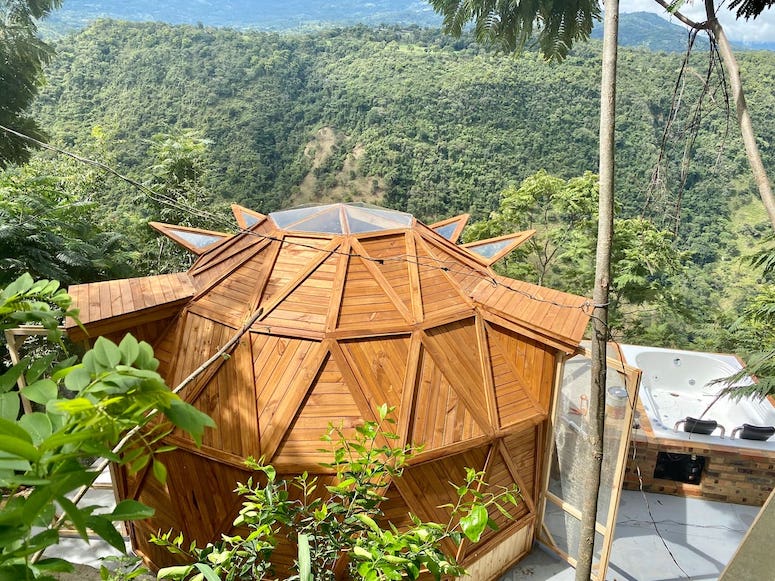 This magical glamping dome comes with stunning mountain views, a private jacuzzi, and a BBQ making it the perfect place to disconnect. The property also features a hike down to the Cuja River where you can go for a swim and enjoy nature. The average temperature here is a little warmer than Bogotá so it's the perfect escape from the cold.
---
Tiny Cabin in Usaquén 
Approximately 25-minutes from Bogotá – BOOK NOW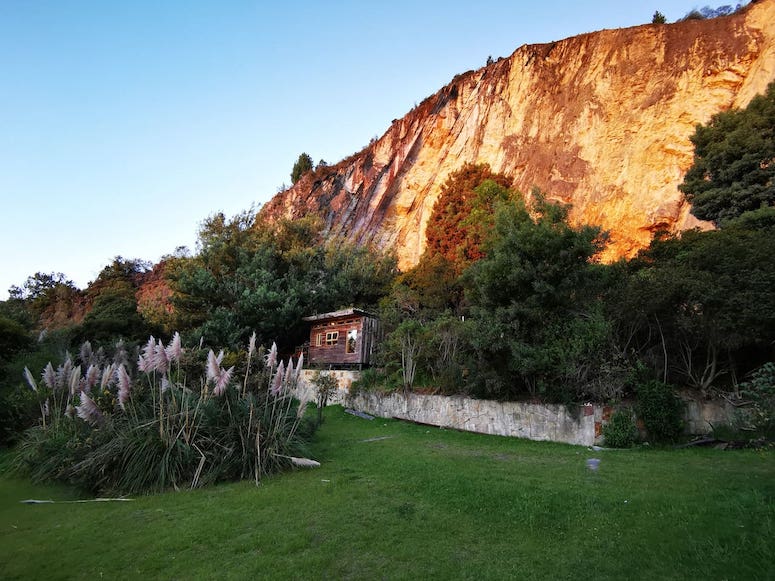 One of my favorite finds has been a little cabin getaway up in the mountains by Usaquén, making this the closest and most accessible destination from Bogotá. The listing is on Airbnb (check it out here) and is a tiny house designed to perfection by the owner.  The views are stunning and can be enjoyed from the roof terrace, especially as day turns to night and you can lay down to see the stars. There is a full kitchen and an outdoor grill, as well as a laundry room to make this perfect for a short or long-term stay. It's even possible to get Rappi orders to the cabin if you want to take a break from cooking. The owner is also constructing a luxury tent near the cabin if you want to turn your stay into a group trip.
---
Treehouse Cabin in La Calera
Approximately 1-hour from Bogotá – BOOK NOW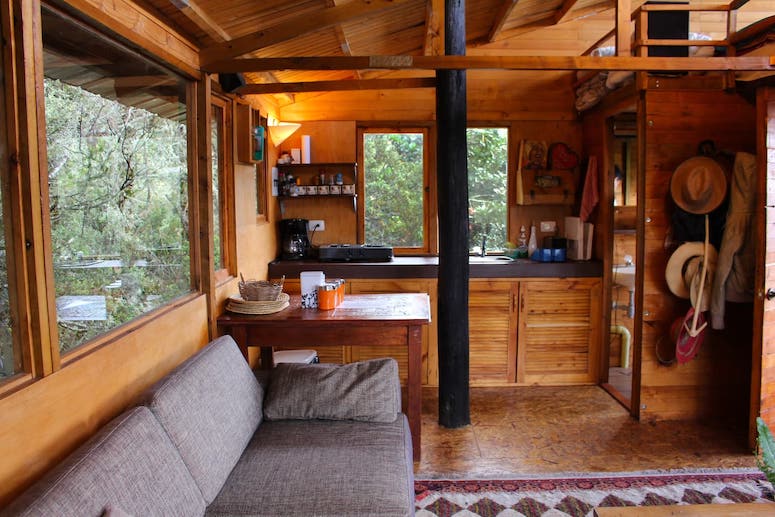 Stay in a magical treehouse elevated 8 meters from the ground with stunning views of the surrounding forest. However, staying in a treehouse doesn't mean you'll be roughing it. This cabin has a full kitchen, bathroom with hot water, outdoor spaces, and a lofted bed on the second floor. There is also plenty of hikes and a nearby waterfall for you to explore while you're here. 
---
Hobu Montaña in La Calera  
Approximately 1-hour from Bogotá – BOOK NOW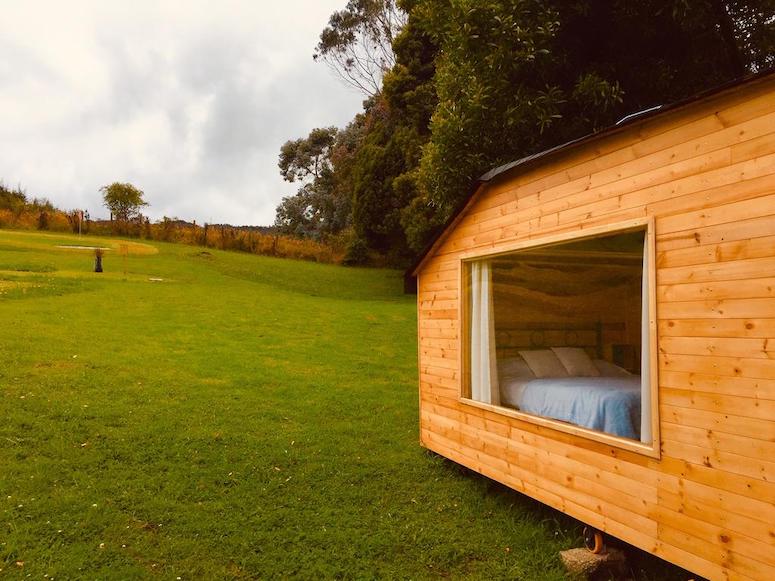 Also in La Calera, you'll find Hobu Montaña, with small cabins right next to a golf course on the property. The property has a campfire, golf course (with classes offered), horseback riding, and a fire pit to warm up in the chilly evenings. There is also a small restaurant and bar on-site so you don't have to worry about cooking. 
---
Glamping Cristal in Guatavita
Approximately 1.5 hours from Bogotá – BOOK NOW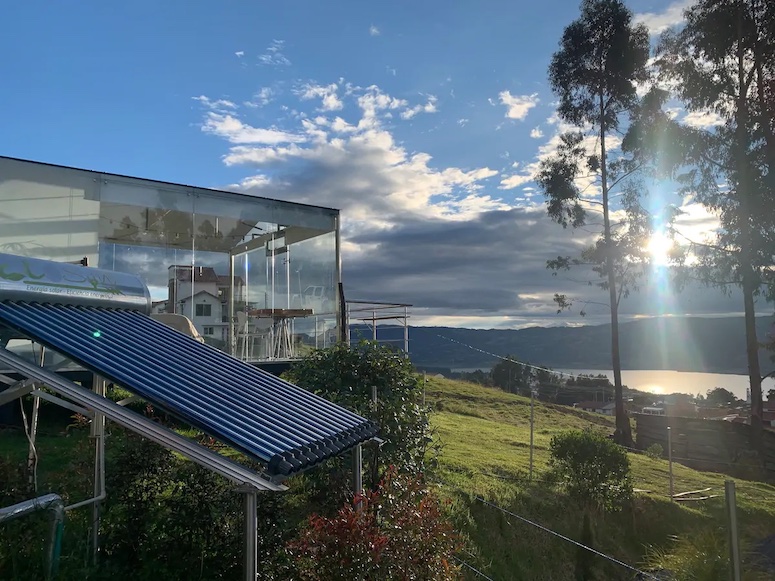 At Glamping Cristal, the completely transparent panels allow you to enjoy the natural environment. The ceiling can also be uncovered to reveal an incredible view of the stars at night.
---
Casa Verde in Choachi
Approximately 1.5 hours from Bogotá – BOOK NOW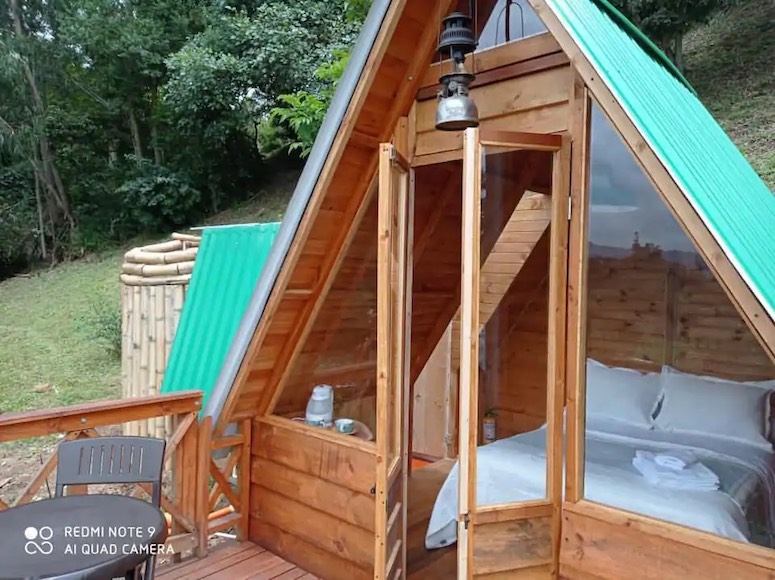 Casa Verde is a beautiful and cozy cabin, the perfect place to escape from the city just 40 minutes from Bogotá and get in harmony with nature and calm. Excellent view of the mountains to accompany you with a coffee. Accommodation includes American-style breakfast, parking, ecological walks, bonfires and much more.
---
Glamping Aventura Park in Villa de Leyva 
Approximately 3.5 hours from Bogotá – BOOK NOW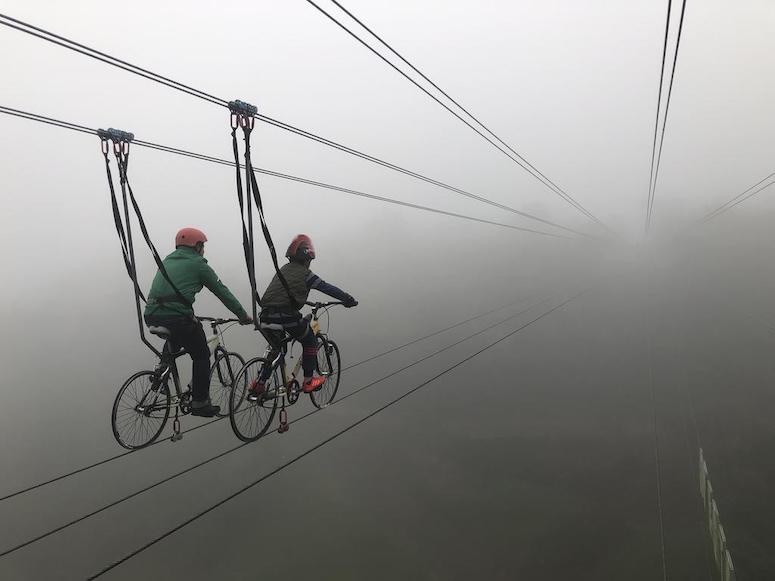 The main square of Villa de Leyva is known for its white-washed walls and cobblestone streets, but there are also quite a few eco-tourism getaways in the surrounding countryside. Glamping Aventura Park satisfies anyone looking to experience adventure sports like sky cycling, zip-lining, obstacle courses, bungee jumping, waterfall repelling, and more. Accommodation includes a dome style cabin with clear roof windows that allow you to see the stars from your bedside with breakfast included in the morning. Also, be sure to check out our complete guide to Villa de Leyva HERE. 
---
Bamboo Glamping in Anapoima
Approximately 2-hours from Bogotá – BOOK NOW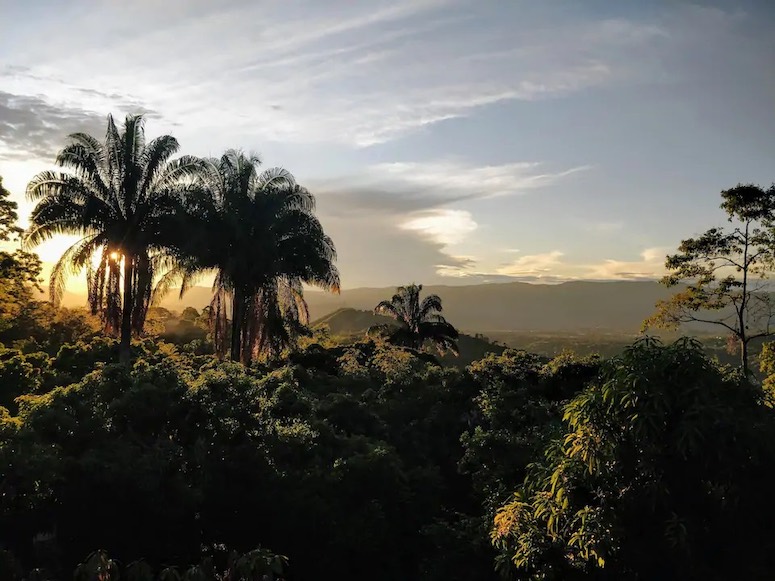 Bamboo Glamping is a cabin constructed of bamboo set in a mango plantation, located on a beautiful farm 80 km from Bogota. The area has a perfect climate throughout the year (between 15 and 30 degrees Celsius), a great variety of tropical fruits, and some rivers that are a short distance from our farm. You can hike, swim in the rivers (depending on the season), or relax in the hammocks.
---
Finca de Sumercé in Guasca
Approximately 1.5-hours from Bogotá – BOOK NOW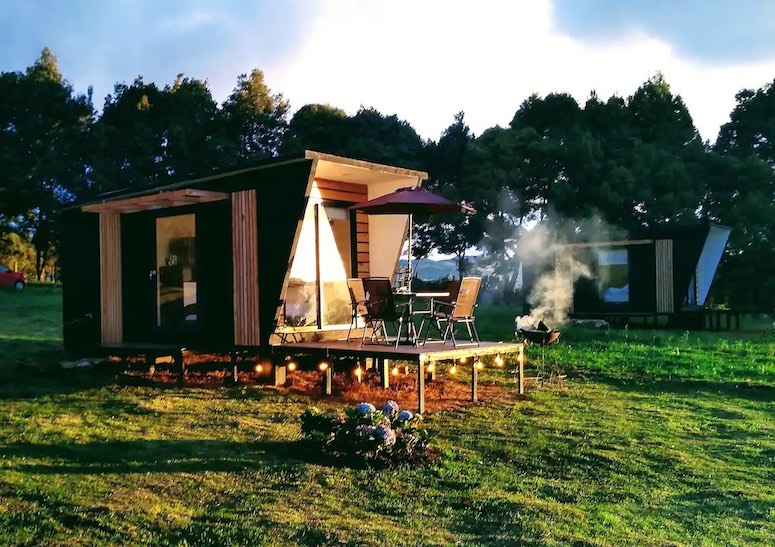 At Finca de Sumercé, it's about immersing yourself in your environment, breathing fresh air, smelling nature, feeling the earth under your feet, while enjoying a spectacular view and dissolving your daily stress. The Sumercé farm is a luxury campsite that offers the perfect place for a mountain getaway, located 60 km northeast of Bogotá, the Colombian capital.
---
*Esta publicación también está disponible en: Español