*This post is also available in: Español
How much time do you need in Santa Marta? 48 hours is the perfect amount of time to get to known this beachside gem. Here's our ultimate guide on experiencing the best of Santa Marta, Colombia.
I visited Cartagena a few years ago and didn't quite love it. The walled historical center was gorgeous, but I was constantly harassed by street vendors every few minutes trying to sell me something and it just felt a bit too touristy. However, nearby Santa Marta is the opposite of that.
Santa Marta is a laidback Caribbean town that's perfect for travelers who want to get away from mainstream destinations. At the moment Santa Marta is a popular destination for Colombians on the coast and backpackers, as it's much more affordable than Cartagena. People are attracted to the charming colonial-era streets, historic buildings, and access to beautiful surroundings. However, since this is an up-and-coming destination, infrastructure tends to be on the gritty side compared to Cartagena, so it might not be for every type of traveler.
How much time do you need in Santa Marta? 48 hours is the perfect amount of time. And what sets Santa Marta apart from Cartagena are the variety of eco-tourism activities within a short distance. After your stay, you can stay a night in Parque Tayrona, one of the biggest highlights of Santa Marta. Or go river tubing at El Rio Hostel (I highly recommend staying two nights here). Or go up to Minca for a few nights to visit coffee & cacao plantations.
---
Things to know before you go
Getting there: If you're coming from Bogotá, you need to fly. The budget airline Viva Colombia has direct flights as well as Avianca and Latam. Avianca is the best as they have the most baggage allowance. Viva Colombia has also introduced direct flights from Miami, making it easy to arrive from the states. If you're coming from Cartagena, it's recommended to take a direct 5-hour shuttle. 
Cost of taxi from the airport to Santa Marta: Don't pay more than 30K Pesos to get from the airport to Santa Marta. Taxis tend to not be metered here so always have a price set before you get in. If you have phone data you can use the Easy Taxi app to get a driver (Uber does not work in Santa Marta) or there are plenty waiting outside the airport.
Driver recommendation: I do have an excellent driver recommendation who brought us to destinations outside of Santa Marta for reasonable prices. Contact Herwitz using Whatsapp at +573013510852 and he can drive you to destinations like Minca, El Rio Hostel, Tayrona, and more.
Drinking water: We were advised not to drink the water in Santa Marta. However, the morning after a night out I was desperate and drank it anyway and did not get sick. Probably stick with bottled water and if you drink a little of the tap water it's not going to hurt you.
Cash and ATMs: It's good to bring plenty of cash because some of the tour companies and restaurants do not take cards. There are ATMs from the main Colombian banks if you run out.
It's HOT: Expect 90 F degree with during the day and 75 F degrees at night with an extreme amount of humidity. If you have problems with this type of weather, avoid being out in the middle of the day.
Other Resources: If you need up to date information or have questions about Santa Marta, The Best of Santa Marta and Enjoy Santa Marta are useful resources.
---
Where to stay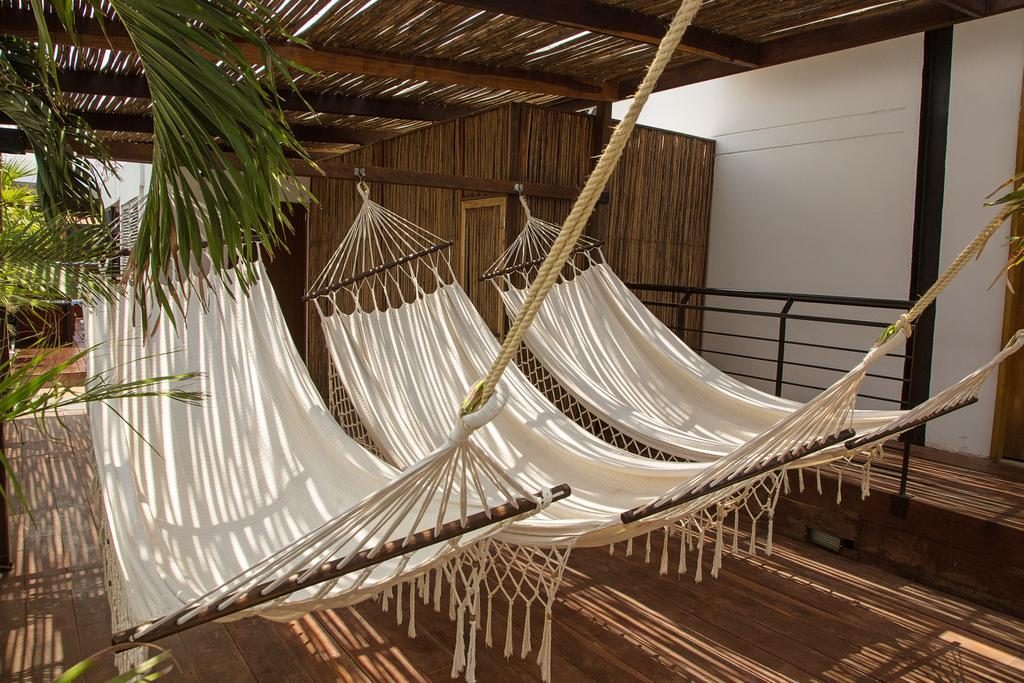 There are two main areas that tourists can stay in Santa Marta: Rodadero or the Historic Center. Rodadero is more upscale condos and hotel chains, so I recommend staying in one of these charming hotels located in the historic area if you want to experience the real Santa Marta.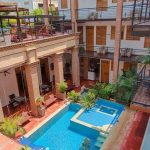 Casa Carolina ($$): If you're looking to stay somewhere with high-end finishes and plenty of pools in Santa Marta, Casa Carolina is the spot to stay. The boutique hotel features three pools and a jacuzzi, rooftop lounge, and a gourmet restaurant on site, plus it is centrally located.
---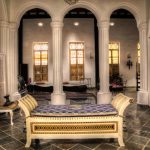 Casa de Leda ($$$): This colonial-style boutique hotel features modern décor, a spa, a terrace with a bar and an indoor pool – plus a rooftop pool. The feel of the hotel is luxurious without being too expensive, with plenty of good photo opportunities.
---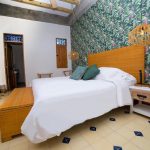 Casa Mia ($$): At Casa Mia, you're right in the middle of all the charming restaurants and bars in Santa Marta. The hotel has tropical modern decor and a small swimming pool area as well. Guests say that the comfy beds are one of their favorite parts of staying here.
---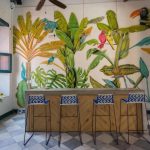 Republica ($): Repulica is a gorgeous design hostel that accommodates travelers looking for a great place to stay, no matter what your budget is. The dorm beds are more like private pods so you have privacy from other guests, and the private rooms rival any pricey boutique hotel. The hostel also has a small pool in the center, colorful murals splashed along the walls, and is centrally located in Parque Bolivar. The social atmosphere is also a big perk of the hostel where they have free activities like salsa lessons included in the price.
---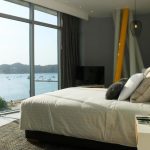 BlueBay Concept Hotel ($$): BlueBay is closer to Rodadero than the historic district but it has a gorgeous view of the bay & shipping port and you're steps away from the lively malecon. The rooms and hotel are decorated with stylish decor, plus you have several restaurants on site if you need a quick bite to eat. The only downside is the lack of a swimming pool.
---
What to do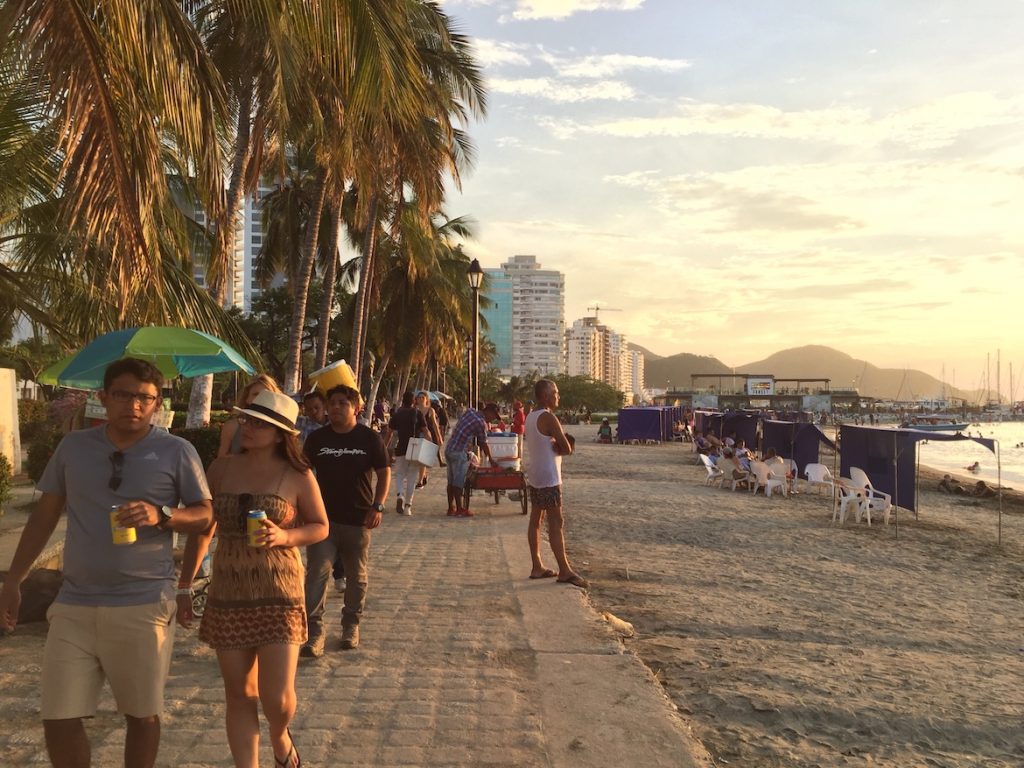 Walk along the Malecon at sunset: The waterfront malecon is a fun way to spend the evening people watching while the sun starts to set. Locals come here to enjoy a stroll, fresh shrimp ceviche, and cheap beers.
Download the Sound Walkrs App: As soon as you get to Santa Marta, download the Sound Walkrs App, for a historical walking tour of the historic area. For example, did you know that Santa Marta was established in 1525, making it one of the oldest colonial cities in the American continent? The app virtually guides you to key points, plazas, and buildings in the city with lively commentary and fun facts along the way.
Relax at the Rodadero Beaches: After learning all about Santa Marta, relax at the beach! You'll notice that the beach directly in front of Santa Marta is crowded, but if you go towards the left where the fancy condos are, this area is known as Rodadero and has nicer and cleaner beaches you can relax at.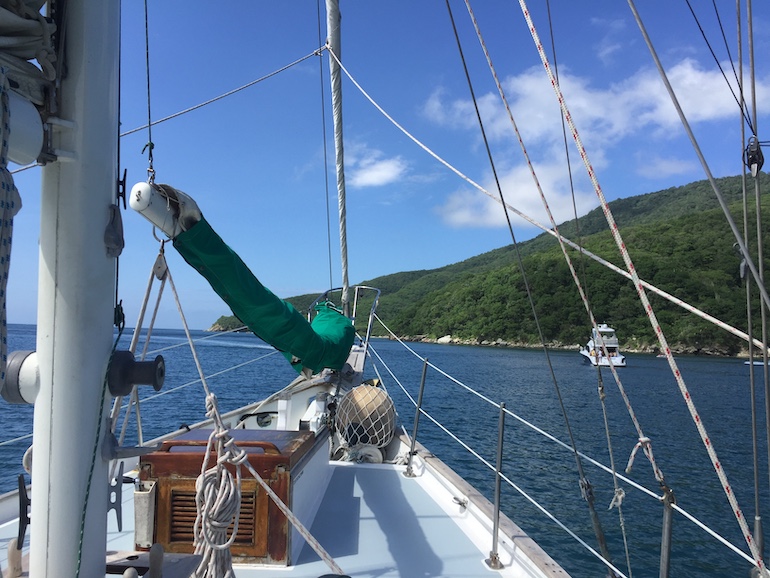 Tayrona Sailing: On your second day in Santa Marta, book a tour with Tayrona Sailing. This ended up being one of my favorite activities during the trip! We left in the afternoon and it was amazing to be on a sailboat with Santa Marta's gorgeous scenery. The boat docks at a nearby bay where you can get out and swim to the beach or hang out on the boat for the rest of the day. The cost is 150K Pesos (around $50USD) and includes a full day out at sea, lunch, and a drink. Beers are available for purchase or you can bring your own.
Learn to dance: Before heading out for the night, take a Caribbean dance lesson with local Fafo Marquez. He can be contacted via WhatsApp at +573008741259 to schedule a lesson.
---
Where to eat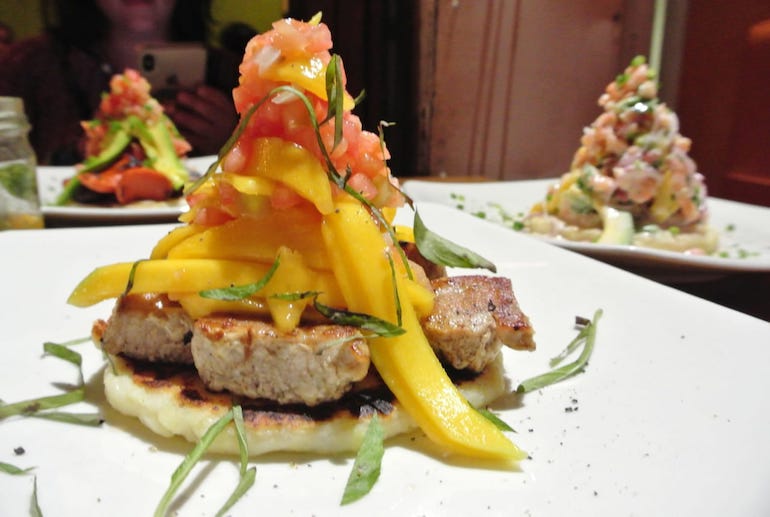 Lulo: One of my favorite meals in Santa Marta was at Lulo. They are most famous for their creative arepas piled with ingredients and the ceviche arepa is a must-try! They also have a number of craft cocktails infused with local fruits that are delicious as well. (Carrera 3 #16-34)
La Canoa Cafe Cultural: La Canoa is an amazing spot for breakfast or lunch in Santa Marta. The food is a fusion between the Caribbean and French cuisine in a friendly and cozy atmosphere. (Calle 18 #3-75)
Juancho Cevicheria: If you want to try local style ceviche, Juancho Cevecheria is not a fancy joint, but prepares a delicious shrimp ceviche at an affordable price if you're worried about trying ceviche from one of the street vendors. (Calle 22 #1)
Ouzo: Ouzo was the first restaurant I ate at in Santa Marta and definitely should be on your list to visit. They specialize in creative Meditteranean cuisine and everything that my friends and I ordered was exceptional. (Carrera 3 #19-29)
Maharaja: This Indian restaurant is a must-visit spot during your visit to Santa Marta. They have a lunch menu of the day for only 12K Pesos and you can take a 3-hour Indian cooking class for 100K, because why not learn how to make Indian food in Colombia. (Carrera 4 #14-34)
Soul Food: If you want to try Caribbean style Colombian seafood, then Soul Food is the place to go. The dishes incorporate fresh, local ingredients and spices that you will rarely find in other parts of Colombia. (Carrera 20 #3-51)
---
Where to shop
Full Feria: Full Feria houses clothing, accessories, and souvenirs made by Colombian designers. You'll for sure find something unique! (Calle 17 #2-59)
Marea: Marea is another multi-brand store that features clothing, bathing suits, souvenirs, and more from local Colombian artists and designers. It's the perfect spot to find something tropical to take back home. (Calle 16 #3-40)
---
Where to drink & dance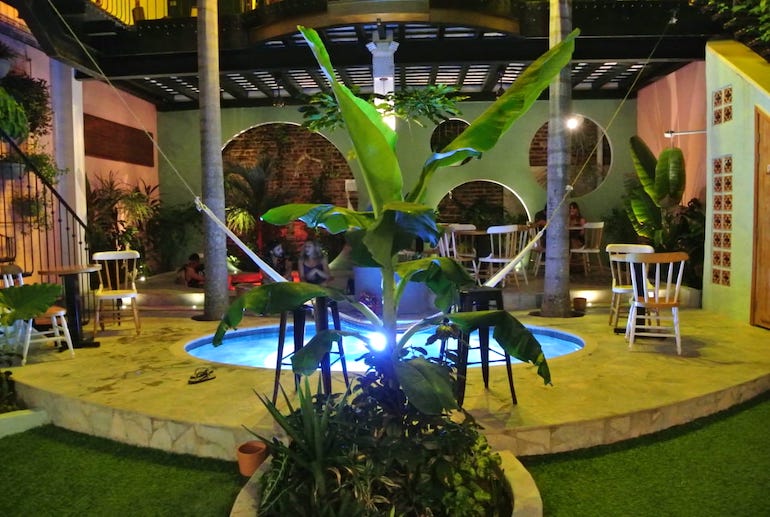 Patio Querido: I didn't get a chance to party at Patio Querido because I went on a Sunday, but I wish I had! The decor is upscale chic and tropical, without feeling pretentious. They specialize in unique craft cocktails with local ingredients (order the house punch) and small tapas to eat. They even have a small pool in the middle that you can take a dip in and plenty of hammocks. It's overall a chill spot to relax with friends or meet other travelers. (Calle 18 #3-40)
La Azotea: La Azotea is a rooftop nightclub where you'll find a good looking group of partygoers and a DJ playing rock, funk, hip-hop, disco, dance, house, and salsa. (Carrera 3 #19-25)
La Bodeguita Pirata: The place is small but you can always count on La Bodeguita Pirata for a good party. They normally play reggaeton music and the place gets back.
La Puerta: La Puerta is super casual and it's a spot to go when you want to DANCE! The crowd here likes to party and the DJ plays local Caribbean style music that you won't find anywhere else. (Calle 17 #2-29)
Caribbean Team: As you walk along the malecon, you'll notice a bar with the words SUNSET posted largely on the outside. The bar is actually called Caribbean Team as it has several establishments but is an amazing spot to watch the sunset from. They also have live music and DJs in the evening.
Crab's Bar: Crab's is one of those spots that has been in Santa Marta forever and is an eclectic dive bar to drink beers, shots, play pool, and other drinking games. They typically have blues, rock, and soul music playing and have a rooftop patio as well.
---
What to do after Santa Marta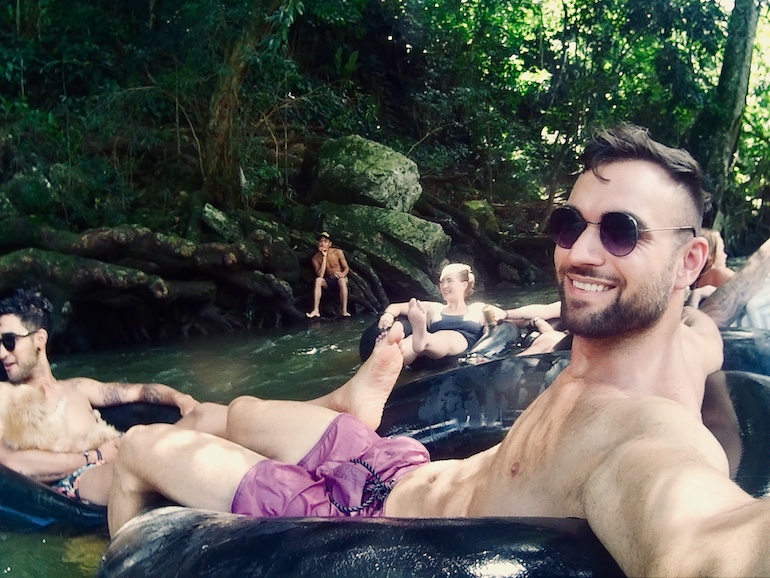 What sets Santa Marta apart from Cartagena is the variety of eco-tourism destinations a short distance away. After your stay, you can visit Parque Tayrona, a jungle filled beach and one of the biggest highlights of Santa Marta. Or go river tubing at El Rio Hostel (I highly recommend staying two nights here). Or go up to Minca for a few nights to visit coffee & cacao plantations. There's plenty to do and you could easily spend a week getting to know the entire region.
*This post is also available in: Español