*This post is also available in: Español
There's been a number of rooftop bars opening in Bogotá with plenty of spots where you can enjoy a drink with spectacular views of the city and mountains (just be sure to arrive by 6 pm if you want to see the sunset since it gets dark early in this city). I spent some time exploring & drinking at every rooftop bar I could find and narrowed my list down to the best spots available.
So, here are my picks for the best rooftop bars in Bogotá, Colombia. Cheers!
---
O.D.E.M.
I love living in Chapinero but the one thing it was missing before was a killer rooftop bar. The recently opened O.D.E.M. venue now satisfies my rooftop needs and is quickly becoming where the "cool kids" of the neighborhood flock to. The terrace overlooks the gorgeous Lourdes Cathedral and is perfect for after-work sunset drinks and then it turns into a party vibe as the night goes on.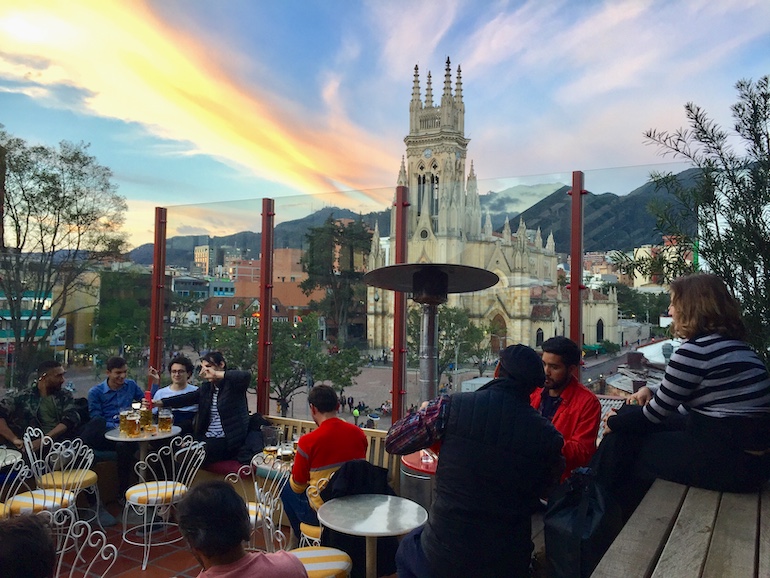 Address: Chapinero, Calle 63 #13-11
---
Monaco
Monaco Rooftop is where you can find one of the best views of Bogotá paired with cool events. Perched high above the bustling streets, this stylish oasis offers a unique and luxurious experience for visitors seeking panoramic views, sophisticated ambiance, and a touch of glamour. Be sure to follow their Instagram @monacorooftop to see when their next brunch, sunset party, or other special event is happening.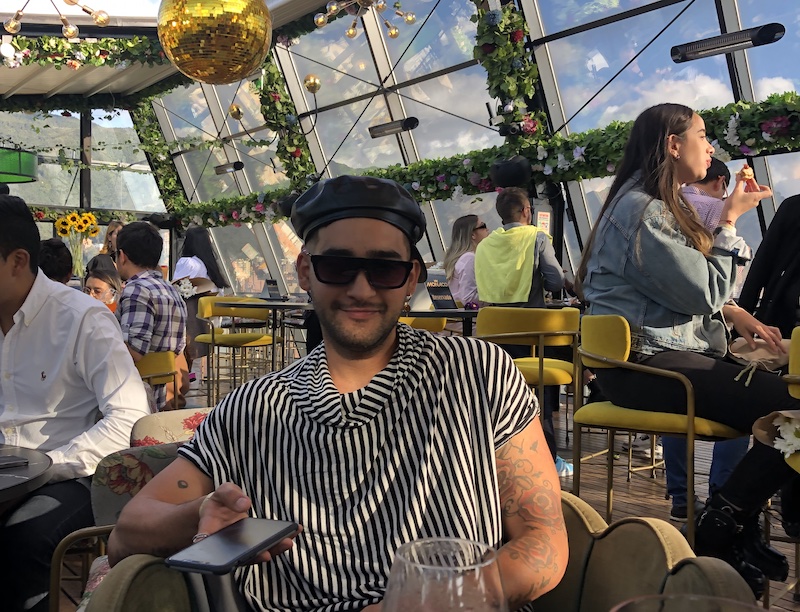 Address: Calle 90 #16-34 Floor 22
---
Hotel Coco
Hotel Coco has a super stylish rooftop in the the Zona G neighborhood of Bogota, Colombia. Situated atop the prestigious Hotel Coco, this enchanting rooftop oasis offers a blend of elegance, comfort, and breathtaking views, making it an ideal spot for relaxation, socializing, and indulging in the city's vibrant atmosphere.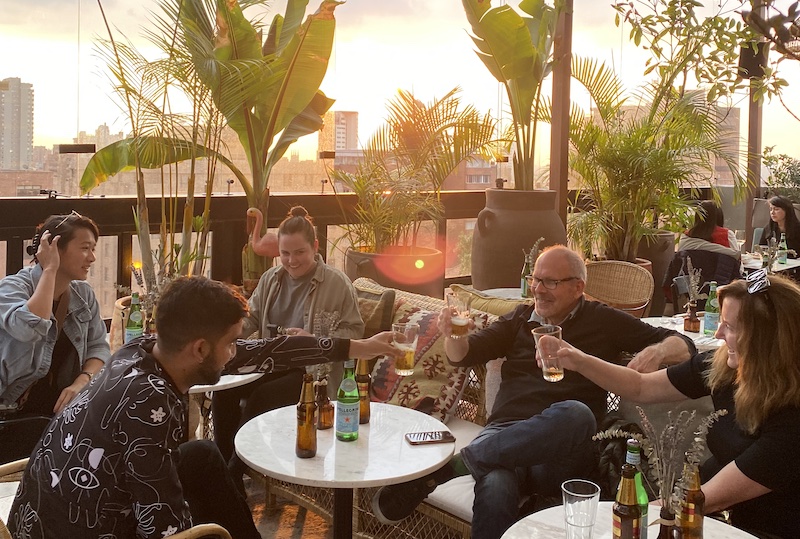 Address: Calle 70a #5 – 44
---
Bombay
Bombay Rooftop boasts a spacious outdoor terrace that offers lovely views of Bogotá. The terrace is adorned with vibrant colors, ornate furnishings, and intricate decor, reflecting the rich tapestry of Indian culture. At the heart of Bombay Rooftop is a culinary journey that takes guests on an exploration of "Latindian" fusion flavors & mixology mantras.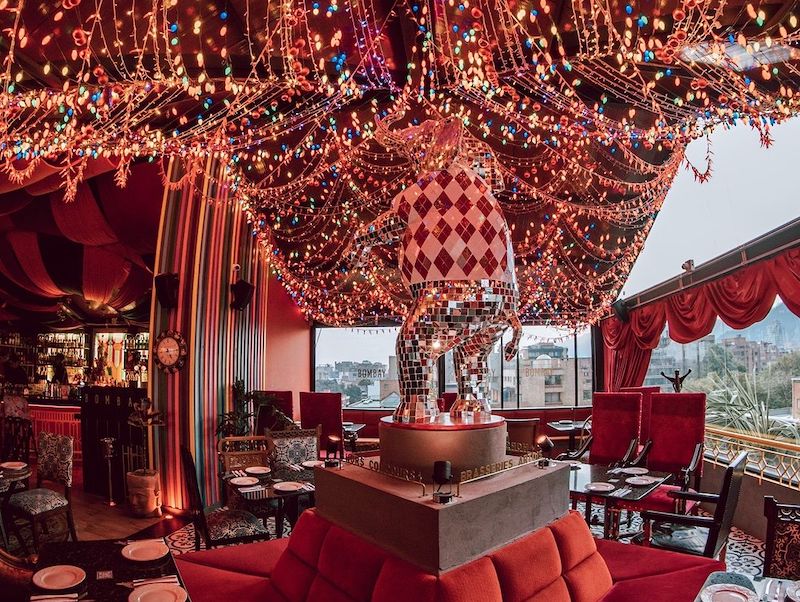 Address: Carrera 13 #85-65
---
Brewpub Rooftop
Whether you're a beer enthusiast or simply looking for a fun and relaxed rooftop experience, Brewpub Rooftop in Bogota promises an unforgettable visit. With its exceptional craft beer selection, flavorful cuisine, inviting ambiance, and friendly service, Brewpub Rooftop stands as the perfect hangout for those seeking a taste of Bogota's craft beer culture in a lively rooftop setting.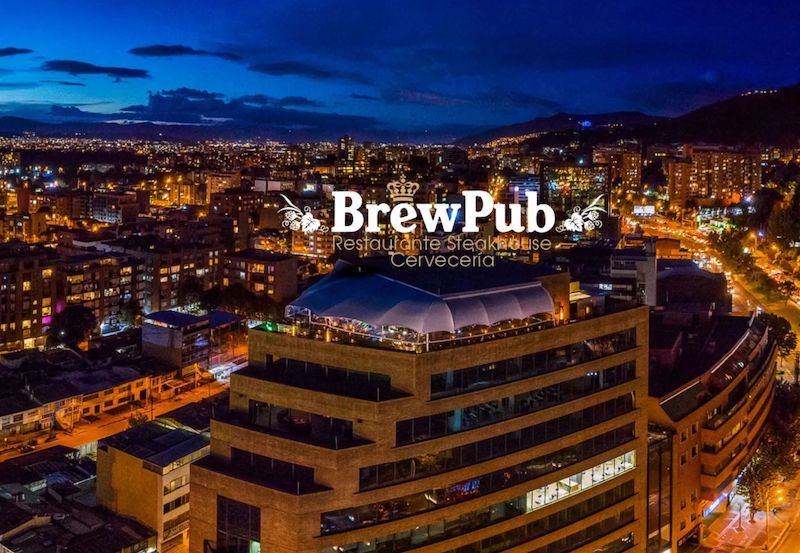 Address: Carrera 7 #123 – 35 Floor 11
---
Astoria
Astoria Rooftop is an elegant and sophisticated rooftop retreat located in the bustling Zona T area of Bogotá. Situated atop the AC Hotel, this stylish and luxurious venue offers a refined and exclusive experience, combining breathtaking views, upscale ambiance, and impeccable service for the 30+ crowd. I highly recommend arriving at 5 pm to be able to see the best sunset view in the city.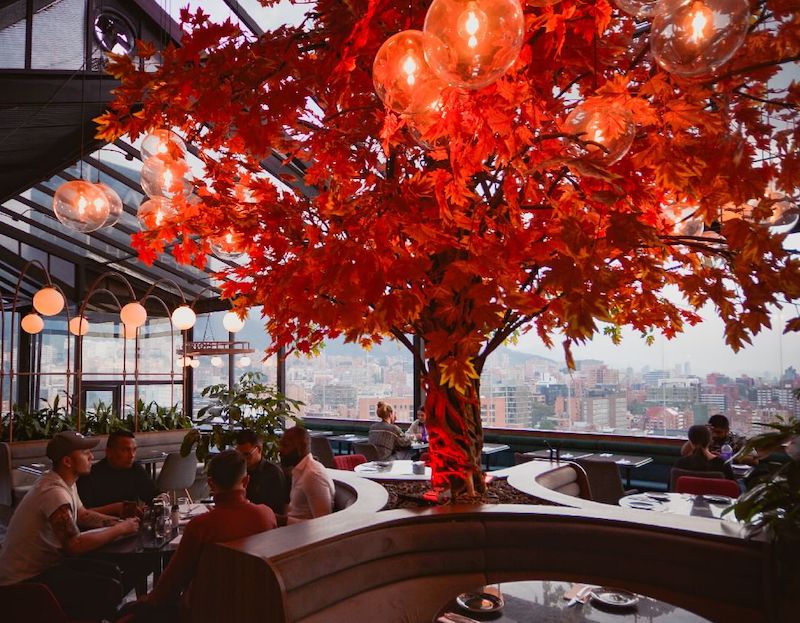 Address: Zona T, AC Hotel, Calle 85 #12-66
---
Vista Corona 
Vista Corona offers one of the most incredible views of the city. The venue is massive with plenty of seating but can have a wait to enter on the weekends. I also like that indoor/outdoor spaces have a retractable roof so you can enjoy an open-air breeze when it's nice out. Vista Corona is also heavily sponsored by Corona and they give you a free beer every day at 6 pm to enjoy while watching the sunset.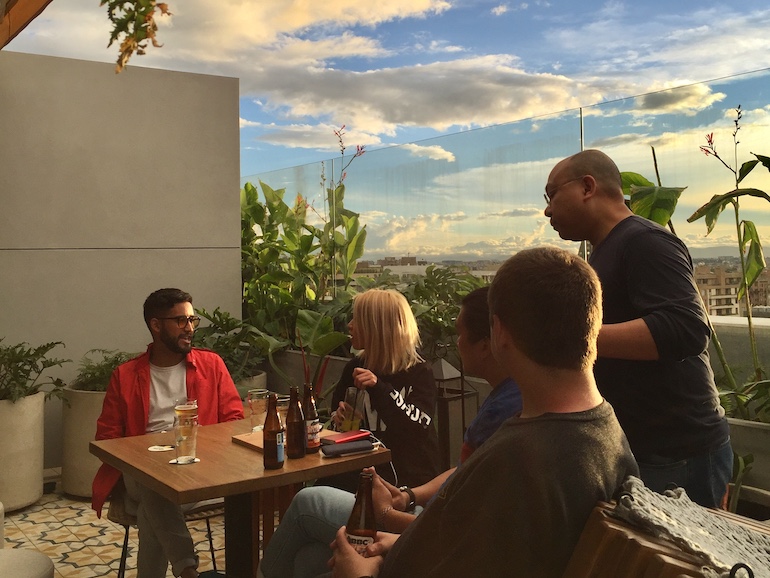 Address: Parque 93, Carrera 12 #93-99, 11th floor of Salvio Building
---
Errante
At Errante, you can enjoy a craft beer with a view as it's on the top floor of the Plura building. They feature a few house brews and delicious burgers & sliders to go with it.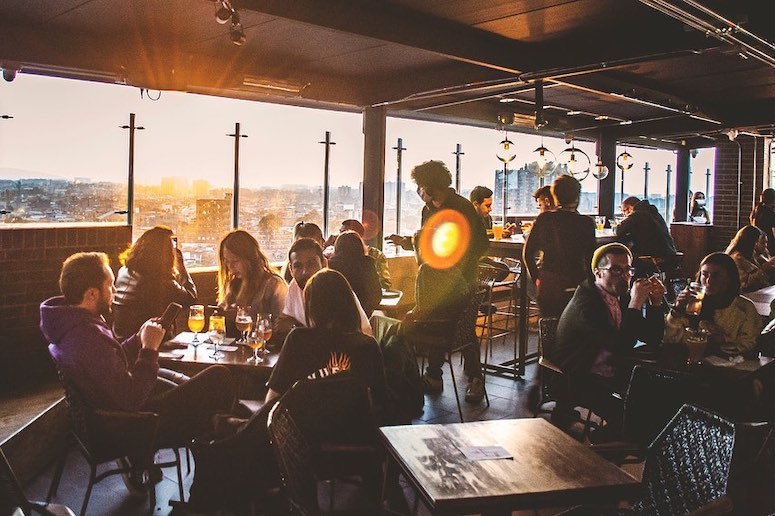 Address: San Felipe, Carrera 20A #74-55, 12th Floor
---
Federal
If you're looking for a rooftop with Reggaeton music, Federal is a fun rooftop to visit. They have something going on nearly every day of the week so it's best to follow @federalrooftop on Instagram to see the latest events.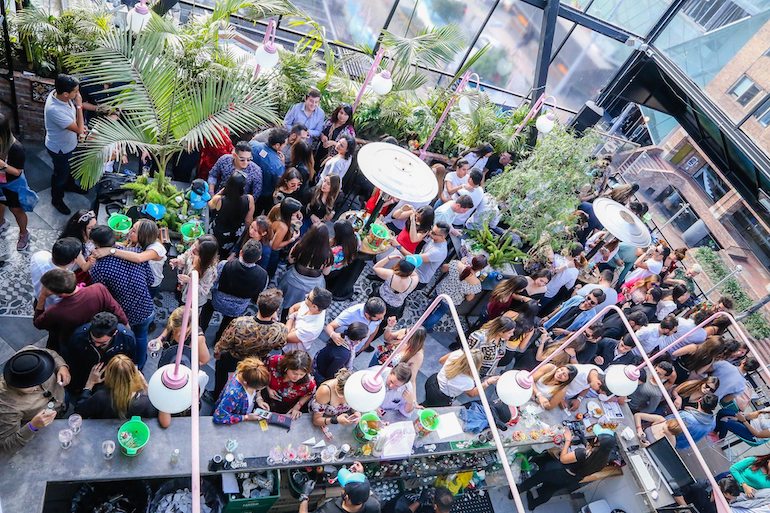 Address: Zona T, Calle 82 #12-25
---
Sky 15 at Hilton
Sky 15 on the rooftop of Hilton caters to the after-work crowd in the financial district and is only open on Thursdays and Fridays. The gorgeous open-air view of the mountains that is worth stopping by for a drink or bite to eat.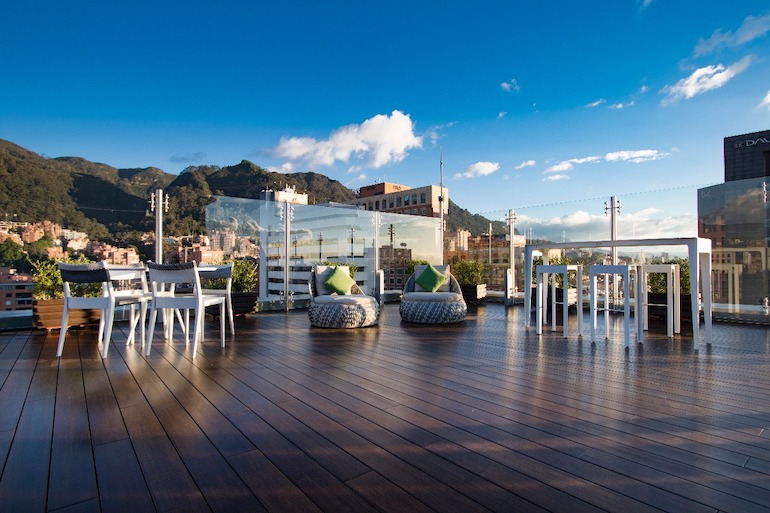 Address: Financial District, Carrera 7 #72-41, 15th floor of Hilton
---
BOG Hotel 
The rooftop at BOG Hotel is another favorite and has a luxurious infinity pool with large glass walls to enjoy the view. The roof and side panels are also retractable so it can be visited any time of year.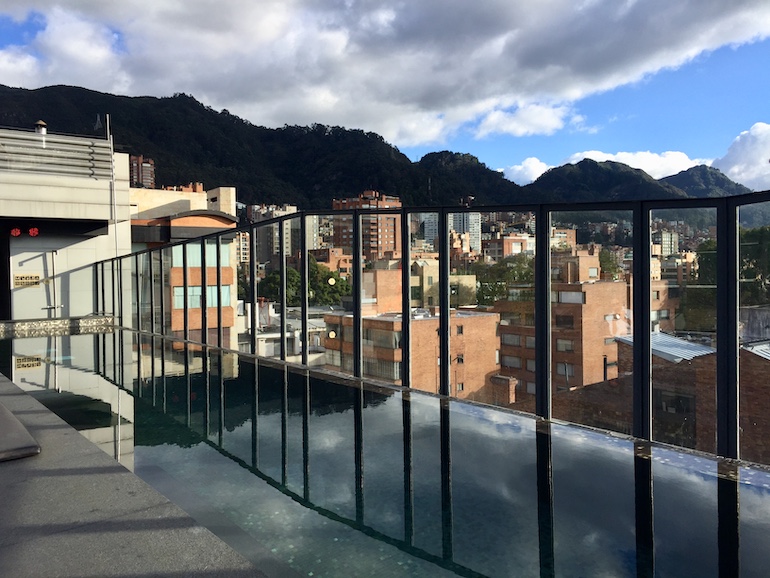 Address: La Cabrera, Carrera 11 #86-74
---
Spotty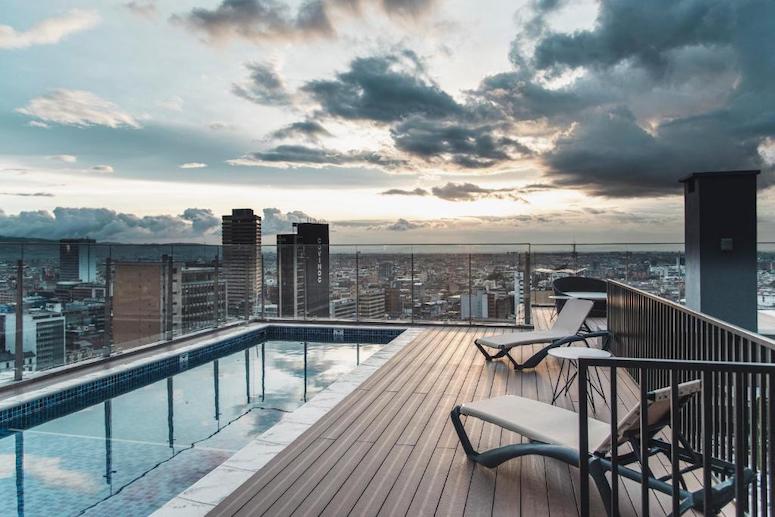 The rooftop at Spotty Hostels in downtown Bogotá might have one of the coolest views in the city. It also packs in amenities like a swimming pool, hot tub, game room, movie theater, and restaurant. However the rooftop is reserved only for residents, guests of the hostel (book a room here), or if they are having a special event (visit their Instagram here).
Address: El Centro, Calle 21 #5 – 31
---
Cocina Abierta
If you'd rather head to a rooftop for food, Cocina Abierta is an amazing new venue with six different restaurants along an open-air terrace. There's plenty of lounge-style seating where you can hang out for a bite to eat or stay for a drink!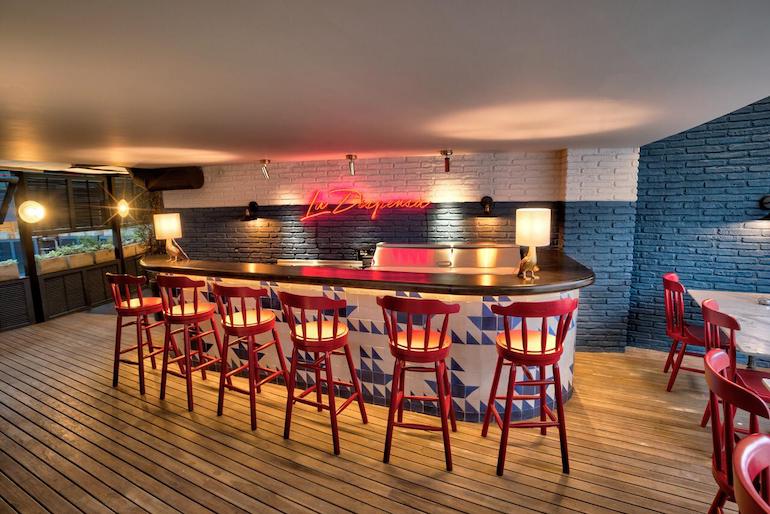 Address: Parque 93, Calle 93b #11A-84
*This post is also available in: Español