*This post is also available in: Español
Looking to spend the day at one of the best beaches in Cartagena? IslaBela (islabela.co) is a beautiful beach club & eco-resort located in the secluded Rosario Islands where you can enjoy the calm, turquoise Caribbean sea for a day trip, or stay overnight in one of their boho-chic bungalows. Read on for complete details. 
---
Welcome to IslaBela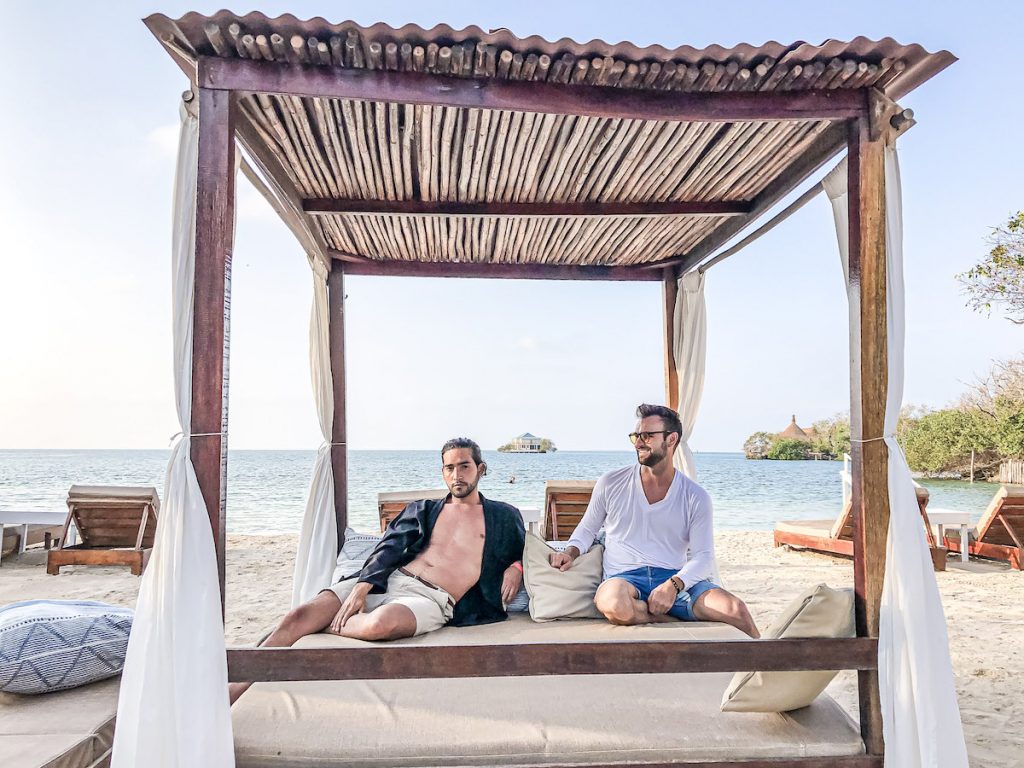 After several visits to Cartagena, I am so happy to have discovered IslaBela, one of the best places for a secluded beach getaway. What makes this place so special? 
The beach is beautiful. First-time visitors to Cartagena are often surprised to find that the beaches in the city are not that great and going to a public beach is met with the constant harassment of vendors and massages that you did not ask for. However, that's not the case here. This is the type of island you are seeing in the promos. It actually has white sand, crystal clear turquoise water, and vendors are not permitted on this small stretch of beach so you can actually relax. This peace of mind in Cartagena is priceless.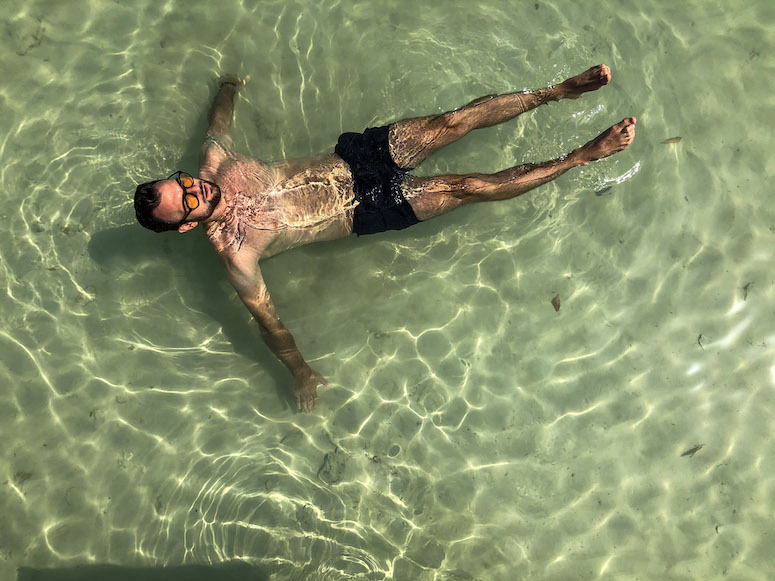 The service is top-notch. The staff at IslaBela make you feel so welcome on the island and the majority are actually natives to the island. The resort has made it a priority to positively impact the local community by only hiring locals to give them an opportunity in the hospitality business they would not normally have. 
The food & drinks are outstanding. The kitchen is run by a local chef from the island and she knows how to cook some amazing Caribbean-style dishes and even has vegetarian options. They also had a complete drink menu with reasonably-priced daily specials like 2 mojitos x $30.000 COP ($8 USD).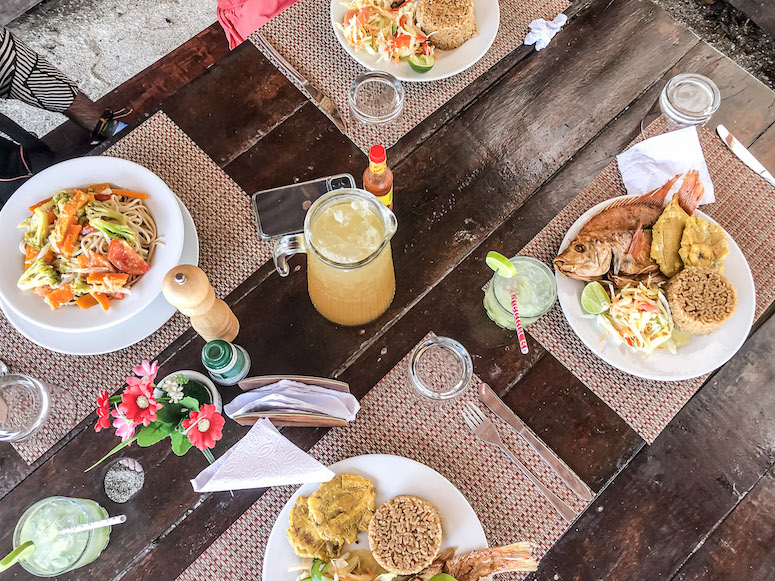 The style & philosophy. IslaBela emphasizes having a responsible philosophy that provides comfort and privacy while protecting nature. They are eco-friendly in every way they can be like running the resort on solar energy, avoiding single-use plastics, and keeping the beach and surrounding area free of garbage. You can feel good about staying at this stylish eco-resort. 
---
Location & Getting There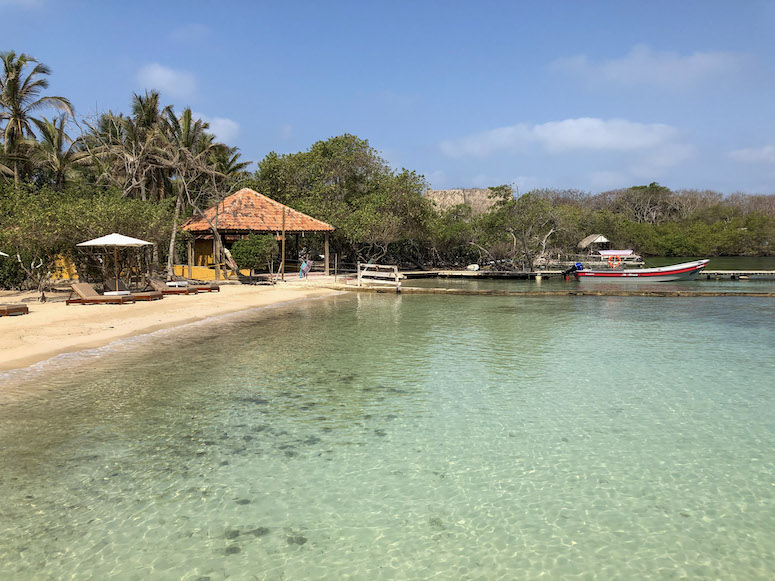 IslaBela is located in the Rosario Islands so it's only accessible by boat and takes around 1-hour. The boat leaves at 9:00 AM, but passengers have to arrive at 8:00 AM at Entrance 1, booth #6 of the Bodeguita Dock for registration. There is a tax of $19.000 COP ($6 USD) paid at this booth and an IslaBela collaborator will be waiting for you or the other side to check you in. If you're doing a day-trip the cost of the boat is included, or if you're staying overnight the cost is $60.000 COP ($17 USD) each way for the boat transportation. The boat returns from IslaBela around 3:00 PM. Transportation can be paid & fully purchased with the IslaBela collaborators at the dock. 
---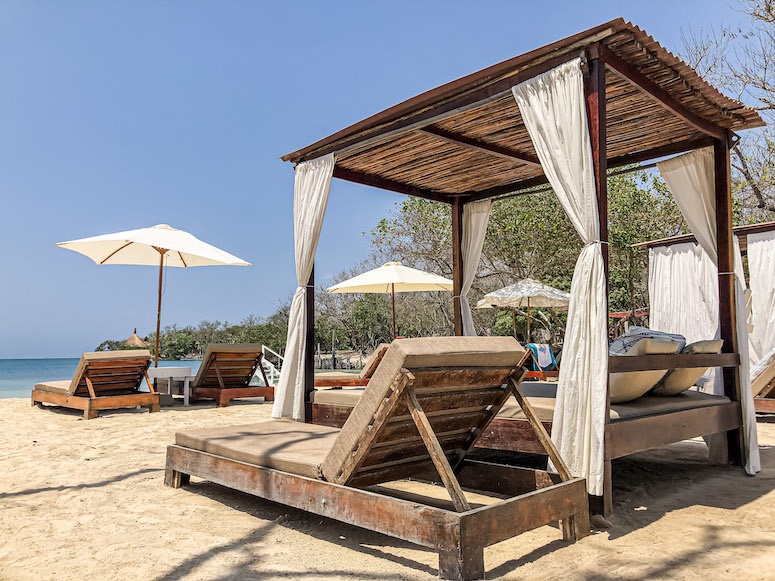 If you're staying in Cartagena, the postcard-perfect beaches are not located in the city, but you can escape to one for the day! The "pasadia" has a cost of $185.000 COP ($53 USD) and includes round-trip boat transportation, welcome drink, lunch, use of the facilities, and free kayak usage. You'll get about 5-hours of total beach time as the boat arrives at the island around 10 am and left by 3 pm. From what I've seen offered at other beach clubs, this is one of the best offers for a day trip to a beautiful beach near Cartagena. 
Visit this link to reserve a day trip via WhatsApp >>
---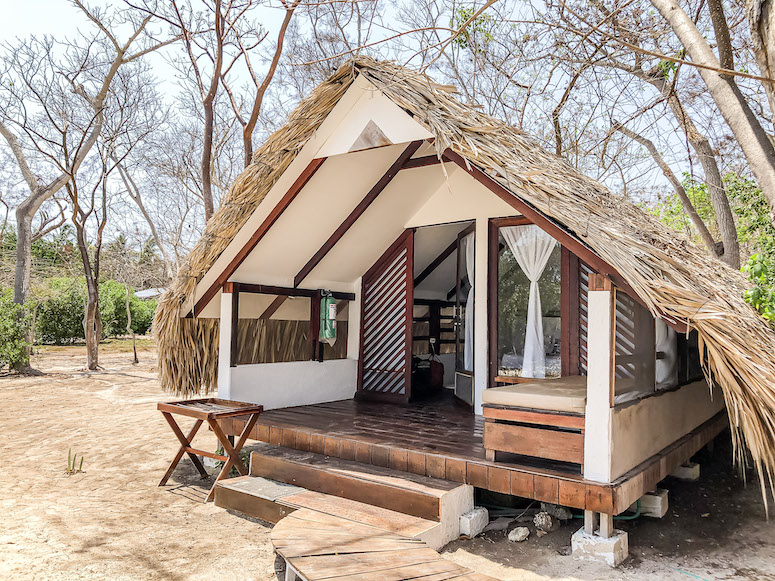 Please stay overnight at IslaBela if you have the time. It's one of those situations where the boat arrives to head back to Cartagena and you're just not ready to leave. By staying overnight, you actually get an entire bonus day of beach time because the boat heads back around 3 pm the next day. So instead of only getting 5-hours to enjoy the sun & sand, you'll be getting over 24-hours and the total cost isn't much more than the day-pass if you're traveling as a couple or group of friends. 
There are currently five cabins available, starting at $315.000 COP/night ($90 USD) with breakfast and free kayak usage included in the rate. The natives of the island are actually co-owners of each bungalow and they receive 50% of the profits when guests stay at their particular bungalow as part of IslaBela's philosophy to benefit the local community. Each cabin is equipped with a queen bed, private bathroom, fan, and solar-powered energy.
Visit this link to reserve your cabin >>
---
Things to do 
Besides simply enjoying the beach at IslaBela, there are a number of other activities to do while you're there! 
Massages: 1 hour $100,000 COP ($28 USD), 30 min $50,000 COP ($14 USD) p/p.
Snorkel: 50 min $40,000 COP ($11 USD) p/p.
Panoramic tour of the islands (includes snorkeling): 1 hour 150,000 COP ($43 USD) for 2 people.
Kayak: Free for guests and day passers.
Enchanted Lagoon – See bioluminescent plankton at night: $50,000 COP ($14 USD) per person. This tour is only recommended to do if there is no moonlight because it has to be totally dark to see the plankton. When it's too bright you're just brought to a boat dock to swim under so it would be better to do one of the other tours instead. 
---
Pet-Friendly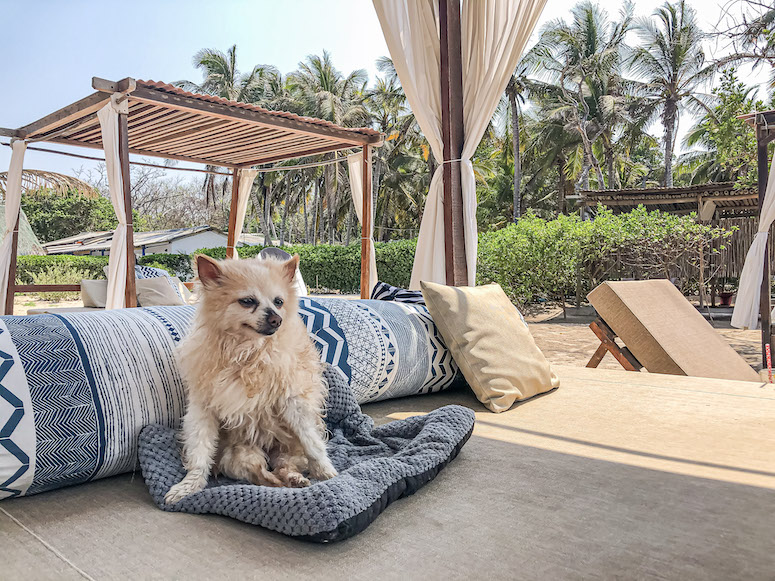 Riley gives his experience 4-paws up! As a dog-owner, having a place to stay that is pet-friendly is at the top of the list for my travels. Riley was fully welcomed as another guest on the property and he loved his stay! There are a few other dogs on the property that are friendly, so just make sure that your pup gets along with others before bringing.
---
 Is IslaBela for you?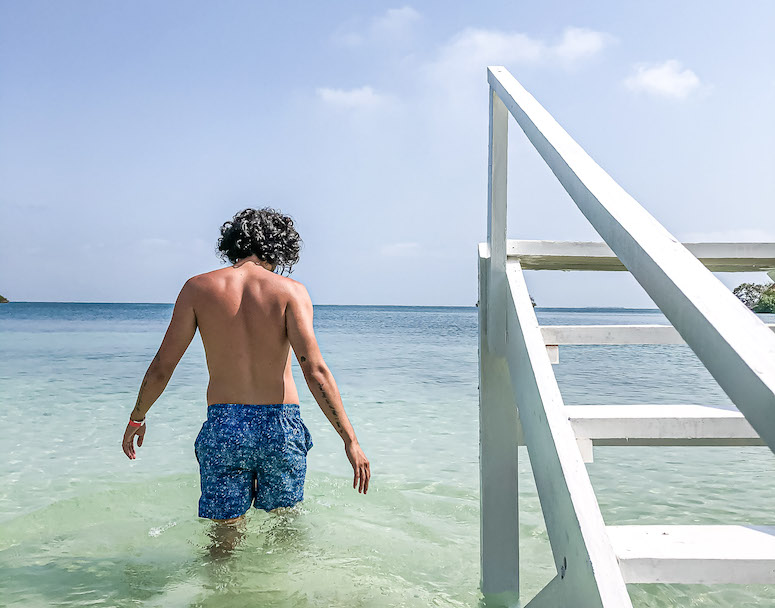 IslaBela is for the traveler looking to escape the crowds and annoying vendors that you'll find on most of the beaches in Cartagena. Besides having the beach exclusively for guests, the entire property is so beautiful! From the crystal clear water, cabanas, and beachfront bungalows, this is one of the best hidden gems I've discovered in Cartagena. 
Be sure to follow IslaBela on Instagram (@islaBela.co) and Facebook for their latest updates! Over visit their website islabela.co for more information and direct bookings. 
Disclaimer: I received a complimentary stay at IslaBela to write this article, but all opinions are my own. I only recommend places that I would stay myself! 
*This post is also available in: Español