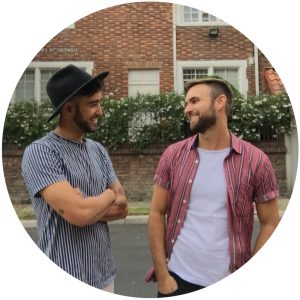 We're Joey & Giovanni, local bloggers behind this website, Bogotivo.com – where we write about the best places to eat, drink, party, and sleep in Colombia's cool capital city. While one of us is American and the other Venezuelan, we love our adopted home of Bogotá and showing visitors the hippest spots around. Consider us your new friends that are here to help you discover the secrets of the city through experiencing the foods, drinks, streets, people, and culture on our Bogotá Bites: Urban Food Tour.
Our day will start in the bohemian La Macarena neighborhood where we will sample authentic Colombian Ajiaco soup, shop for exotic fruit at the market, take polaroid photos in front of street art for you to take home, and visit our favorite bakery for dessert.
From here we will take the bus to Chapinero, known as the hipster area of Bogotá. In this neighborhood, you'll find Bogotá's under 30 creatives, the ​LGBT community, young professionals, and students. It's also the neighborhood that we live in! While in Chapinero you'll visit a beautiful spot to try Colombian coffee, visit a local "fruit boutique" to sample Colombian fruit, and do a mojito making workshop at our apartment terrace to end the tour. You'll also get to visit Giovanni's workshop where he designs and makes clothing.
Throughout the day we are also going to pass through strategic photo opt points with street art, city views, and trendy food spots so we are available to take your photo any time as well as give you tips on taking better Instagram photos.
How To Book
You can visit our Bogotá Bites Booking Page to reserve your spot and read complete details about the tour. We look forward to showing you around!
[vc_btn title="VISIT OUR BOOKING PAGE" style="outline" shape="square" color="black" link="url:http%3A%2F%2Fbogotivo.com%2Fbook-online%2F%23id%3Dbogota-hipster-food-tour|||"]