*This post is also available in: Español
Villa de Leyva is a magical pueblo in Colombia – just a 3-hour drive from Bogotá and a popular weekend getaway for "rolos". This city is like stepping back in time with preserved Spanish-colonial architecture, cobblestone streets, amazing weather, and lots of cute cafés. 
It took me over a year to make it out to Villa de Leyva and upon arrival, I instantly loved the city. It has the feeling of an old Italian village. The scenery is gorgeous with the whitewashed walls of the town backing up to dramatic green mountains. My Airbnb had a small balcony overlooking one of the side roads and I can hear live music playing from the main square and smell fresh bread being baked by the café below. Instead of paved streets, there is cobblestone (not great for walking on but it looks nice) and the stress and chaos of Bogotá feels a world away. The temperature is also about 2 degrees warmer than Bogotá with lots of sunlight so it's comfortable to wear short sleeves during the day and a light jacket at night.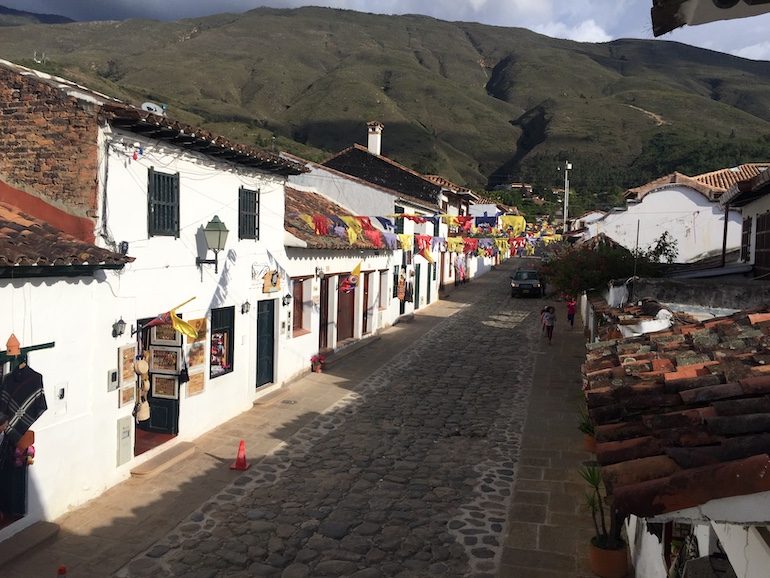 I spent 4-nights in Villa de Leyva and this was perfect for me. However, I am not a "normal" person since I work online so as long as I have a nice café with a good internet connection, I'm fine. But this is not a town where you're going to find tons going on (especially on a weekday) so for someone that's just trying to sightsee, I recommend two nights. 
Here is my guide on how to properly visit Villa de Leyva, Colombia. 
---
Things to know before you go
Getting there: If you have a car, Villa de Leyva is an easy 3-hour drive from Bogotá. But a car is not needed as busses leave frequently from the Salitre or Terminal Satelite del Norte. I recommend leaving from the Terminal Norte as it's a little closer to Villa de Leyva so you'll have less time having to be on the bus.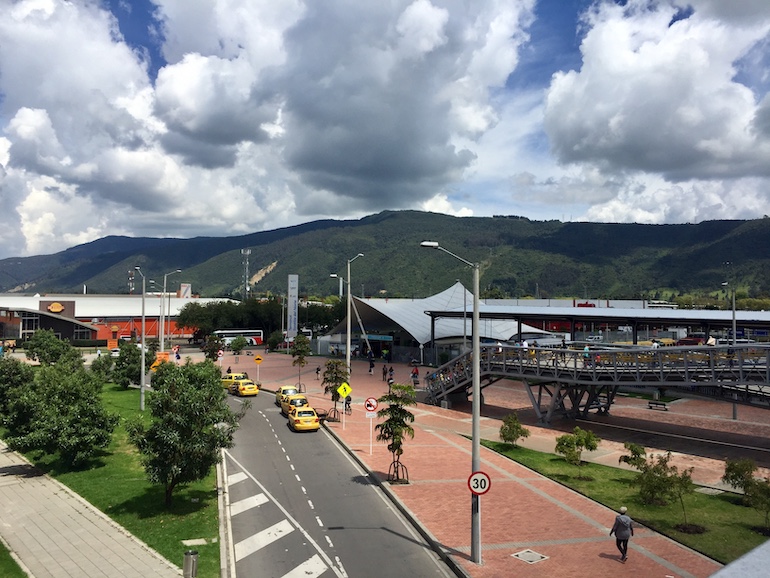 Take a taxi, Uber or the Transmilenio (officially called the "Terminal" stop, download Moovit for reliable instructions on getting via Transmilenio) to Terminal Satelite del Norte (on Calle 192). From the Calle 63 stop to Terminal it took me 35 minutes in the middle of the day using the B18 bus line. Exit right towards the mountain to get to the bus terminal from the Transmilenio station. 
Once at the bus terminal station you'll see several bus company windows. We ending up going on Valle de Tenza as they had a bus leaving next (view schedule here). Libertadores and Omega also have busses leaving from the North Terminal to Villa de Leyva. The cost is 27K Pesos. Also, it's possible that the bus will arrive late. Our 12:30 pm bus didn't actually get there and leave until 1 pm. 
The bus ride from the North Terminal to Villa de Leyva only took 2.5 hours, but our total travel time from start to finish was 4.5 hours (going from my apartment to the Transmilenio, to the terminal, waiting for the bus, arriving to Villa de Leyva) so these are things to take into account with planning on when to leave. 
The bus terminal isn't far from the main square so you probably don't need to take a taxi to your hotel if you're staying in town, but taxis are available to take you out of town or to your hotel if you have a lot of luggage. 
It's a weekend destination: I arrived to Villa de Leyva on a Wednesday and you can expect any weekday to be very quiet with a lot of places closed. This is a hotspot for people from Bogotá on the weekend so expect a major change in the overall liveliness going from a Friday to a Saturday.
When to go: Villa de Leyva has a lot of festivals throughout the year like a jazz festival, kite festival, film festival, tomato fight festival, and plenty more. View a complete schedule of festivals here.
Drinking water: I drank the water in the main town of Villa de Leyva without any issues. If you're staying out of time be sure to check with your hotel or apartment host.  
Cash and ATMs: There are lots of ATMs in town but I needed to exchange some money during the trip and this was a wild goose chase trying to find a place to exchange. I found one place in town and it's the establishment with no sign to the right of Indios Heladeria in the main square. Photo below for reference.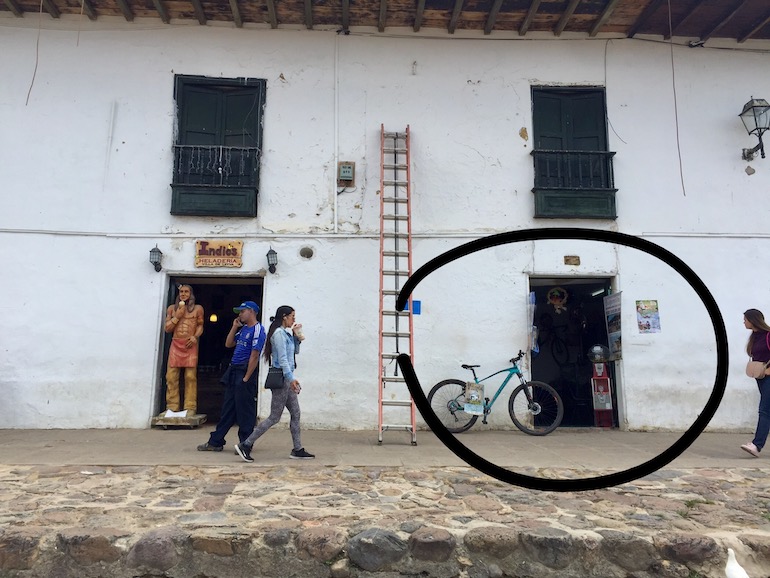 Weather: Expect it to be 23C during the day and 12C at night with the rainiest months being April, May, October, and November. 
Other resources: The website envilladeleyva.com is a great resource to find out what's currently going on in Villa de Leyva. 
---
Where to stay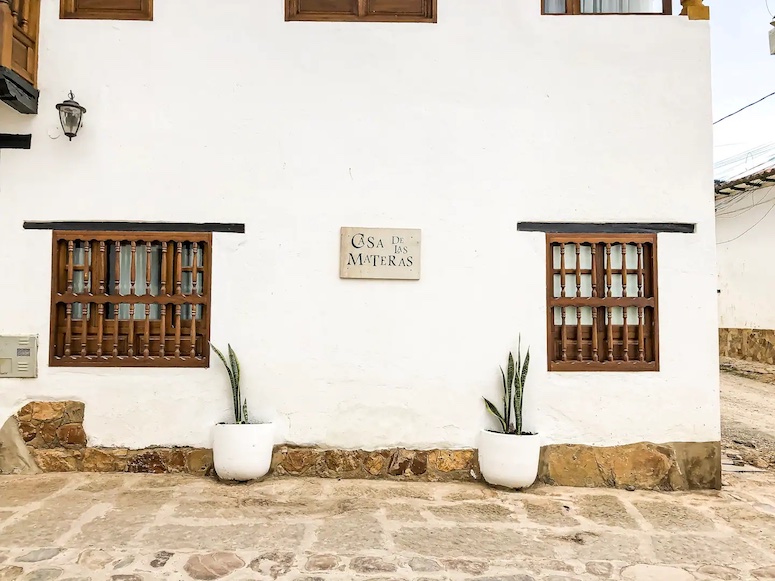 Casa de Las Materas ($$): Casa de Las Materas is a three-bedroom apartment located on a quiet cobblestone street, walkable to the main plaza of Villa de Leyva. It's just steps from bakeries, coffee shops, and restaurants. Historic charm is combined with modern amenities for a comfortable stay. Beds are outfitted with luxury white linens and there is a private balcony where you can admire the views of Villa de Leyva. Plus enjoy a private tour in JEEP (additional charge) and fast Wi-Fi for remote working. BOOK YOUR STAY HERE.
---
What to do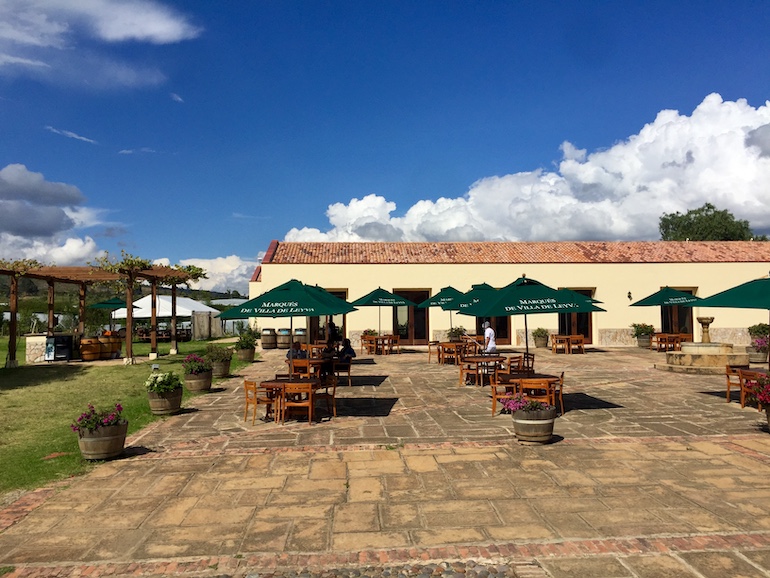 Visit the Marques de Villa de Leyva Vineyard (Ain Karim): Colombia is not known as a wine-producing region so it was exciting to find that one of the few existing vineyards is located in Villa de Leyva. The microclimate here is dry and actually closer to a desert but still gets a decent amount of rainfall so it ended up being one of the few regions that would function for grape growing. The vineyard itself is beautiful and we stopped here during our self-guided bike tour. We did the basic 25K Pesos tour package which included a walk of the grounds and tasting some of the wines at the end. If you've been to a vineyard before you might not find taking a tour necessary and instead you can spend the day drinking wine and eating plates of charcuterie outside in the beautiful scenery. Prices were reasonable and a charcuterie plate for four people starts at 43K Pesos and bottles of wine averages 65K Pesos. To arrive at the vineyard you can take a taxi from the main bus terminal for 30K pesos or rent a bike for the day and include it as a stop (it's about an hour bike ride from town). 
Go inside the Terracota House: I saw pictures of the Terracota House online and read about it in blogs but nothing gives it justice as to seeing it in person. The mystical house is built entirely out of terracotta clay and has a full kitchen, living room with elevated ceilings, a staircase leading up to a master suite, and lots of outdoor patio space. The design is something between Gaudí and the Flintstones with whimsical curves that keep you looking around in awe. To get here, its just a 20-minute walk from Villa de Leyva or you could include it as a stop if you rent bikes or ATVs. There is a 10K Peso entrance fee and it is worth it.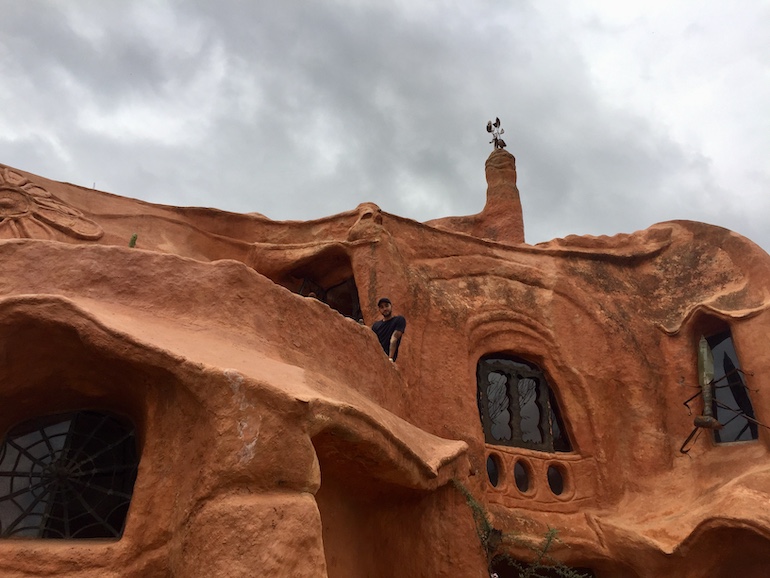 Visit the Pozos Azules: The Pozos Azules can potentially be a tourist trap but we received a great insider tip from our bike guide on how to do it right. There are a few Pozos Azules to choose from and you want to visit the ones at La Orquídea, which is a small orchid and cactus sanctuary with two pozos azules (blue lagoons) and a pozo rojo (red lagoon) on the property. We were the only people there at the time so we really got to enjoy the scenery rather than being at the crowded pozo azules that we saw in the distance earlier. The entrance of La Orquídea is easy to pass up so make sure you are paying attention to the signs as they only notify you from one direction. Once you arrive, there is an 8K Peso entrance fee to visit the property.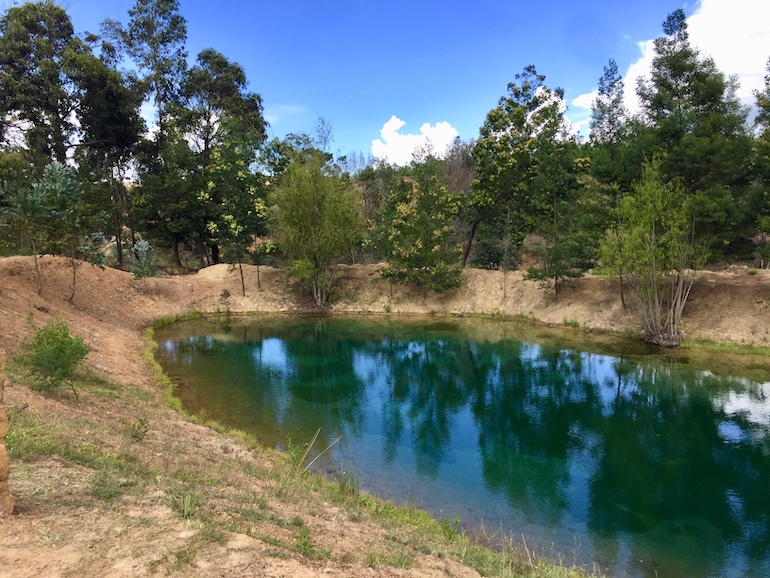 Rent bikes from Ciclotrip: Renting bikes for the day is the perfect way to pack in all the scenery and activities that Villa de Leyva has to offer. We rented bikes from Ciclotrip and found them to be professional with properly maintained bikes, they explained the various routes with provided maps, and they even have digital Google map trails they can send to your phone to make it even easier.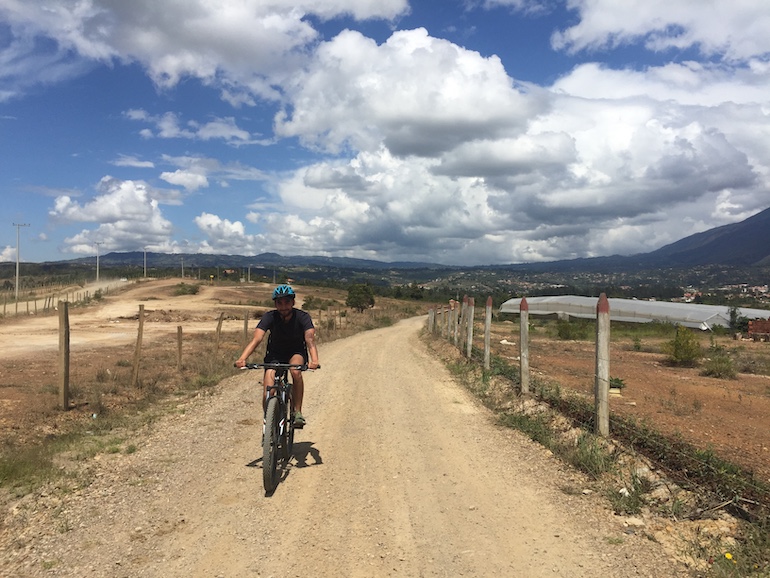 Or rent an ATV: For a little more speed and adrenaline you can rent an ATV (cuatrimoto) by the hour or go on a guided tour. Villa de Leyva Extrema is one of the most reputable companies with prices starting at 70K Pesos for an hour. 
Termales Portada de La Villa (Hot Springs): Enjoy a day bathing in these beautiful natural hot springs that are a 15-minute drive from Villa de Leyva. They only allow 15 people at a time for a maximum of two hours and the cost is $30,000 per adult and children under 14 are $15,000. Reservations can be made by sending them a WhatsApp message to +573148461276 or send a message to their Instagram @termaleslaportadadelavilla.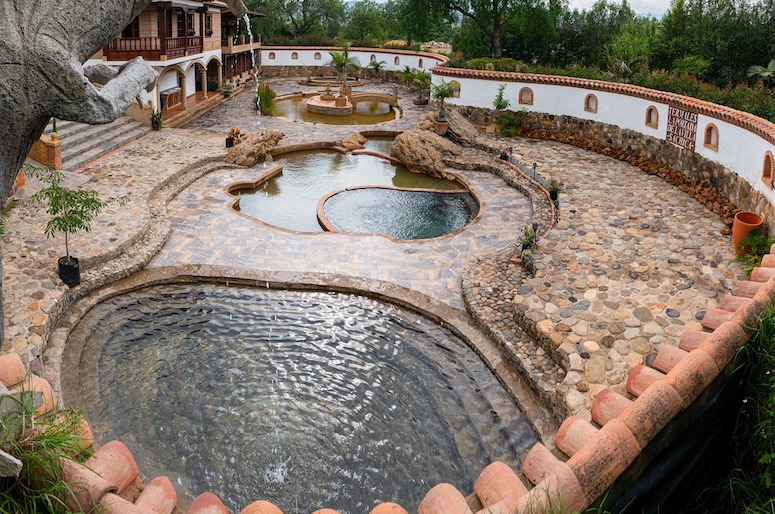 La Periquera Waterfalls: If you want to enjoy some hiking and waterfalls head to La Periquera. This is about a 40-minute bus ride from Villa de Leyva and there is a fee of 20K Pesos to enter. You can also book a bike tour here with Ciclotrip if you want to arrive by bike.
Learn how to play Tejo: Tejo is basically the Colombian version of horseshoes, but instead, you toss stones onto a tablet of mud with the goal of making a small bit of gunpowder explode. The rules are simple but it's fun to have a lesson your first time so you know what you're doing. You can contact Diego F. Rueda using WhatsApp at +57 320 890 0918 or e-mail: astrorueda@hotmail.com to set up a lesson. The cost is 50K Pesos for two people which also includes two-beers. Complete details here.
Shop produce at the Saturday Farmer's Market: The farmer's market only happens on Saturdays in Villa de Leyva and it's perfect for bringing some fresh fruits & veggies back to Bogotá. There are also a few food stalls serving traditional Colombian soup & other foods if you want to make a breakfast or lunch out of the experience. The market does not take place in the main plaza but if you look up Plaza de Mercado in Google Maps it will take you to the right spot.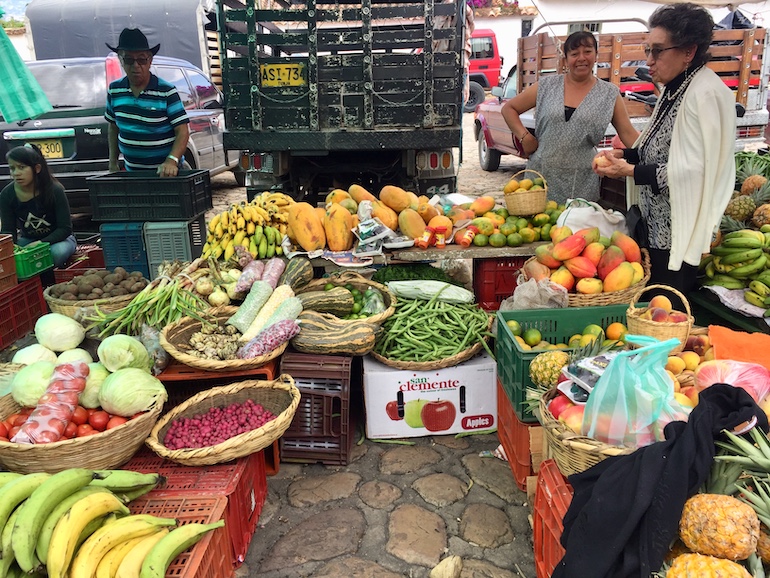 Shop local arts and crafts: Villa de Leyva is a mecca of shops selling unique handmade items and clothing. Many of the shop owners can be found weaving ponchos and sweaters using a tradition loom. In the shopping section below I have details on some of my favorite shops but you can also walk around and stumble into plenty of options.
Take a day trip to Raquira: This is a small town that's around 40 minutes from Villa de Leyva that's known for making colorful ceramic pottery and other artisanal crafts. You can take one of the public buses here from the main station in Villa de Leyva for 5K Pesos.
Museo El Fosil: See up close some of the most preserved dinosaur fossils in Villa de Leyva. The highlight is the Kronosaur fossil (only three in the world) fossilized on the ground. There is an entrance fee of 10K Pesos.
---
Where to eat 
Tortello: A modern restaurant serving fresh pasta and stuffed ravioli dishes utilizing local ingredients from the region. Calle 13 #10-67
Café Los Gallos: Perfect spot for breakfast or lunch serving arepas, sandwiches, and more. Carrera 8 #13-2
Estación 20.03: The best spot to go for a menu of the day for lunch. $10.000 COP gets you a drink, soup, and main plate of food with vegetarian options. Calle 15 #9 – 54
La Dicha Chibcha: A vegetarian-friendly café that sells organic products and hosts cultural events throughout the week. Calle 15 #9 – 58
Kioscos de Los Caciques: A spot that specializes in typical Colombian food with a menu of the day for 12.000 pesos.  Carrera 9 #9-05
Auténticas: Best spot for freshly fried empanadas. Carrera 10 #11-65
La Feria: Features traditional dishes from the region served as tapas in a beautiful open-air setting. Calle 13 #9-03
Happy Monkey: A unique twist on typical Colombian cuisine utilizing patacones (fried plantains) with delicious toppings. Calle 13 #7-66
Mercado Municipal: A restaurant with a beautiful courtyard specializing in ingredients sourced from the region. Be sure to order the BBQ meat, as they use a traditional technique where the meat is cooked in a wood-burning BBQ that is 1 meter underground. Carrera 8 #12-11
El Zacuan del Gordo: Super cheap spot for burgers and fast food served from a family's home. Carrera 10 #16-43
Comida Coreana: A hidden gem in Villa de Leyva with just four tables cooking up authentic Korean food. Carrera 7 #11-83
Casa San Pedro: A well-known Italian restaurant in town famous for its "pasta a la rueda". Calle 12 #10-96
---
Coffee & Cafés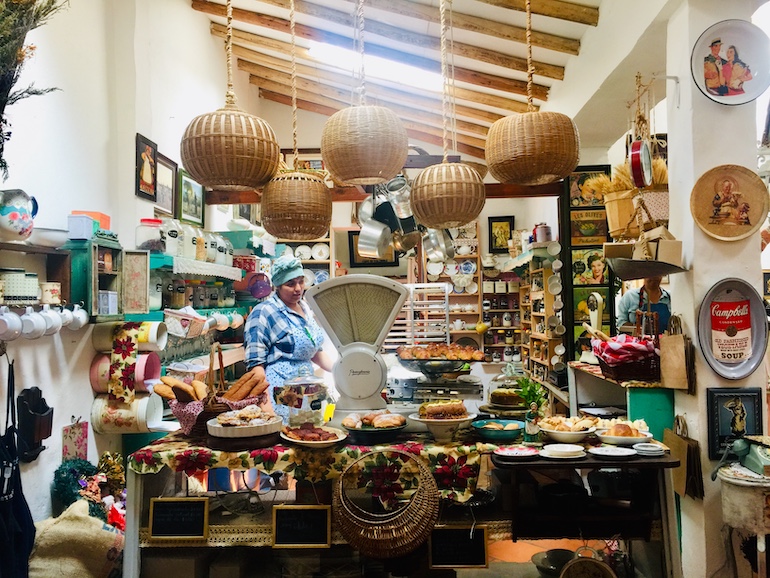 El Pescador Pastelería: The outside of this bakery is easy to pass up but through the doors and down a small hallway lead to the most adorable bakery in Villa de Leyva. They have amazing pastries (be sure sure to order the almond croissant) and fresh-baked bread. It's also one of the few bakeries with vegan and gluten-free options. Calle 10 #6-08
Alma Café: This is one of my favorite coffee shops to pass the time in Villa de Leyva. They open early every day at 7 am and have such a nice indoor and outdoor space to hang out. Carrera 9 #15a – 05
Sybarita: If you want a true artisanal coffee experience then Sybarita delivers. They have a large variety of Colombian coffee from different regions and the baristas come to your table to prepare the coffee while giving an explanation. Carrera 9 #11-88
La Milhoja Bakery: Hands-down the best milhoja dessert I've had. It's super flakey and topped with arequipe (caramel). Expect a line out the door if you're visiting on the weekend. Calle 13 #7-03
La Galleta: If you want an amazing coffee and dessert, head to La Galleta. While here be sure to order the tres leches with Bailey's or their famous milhoja dessert. Carrera 9 #11-47
Pastelería Francesa: A genuine French bakery in the heart of Villa de Leyva. Be sure to order an almond croissant or pan de chocolate while you're here! Calle 10 #6-05
Museo del Chocolate: The decor looks like something out of Charlie and The Chocolate Factory and everything on the menu is chocolate-themed. Overall a fun spot for dessert and a chocolate beer.  Carrera 13 #8-75
---
Where to drink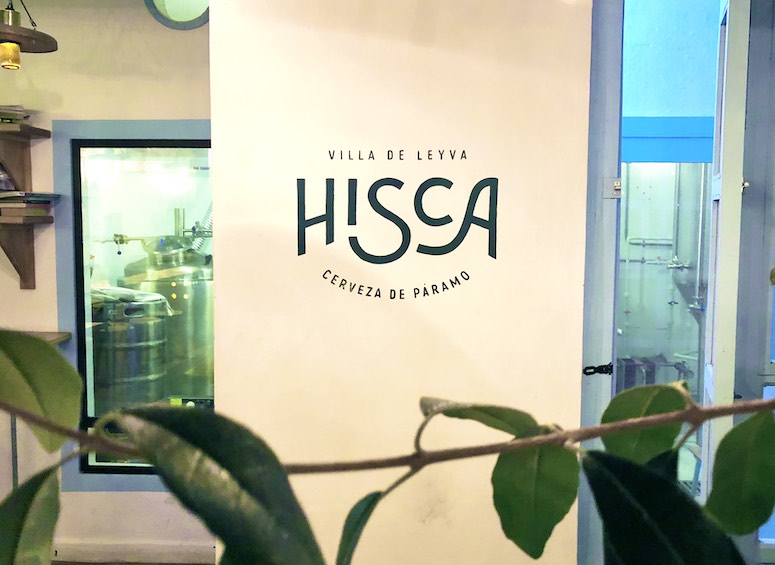 Cervecería HISCA: The best craft beer brewery in Villa de Leyva. You can taste all beers offered on tap and you can even watch the beer being produced on-site. Calle 14 #9-35
Selina: Here you'll find various events throughout the week like salsa lessons, DJs, and brunch by the pool.
Los Vinos: A cute wine boutique located on the second of a building just off the plaza. They have glasses of wine starting at 5K Pesos which can be accompanied with a cheese tablet for 20K Pesos. Carrera 9 #11-47
BBC: You can count on a BBC being on just about every corner in Bogotá and you can even find them in Villa de Leyva. Overall a great spot to enjoy craft beer on tap. Carrera 9 #11-75
---
Where to shop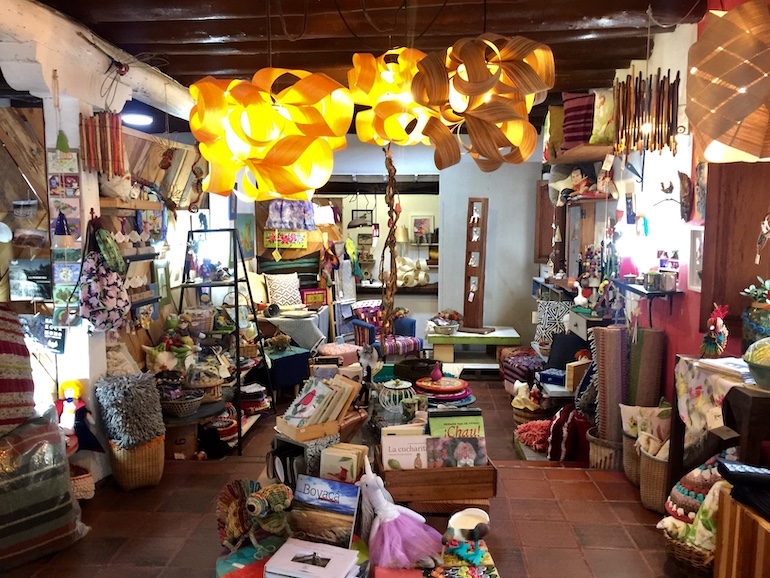 La Tienda Feroz: Super unique souvenirs, home decor, lamps, and more made by local artisans in Villa de Leyva. Carrera 9 #14-101
La Moraleja: A store featuring clothing from independent designers from Colombia. Carrera 8 #11-60
Alma Bazar: Unique pottery, painted, and woven items from the region. Calle 14 #9-50
La Marchanta: Specializes in gourmet food products, spices, natural beauty products, and artwork from the region. Calle 13 #7-23
Alieth Tejido Artesanal: One of the many shops where you can buy ponchos, scarfs, sweaters, and more that are handmade in-store. Calle 13 #9-54
*This post is also available in: Español