*This post is also available in: Español
Glamping is one of the best ways to enjoy the outdoors as you get to enjoy the feeling of being in nature with modern amenities. In Guatavita, just 1.5 hours from Bogotá, there's a unique glamping experience to be discovered called EnCubo (encuboglamping.co) – the ultimate place to disconnect with stunning lake views and a super stylish design. It's not your average camping trip.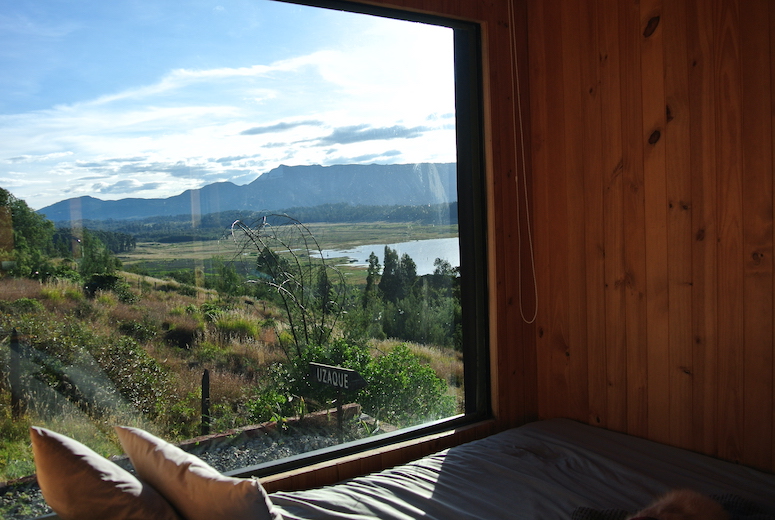 ---
What makes the design at EnCubo so unique is that the cabins are entirely constructed from shipping containers and this has to be one of the coolest cabins I have ever stayed in. Large windows let you take in the stunning lake views, the outdoor patio and fire pit let you enjoy the outdoors, beautiful horses are grazing around the cabin, and the rooftop is amazing for star-gazing at night. 
Visiting this magical place is the perfect plan for those who want to enjoy a few romantic nights away from Bogotá or you could even make it a group trip by reserving multiple cabins on the property.
---
Location & Getting There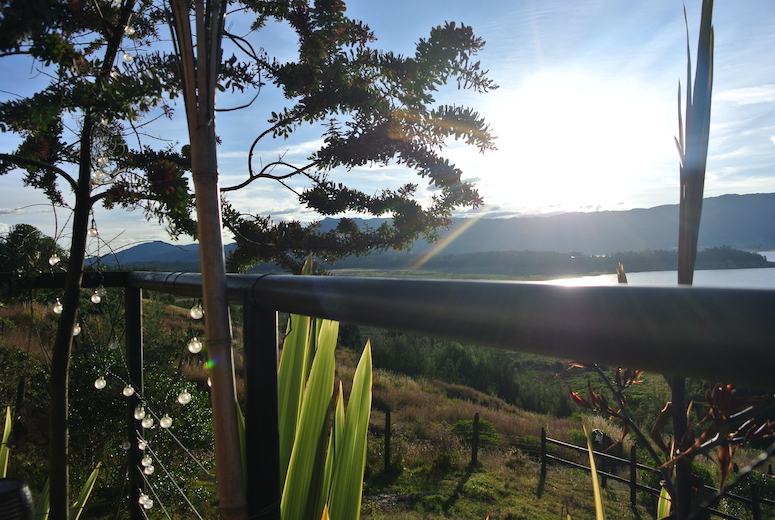 EnCubo is located in Guatavita, approximately 1.5 hours from Bogotá depending on whether you arrive by car, bus, or a combination of both. 
Car: You'll want to input "EnCubo Glamping" or "Benigno Mirador" into your navigation app as an easy point of reference for arriving at En Cubo. Benigno Mirador is a restaurant that's super easy to spot from the main road and there is free parking for guests staying at EnCubo. It will be located on your left-hand side if you are coming from Bogotá.  
Bus: From Portal Norte (Calle 174), the "Guatavita" bus leaves frequently and can drop you off at the entrance of the Benigno Mirador Restaurant (EnCubo is located on this property), but be sure to let them know beforehand as it's located a few minutes before the actual town of Guatavita and watch for the arrival on Google Maps to double-check when you are getting close. The price of the bus is 9K Pesos/person and is approximately 1-hour. 
Uber & Bus Combo: An Uber, Cabify, Didi, Beat, etc should cost maximum 80K Pesos to arrive to EnCubo and one of the best ways to arrive without a car. Be sure to input "EnCubo Glamping" and keep a lookout for the Benigno Mirador Restaurant as an easy point of reference. It will probably be difficult to get an Uber returning, but the bus back is super easy. You can board the bus on the same side of the road as EnCubo and it will cost 9K Pesos to get back to Bogotá, dropping you off at Portal Norte. 
---
Design & Amenities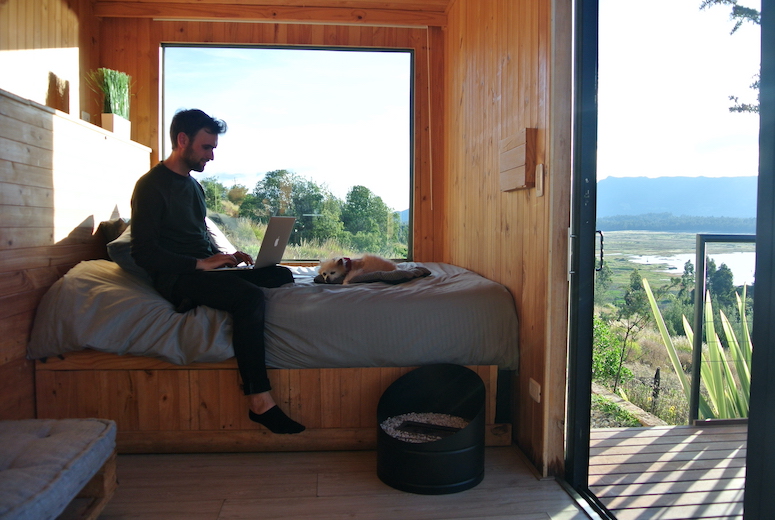 The eye-catching design of the cabins at EnCubo and the beautiful surroundings make this such a unique stay. There are four glamping cabins on the property as well as a glamping dome currently being constructed. We stayed at the Uzaque cabin and was super happy with this choice as it's located at the front with unobstructed views of the lake. This cabin has been smartly designed using a shipping container and utilizing the space in such a creative way that makes it feel large and cozy. 
You'll first notice that the cabin has lots of outdoor space. There is a fire pit and BBQ area that you'll notice first and this is perfect for the complete camping experience. The staff will come light the fight for you every day at 7 pm and then you can purchase additional firewood if you like. You are also free to use the grill and can bring your own charcoal or they have some that you can purchase. if you don't feel like cooking there is also a restaurant just meters away from the cabin so this is about as easy as camping can get.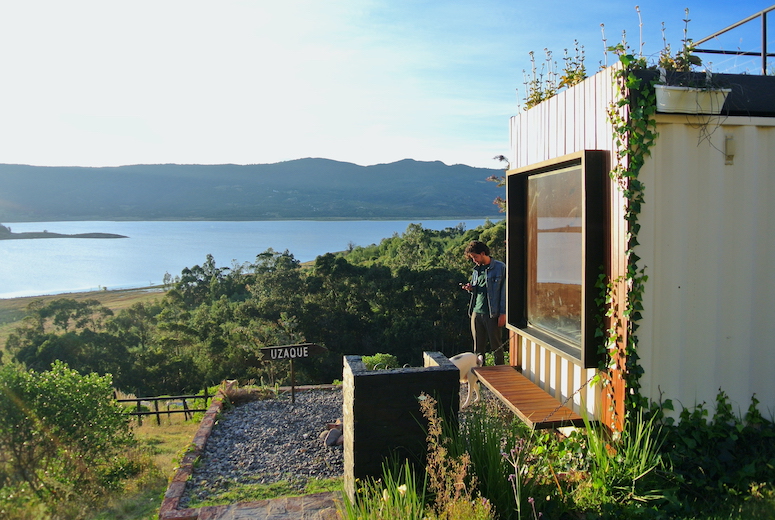 The outdoor patio is where you'll be served the included breakfast in the morning and the overall perfect hangout spot. One of my favorite things about the patio is that you can see horses grazing just feet away, adding to the beautiful scenery (be sure to bring a bottle of wine to enjoy during sunset). There's also a rooftop on the cabin where you can practice yoga, have a picnic, or watch the stars at night.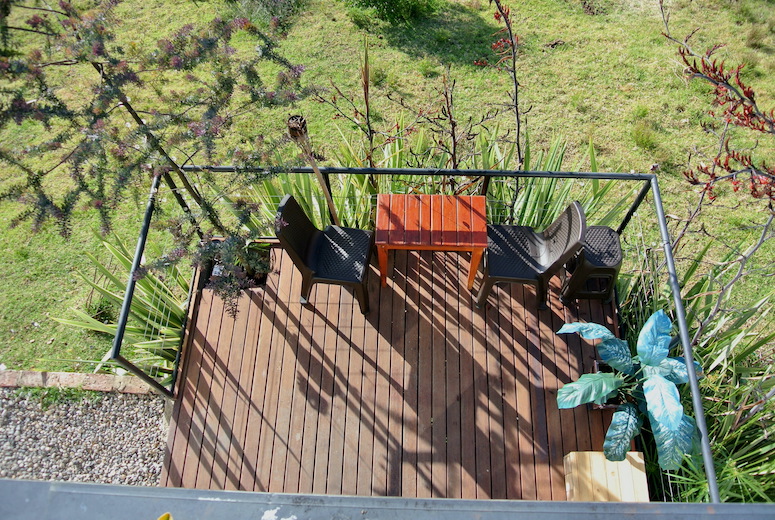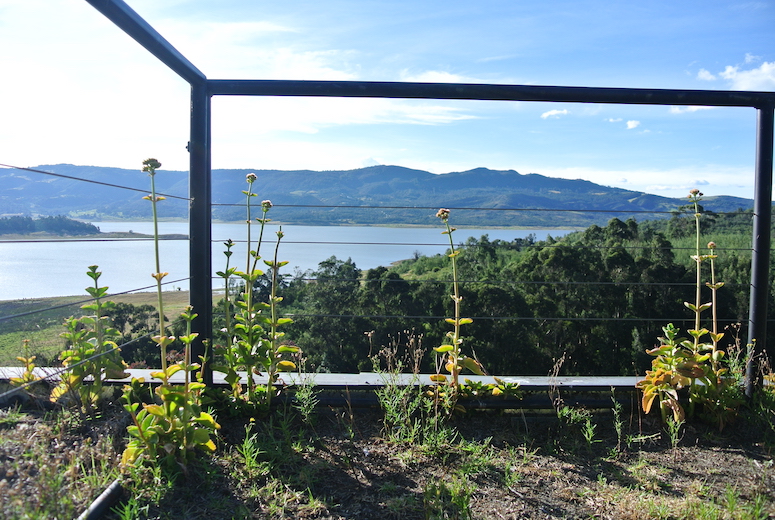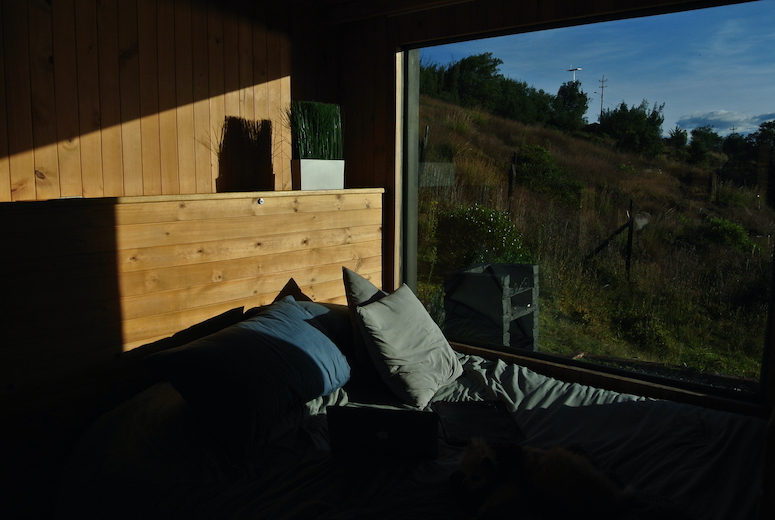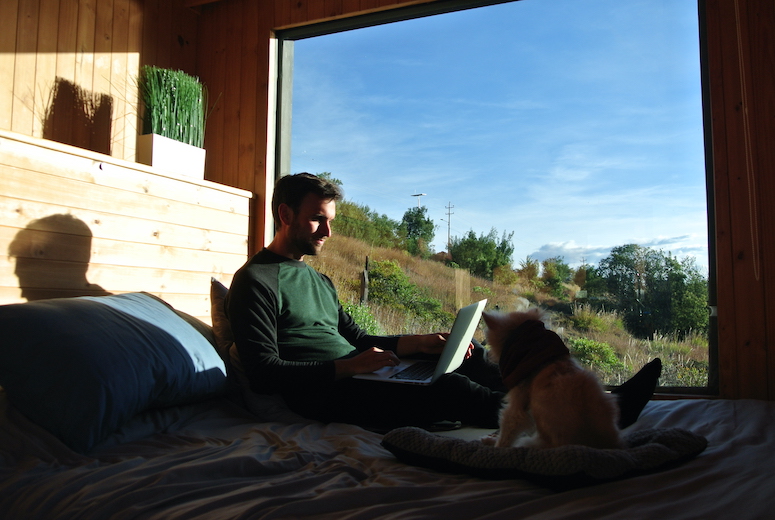 Thanks to the smart design of the cabin, the indoor area feels incredibly spacious. A massive window takes up the entire space next to the bed so you can feel fully immersed with the outdoors while inside. There's a small couch area with a bioethanol chimenea to keep warm in the evenings (additional 15K Pesos charge for the fuel). The kitchen has been efficiently designed with a sink, plenty of counter space, and a small gas stove to prepare your own meals. The bathroom was also incredibly spacious with a steamy hot rain shower. It's honesty incredible what has been packed into a 14M2 space without feeling small. 
---
Things to do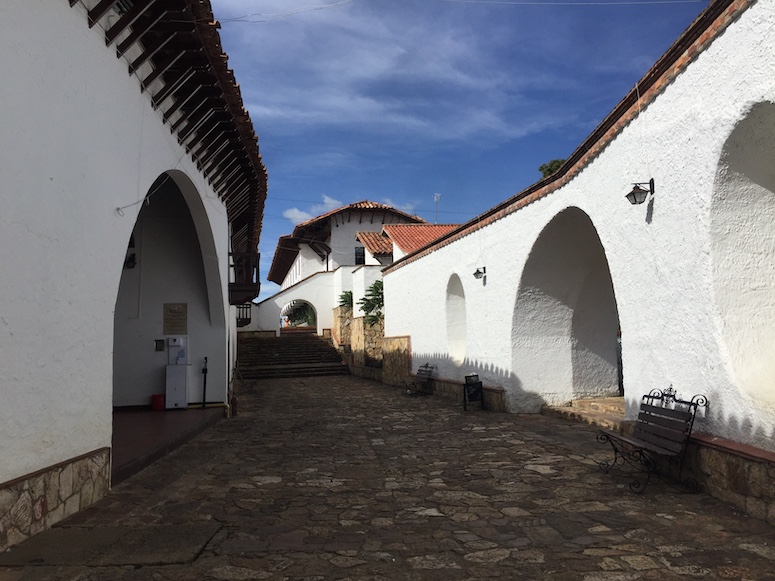 There are plenty of unique experiences that can be booked at EnCubo! Just be sure to let them know in advance if you're interested in doing any of the following activities and prices can vary based on the time of year.
Sailing: A romantic evening on a sailboat can be booked to go around the lake. The experience lasts 1 hour and 45 minutes and costs 360K Pesos for two people on a large sailboat or 300K Pesos on the smaller one. They can also have a bottle of wine and a plate of cheeses ready for you on the boat at an additional cost. 
Electric Mountain Bikes: For 35K Pesos/Hour you can rent electric bikes and a guide to take you around on the trails. 
Parasailing: Enjoy a 20-minute paragliding experience for 140K Pesos/Person. 
Hiking: A guide can take you around the trails hiking for 70K Pesos for up to 4 people.
Horseback Riding: For 65K Pesos/Person you can go horseback riding around the town for 1.5 hours. 
Explore Guatavita: The small town of Guatavita is only a 10-minute walk away from EnCubo and is a lovely place to walk around on your own. This is actually where the town was rebuilt as the nearby original location was flooded in the 1960s to create the water reservoir. While here you'll have a selection of typical restaurants to dine at, buy handmade crafts, and take lots of great photos of the charming white buildings.
Laguna de Guatavita: The famous Laguna de Guatavita is where the legend of El Dorado was born and a beautiful place to go hiking and see the lagoon. It's about a 30-minute car ride from EnCubo or a bus can be taken from the main town of Guatavita on weekends for 9K Pesos. 
---
Pet-Friendly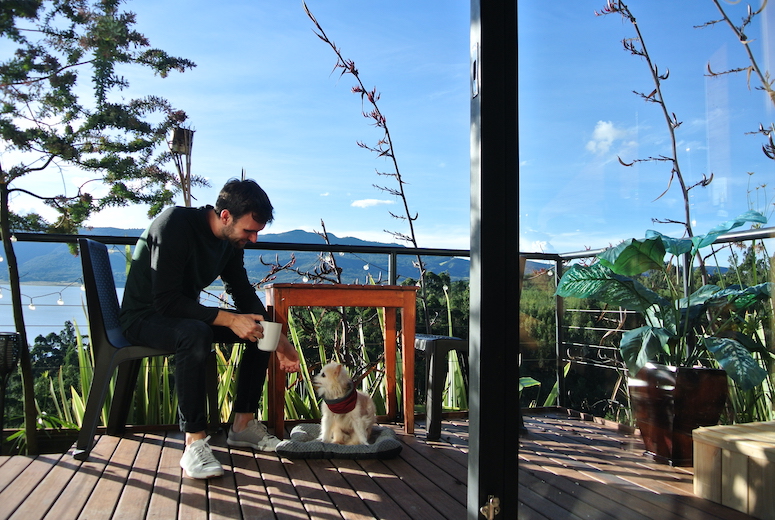 Riley gives his experience 4-paws up! As a dog-owner in Bogotá having a place to stay that is pet-friendly is at the top of the list for my travels. Riley was fully welcomed as another guest on the property and he loved his stay! There is an additional 45K Pesos charge to bring a pet.
---
Value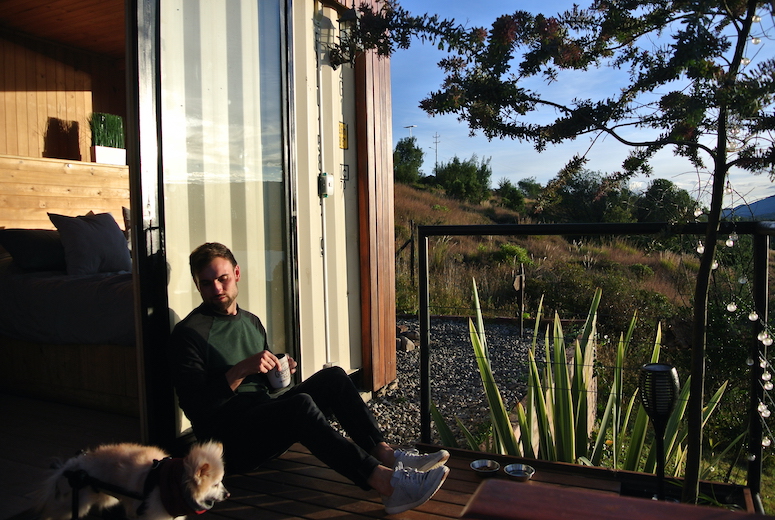 For the unique experience that EnCubo has created, they offer an incredible value that's worth a splurge. The Uzaque cabin that we stayed in, as well as the other identical Copernico cabin, are 370K Pesos/night with breakfast included. Reservations can be made through booking.com (click here to reserve through booking.com) or directly on their website (click here for website reservations). We only stayed one night but if you have the time, I would recommend two nights here to really be able to relax and have time to do a few activities. 
---
Is EnCubo Glamping For You?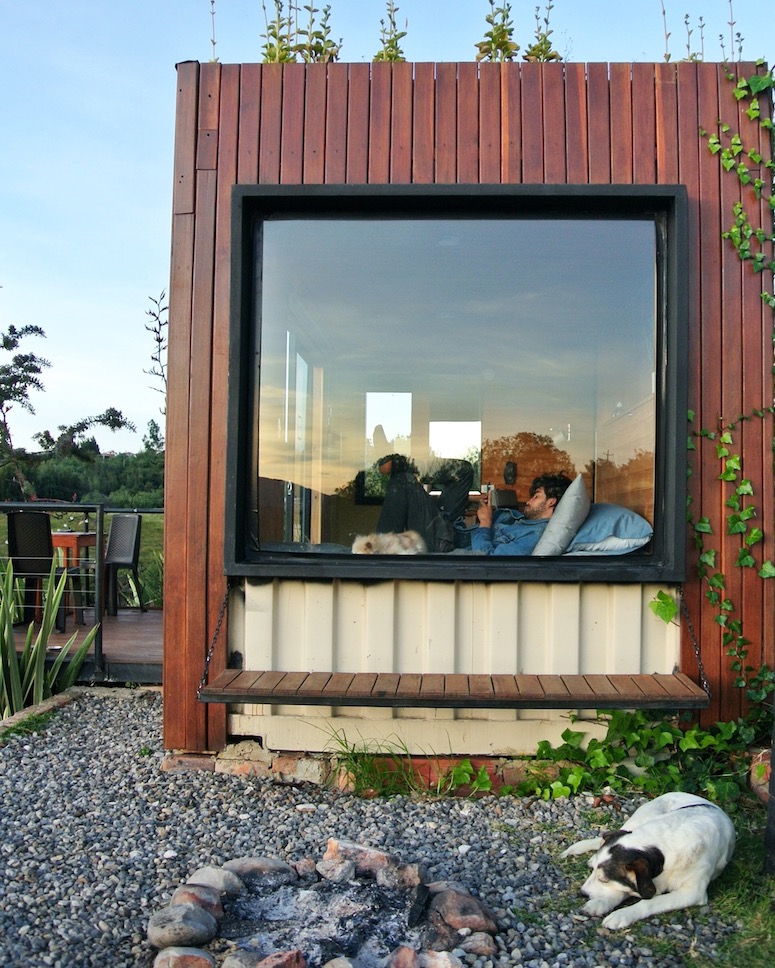 EnCubo Glamping is for the traveler looking for an unforgettable experience to get away and connect with nature. It's for people looking for sustainable and stylish design with stunning scenery. It's the perfect place to celebrate a romantic weekend away, a birthday, or any special event with family & friends (especially since you can reserve multiple cabins). 
Ready to stay at EnCubo Glamping? Book your stay here.
Disclaimer: I received a complimentary stay at EnCubo to write this article, but all opinions are my own. I only recommend places that I would stay myself! 
*This post is also available in: Español