*This post is also available in: Español
Bogotá is a massive city with tons of unique neighborhoods to explore. However, where you stay can totally change the type of experience you have! Where you're looking for a modern and polished neighborhood, somewhere edgy where local hipsters hang out, or somewhere historical and charming, Bogotá has a neighborhood for everyone. My list starts with the most Northern area of the city and makes its way down to the historic Candelaria neighborhood.
Here are the best & safest neighborhoods to stay in Bogotá, Colombia. 
---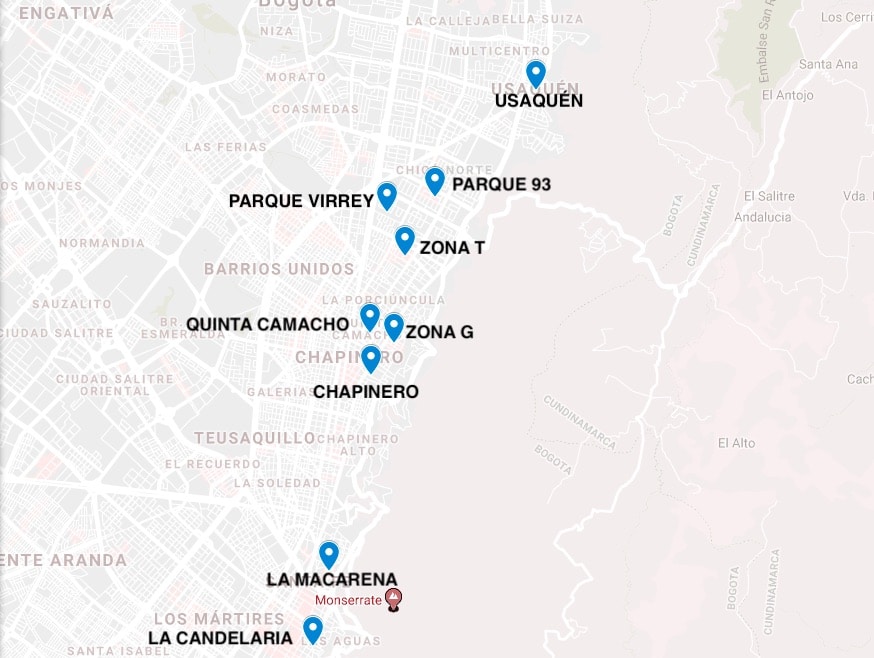 (CLICK MAP FOR NEIGHBORHOOD LOCATIONS)
---
Usaquén
Usaquén is a charming area in the Northern part of Bogotá with an amazing array of restaurants housed in colonial buildings. The neighborhood is most famous for its Sunday flea market where hundreds of artisans set up shop and you can find unique souvenirs to take back home. Staying here is a quick uber ride to get to the Zona Rosa but can be a bit far from the historic center for sightseeing since each is located on opposite ends of the city. The best three accommodation options in Usaquen are W Bogotá ($$$), Biohotel ($$), and this gorgeous penthouse with a jacuzzi ($$).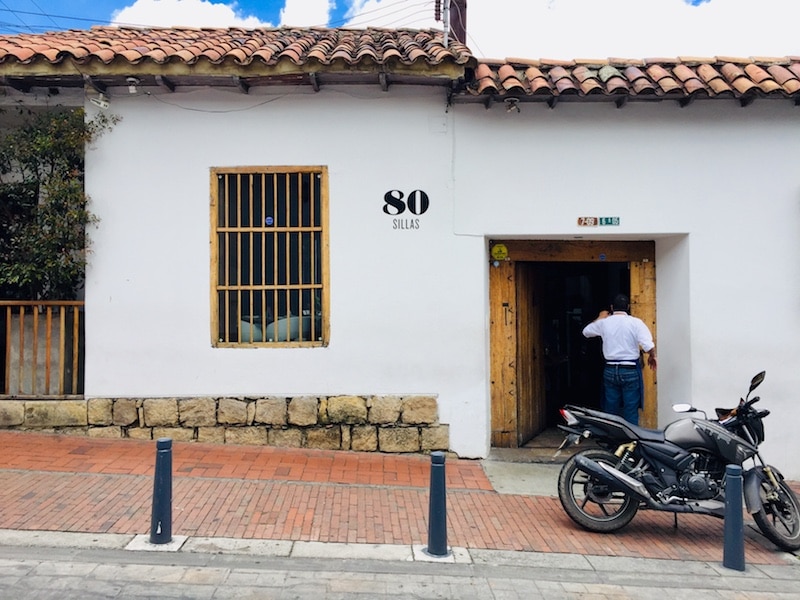 ---
Parque 93
Heading closer to the center of Bogotá is the Parque 93 neighborhood. If you're wanting to stay somewhere safe, quiet, modern, and polished this might be the spot for you. There are plenty of restaurants and bars to visit in this neighborhood like Vista Corona, Black Bear, and Cocina Abierta. The location is great though because you're just a 5 minute Uber ride away from the Zona Rosa entertainment area when you want a little more action. There are some really nice hotels in this neighborhood like the hip Click Clack Hotel ($$$), Salvio ($$$), and Selina Parque 93 ($$).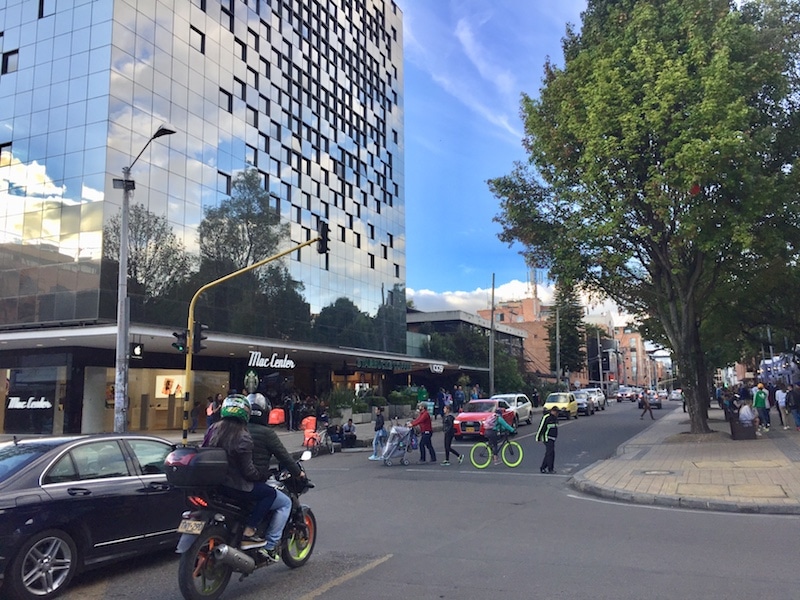 ---
Parque Virrey
Parque Virrey is a great location in Bogotá because it's super safe, quiet and within walking distance from the rowdy Zona Rosa but far enough away for it to be quiet. Plus the park is a great spot to go for a run or grab fresh fruit in the morning from one of the vendors. The best places to stay in Parque Virrey include Cite Hotel ($$$), Cassa($$$), and this luxury loft ($$).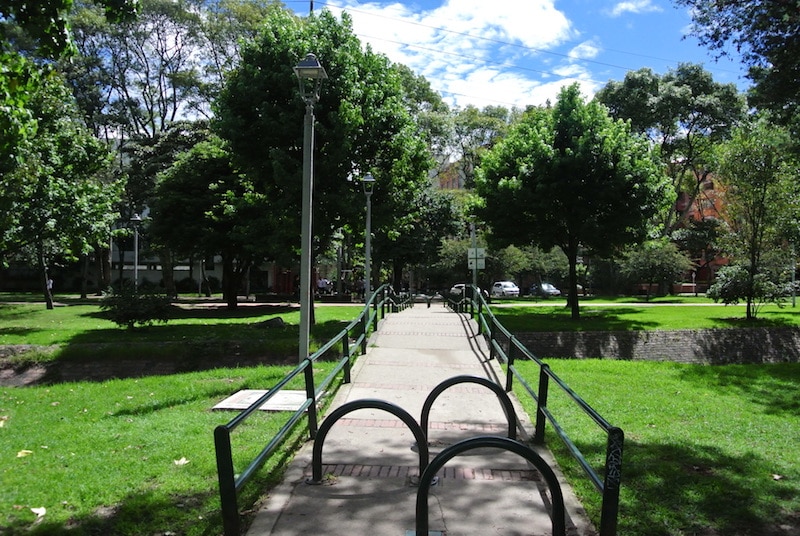 ---
Zona T / Zona Rosa
Zona T (also known as the Zona Rosa) is the entertainment district of the city with outdoor and indoor shopping, restaurants, and where most of the nightclubs are located. The name Zona T because the streets unite in a T shape. If you're the type of person that wants be in the center of the action  – this is the neighborhood for you. It's also very safe, walkable, and has the feel of any big city. In Zona T, my recommended hotels are AC Hotel ($$$), Bioxury Hotel ($$$), and BOG Hotel ($$$).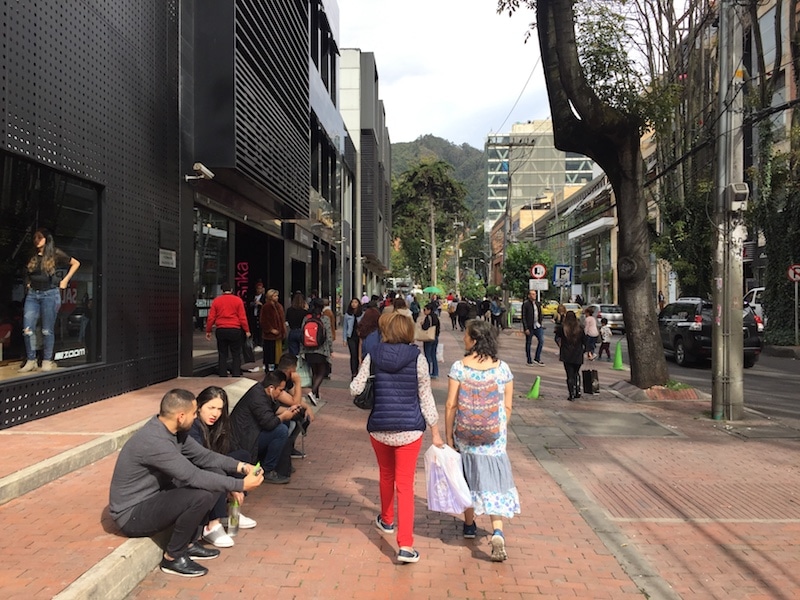 ---
Zona G
Zona G is Bogotá's gastronomic neighborhood. In Zona G, you'll find some of the city's most prestigious restaurants and it's overall very upscale. So if you're a foodie that's into fine dining experiences – this is the neighborhood for you! The Artisan D.C. Hotel ($$$),Hotel Coco ($$$), The Grace Hotel ($), and Mika Suites ($$) are steps away from the best food in the city.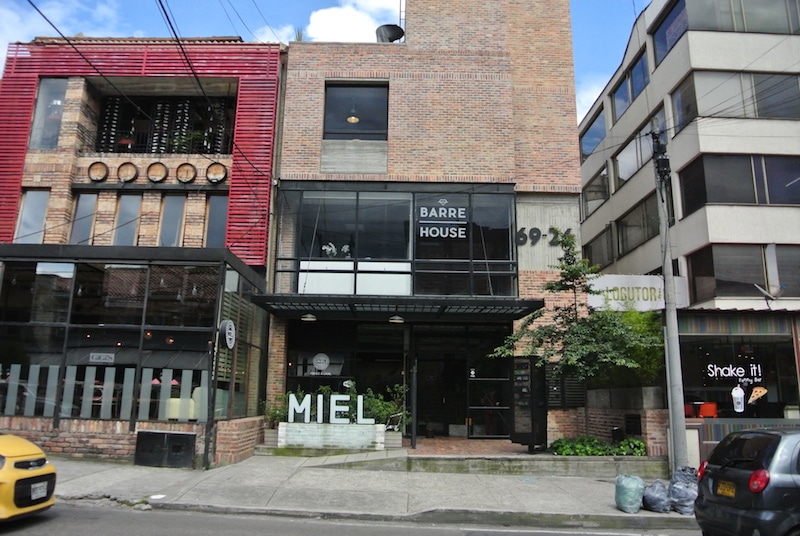 ---
Quinta Camacho
The 7th Avenue (known as La Septima) separates Quinta Camacho from Zona G. It's one of my favorites in the city because of how charming it is! The architecture in the neighborhood is completely different from the rest of Bogotá as it was constructed in the mid-20th century modeling British architecture. It's the type of neighborhood where you can stroll around and stop in one of the many coffee shops, restaurants, or bars. If you're interested in staying in this neighborhood I recommend Casa Legado ($$$) Lucitania ($$), or Republica Hostel ($).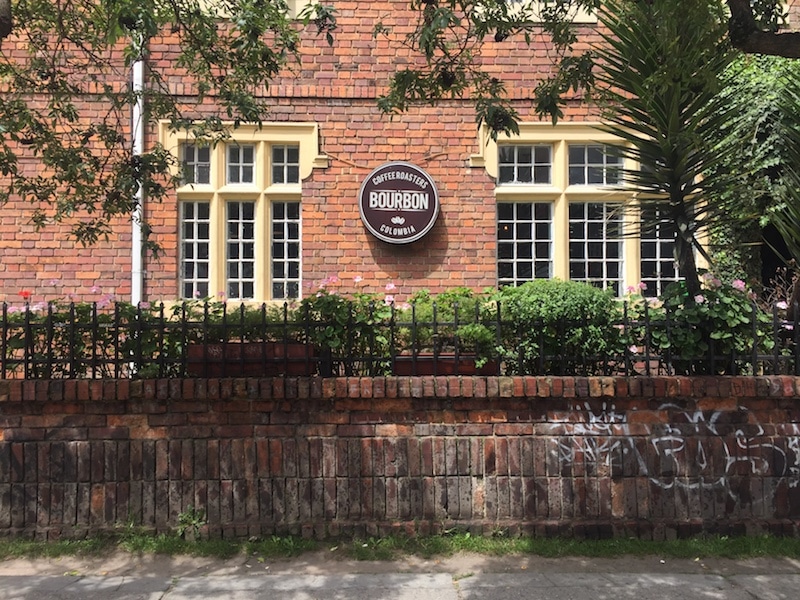 ---
Chapinero
Chapinero is where I call home and it's touted as the hipster area of the city, which is kind of true. In this neighborhood, you'll find Bogotá's under 30 creatives, young professionals, students, and a large LGTB community. The overall feel of the area is a bit more underground with hip eateries, coffee shops, and independent design boutiques to discover. My top recommendations on where to stay in this neighborhood are HAB Hotel ($$), Urban Heights ($), BOGO 64 ($$-$$$), and Casa Lelyte ($$). Or if you're looking for a super stylish & affordable Airbnb, check out this property ($) or this one ($).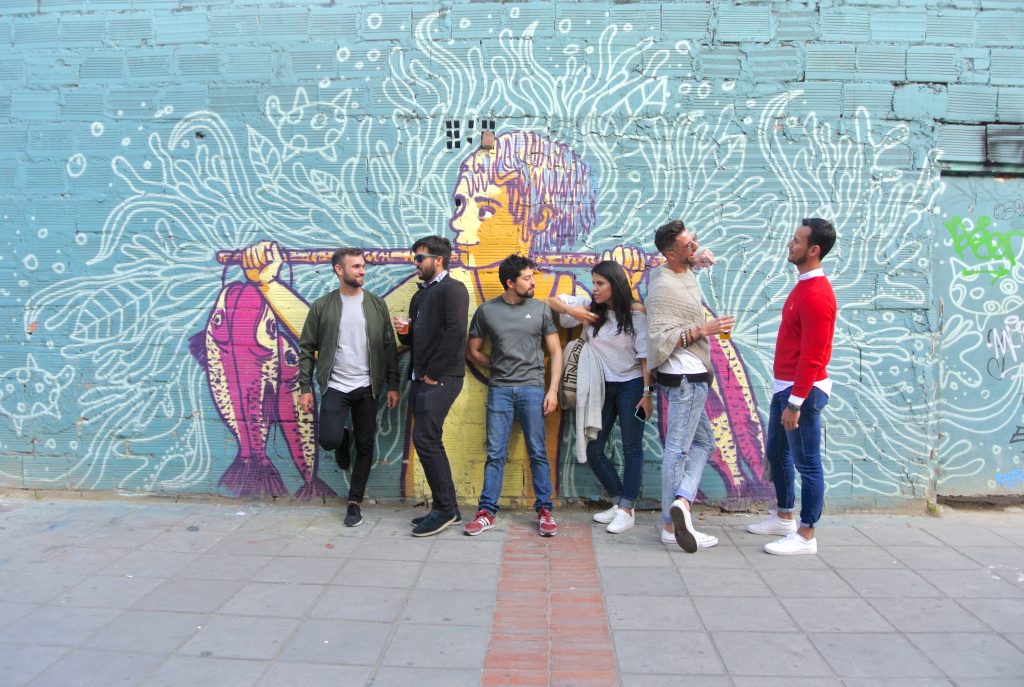 ---
La Macarena
La Macarena is an interesting eclectic neighborhood in Bogotá that is famous for its laidback bohemian vibe and an international variety of dining options like Argentinian empanadas, Spanish tapas, Peruvian cuisine, and of course delicious Colombian food. There aren't a whole lot of places to stay in this neighborhood, but if you're looking to stay here the best hotels include this two-bedroom apartment ($$) and Hotel Ibis Bogotá Museo ($$).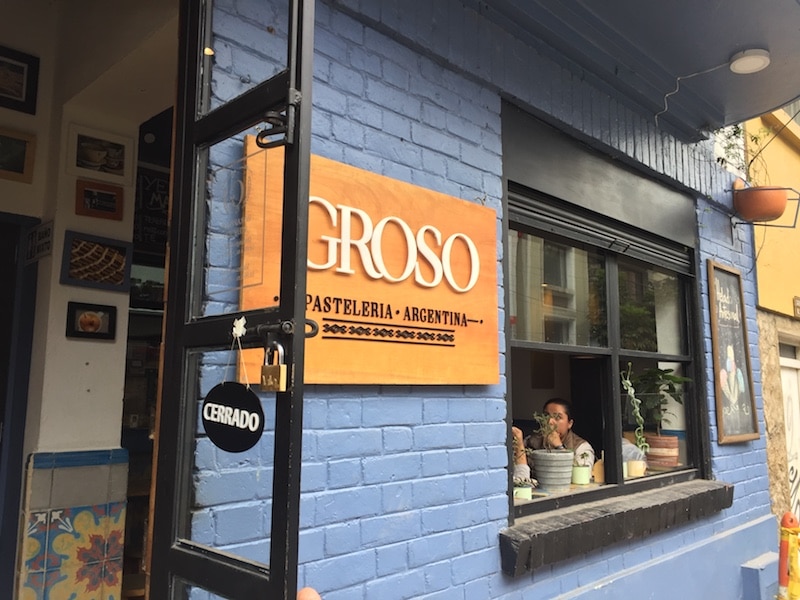 ---
La Candelaria
La Candelaria is Bogotá's historic district and is actually where a lot of tourists end up staying. The charming colonial streets, colorful murals, and bohemian vibe tend to draw visitors in. It's more of a neighborhood for a university-age crowd as many schools are in the area. At night, expect very cold temperatures compared to the rest of Bogotá due to the elevated location in the mountain. If you're a very young backpacker that prefers a laidback area – you'll probably enjoy Candelaria. Selina Candelaria ($), Botanico ($), and Casa de la Vega ($$) are a few good options to check out.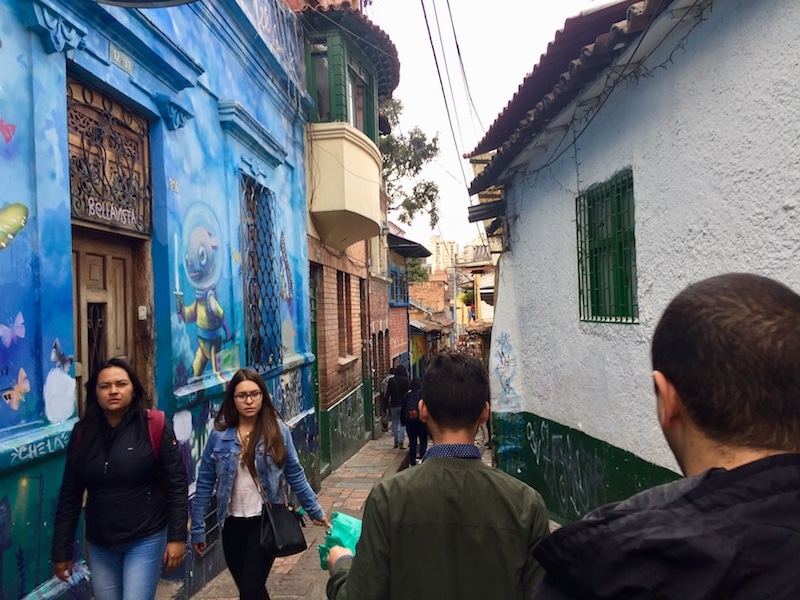 ---
Get to know Bogotá during an urban food tour with us!
We're Joey & Giovanni, local bloggers behind this website Bogotivo.com – where we write about the best places to eat, drink, party, and sleep in Colombia's cool capital city. While one of us is American and the other Venezuelan, we love our adopted home of Bogotá. You can consider us your new friends that are here to help you discover the secrets of the city through experiencing the foods, drinks, streets, people, and culture of Bogotá.
Our day will start in the bohemian La Macarena neighborhood where we will start with lunch including authentic Colombian Ajiaco soup, shop for exotic fruit at the market, take polaroid photos in front of vibrant street art, and then visit our favorite bakery for a special dessert. 
From here we will take the bus to Chapinero, one of the hippest parts of the city. In this neighborhood, you'll find Bogotá's creatives, the ​LGBT community, young professionals, and students. It's also the neighborhood that we live in! 
While in Chapinero we are going to have coffee and try one of the best arepas.
Finally, we will head to our apartment terrace for a mojito-making workshop.
VISIT THIS LINK FOR COMPLETE DETAILS >>
---
*This post is also available in: Español