*This post is also available in: Español
This unique Airbnb property in Villa de Leyva features a nearly 400-year-old swimming pool that used to power the town's wheat mill and continues to distribute water through canals to the city. Now as a guest, you can exclusively swim in the refreshing water, which legend has is a fountain of youth, and enjoy the beautifully restored rooms. Read on for complete details…
Casona La Mesopotamia | BOOK NOW
Villa de Leyva is one of my favorite places to visit near Bogotá (view my complete guide here). The weather is better (less rain, more sun, and a little warmer) plus the charm, the food, bakeries, and historical homes make this the perfect getaway for locals and visitors alike. There's a unique Airbnb property in this town to be discovered called Casona La Mesopotamia – the ultimate place to disconnect with a beautiful natural swimming pool encompassed with ancient fossils and old-world colonial architecture that transports you back in time.
---
Casona La Mesopotamia has quite a bit of history to tell as it's one of the oldest homes in Villa de Leyva and home to the first water-powered mill in the town, dating back to 1568. The water that powers the mill comes from an underground water source that filters through the bottom of the pool, functioning like a well. The water that overflows then goes through a series of canals throughout the property until it has enough force to power the mill. The actual mill no longer functions, but it's quite amazing to see this type of engineering still function after nearly 500 years!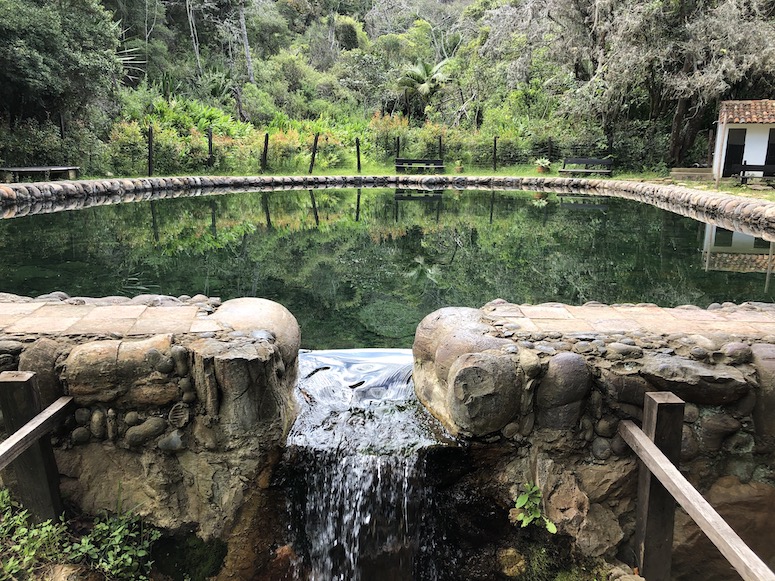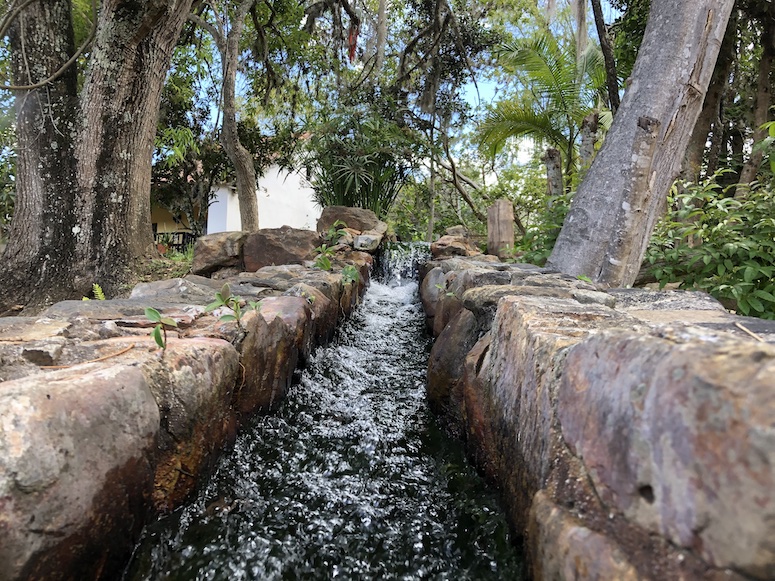 Additional structures were then added to the property and made into a series of residences in the late 1700s. It was then converted into a hotel in the 1960s and was known as Hotel Mesopotamia. It was a place where the elite of Colombia chose to spend their time and hosted a number of social events. Now the hotel has closed during the pandemic and rooms are being converted into trendy Airbnb stays by local resident Daniela, which has allowed a new personalized experience at Casona La Mesopotamia. 
---
Welcome to Casona La Mesopotamia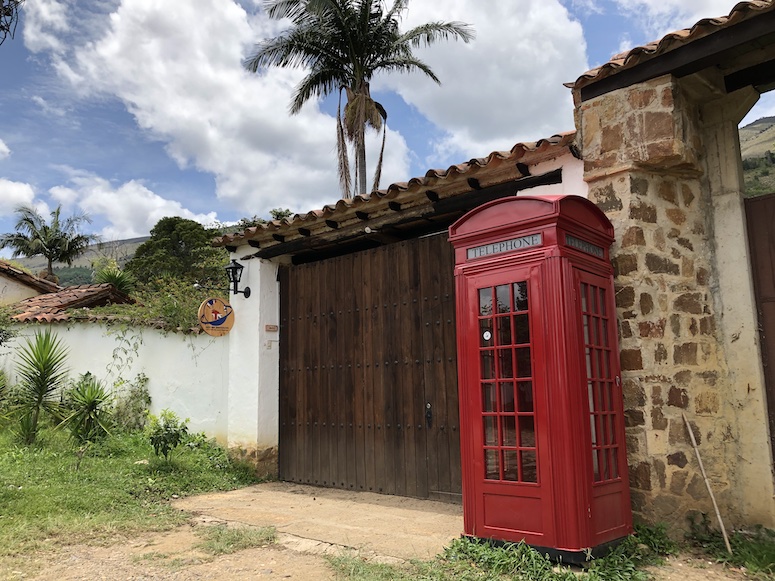 Casona La Mesopotamia is located near the end of a quiet street just a few blocks from the main plaza in Villa de Leyva. It's actually quite easy to spot as you'll see a vintage red telephone booth outside the entrance so you can't miss it! Opening the door is like entering a secret passageway to the past as you are immediately surrounded by beautiful gardens and colonial architecture. 
The property is massive as you're guided through several hallways and a beautiful lounge area with antique furniture. Small streams flow on either side of the walking paths that would have powered the wheat mill in the past and now flow directly down into the town.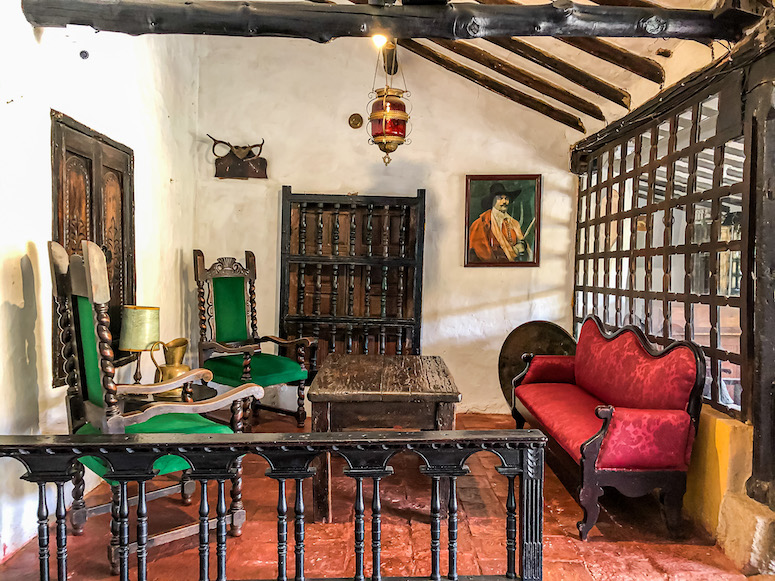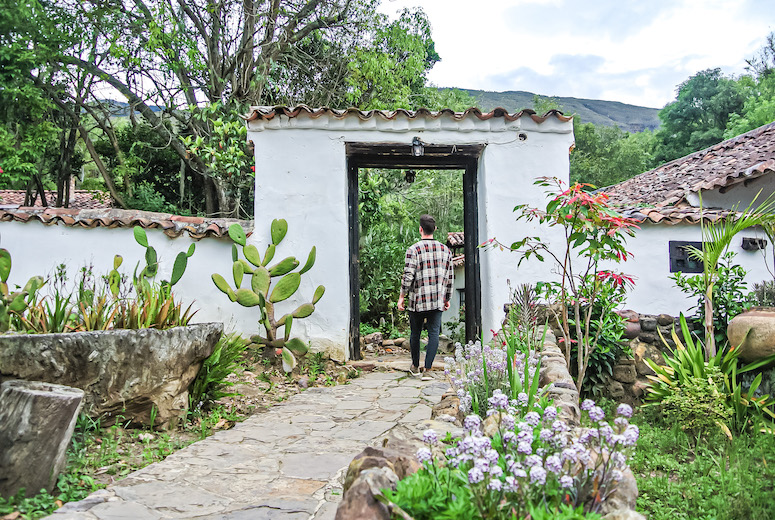 An archway with double doors guides you down a path of trees leading to the secret swimming pool. The pool is stunning with some of the purest crystal clear water. Our host Daniela said the best time to swim here is at 6 am and you'll see the water naturally bubbling up apparently this is the best time to experience the "fountain of youth".  We did not end up waking up that early during our stay but it was just as nice at 9 am. One of the coolest features of the pool is the fossils embedded into the stones. Villa de Leyva is a huge archaeological site for dinosaurs and other creatures that roamed the earth millions of years ago so it's unique to incorporate this into the design.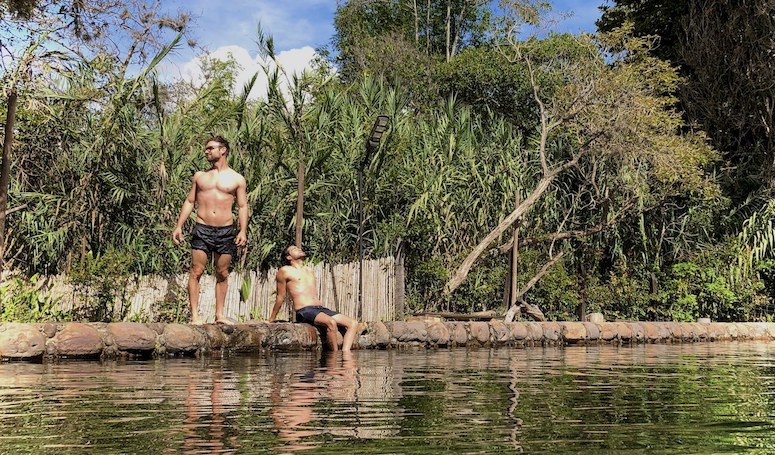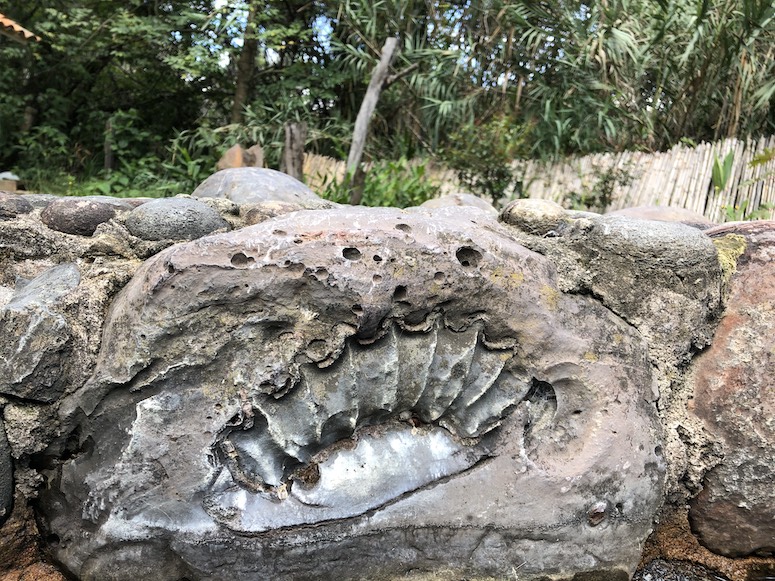 ---
Accommodation Options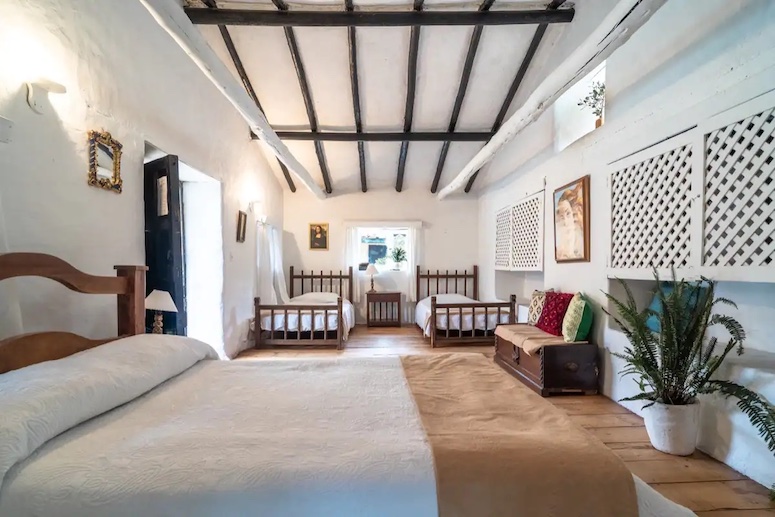 There are currently four unique rooms at Casona La Mesopotamia starting at $43 USD/night, available exclusively on Airbnb. We stayed in room #6 and would definitely stay again! The room has been tastefully decorated with beautiful antiques, white bed linens, a flatscreen TV, and a small refrigerator. Each room is different and some can accommodate up to four guests. These are the available rooms so you can choose the style you connect the most with. 
---
Location & Getting There
Casona La Mesopotamia is located on Carrera 8 #15a-265 in Villa de Leyva and is easily accessible by car or bus. The journey will be 3-5 hours depending on how you arrive. 
Car: If you have a car, Villa de Leyva is an easy 3-hour drive from Bogotá. You can put Hotel Molina La Mesopotamia into Google Maps or Waze and it will take you straight to the location. The property has a large private parking lot to leave your car.  
Bus: You can take a direct bus to Villa de Leyva leaving from Terminal Satelite del Norte (on Calle 192). Valle de Tenza, Libertadores, and Omega have busses leaving from the North Terminal to Villa de Leyva so just choose whichever has the next bus leaving (they leave about every hour on the hour). The cost is 27K Pesos. Also, it's possible that the bus will arrive late. Our 12:30 pm bus didn't actually get there and leave until 1 pm. The bus ride from the North Terminal to Villa de Leyva only took 2.5 hours, but our total travel time from start to finish was 4.5 hours (going from my apartment to the Transmilenio, to the terminal, waiting for the bus, arriving to Villa de Leyva) so these are things to take into account with planning on when to leave. Once in Villa de Leyva, Casona La Mesopotamia is a 10-minute walk from the bus station. 
---
Is Casona La Mesopotamia for you?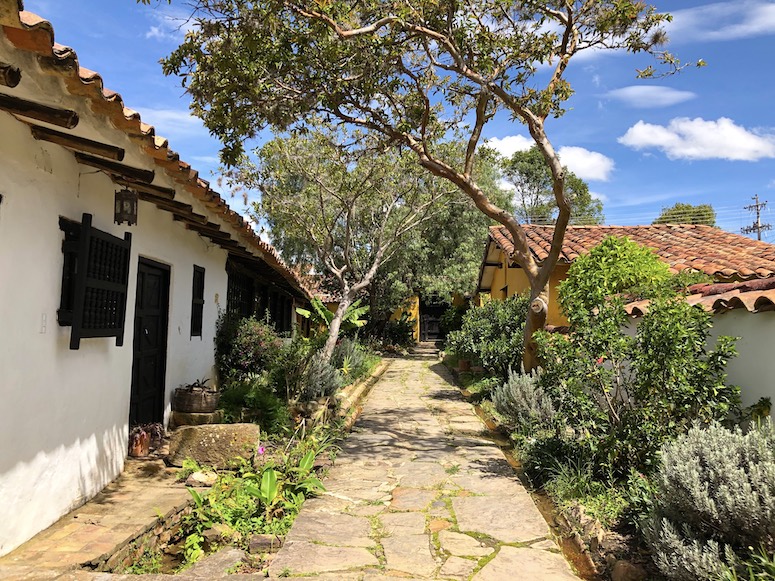 Casona La Mesopotamia is for the traveler looking for one of the most unique places to stay in Villa de Leyva. The natural pool is swimming with history and that's not the only thing that makes this place special. The gardens, architecture, and vibe that this place has can't be found elsewhere. You're also just a short walk from all the action in the main square! 
Ready to stay at Casona La Mesopotamia? | BOOK NOW
Disclaimer: I received a complimentary stay at Casona La Mesopotamia to write this article, but all opinions are my own. I only recommend places that I would stay myself! 
*This post is also available in: Español