I love using public transit when I travel because I feel like you get to immerse yourself in daily local life. However, I always found Bogotá's bus system, known as the TransMilenio, intimidating to use.
The idea of the TransMilenio is that it's a bus system that is supposed to work like a Metro, but just doesn't quite work like one. It does have dedicated lanes but still has to stop at stoplights and is in city traffic for some parts of it. However, it does actually move you around the city pretty quickly compared to sitting in Bogotá's epic traffic and I feel like I am finally a pro.
Here are my tips on using the TransMilenio in Bogotá, Colombia. 
Download Moovit
The main problem I had with trying to use the TransMilenio in Bogotá was understanding where the stations were and which bus goes where. All of the maps I found online didn't make sense to me and Google Maps kept integrating normal busses into the routes which I didn't want either.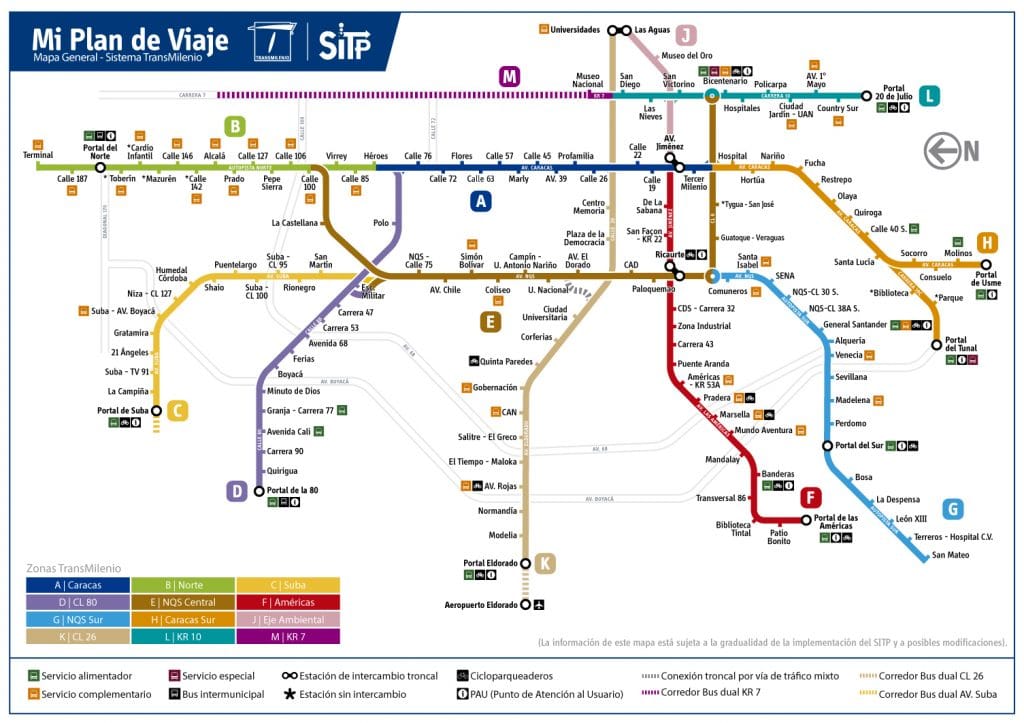 After digging around on the official TransMilenio website, I saw they advertised an app called Moovit that offers transit directions. I normally use Google Maps for everything and but after downloading the Moovit, and plugging in some test destinations, everything finally made sense.
In Moovit, you can choose to have the application only show you routes on the TransMilenio. This will be under the section "Troncales & Alimentadores routes only". Just search the destination you want to visit and it will tell you which station to arrive to and get off at, as well as any station changes.
Buy A Bus Card
Buying a bus card can be a little tricky because they do not sell them at all of the stations. I was finally able to get one after visiting the Museo del Oro at a nearby station and the cost of the card is 5K Pesos. You can use the same card for multiple people if you are traveling with a group. They also sell the cards at the TuLlave stand right outside of baggage claim at the airport.
Fares
The great thing about the TransMilenio is that it's a cheap way to get around! The cost to use the TransMilenial is $2,400 Pesos (approximately .80 cents). Since refilling the card can be a hassle I filled mine up with 20K Pesos which is enough for around 8 rides.
Should You Use The TransMilenio?
The TransMilenio is a cheap and quick way to get around but may not be for everyone. The bus can be extremely crowded at rush hour so I recommend avoiding it at all costs during this time. And just have some common street smarts while riding it: watch your pockets if it's crowded, don't use it late at night, and try not to have your phone out the whole time. If you have trouble trying to use it, Uber is a great alternative for getting around Bogotá.