Bogotá is such a dog-friendly city that I honestly see more people with dogs than kids walking around (especially at Parque El Virrey on a Sunday). I love being able to take my dog, Riley, out to eat with me. Most cafés have outdoor seating where you can bring your dog… A few places don't mind if you bring them inside. I'm literally writing this article right now with Riley next to me at a coffee shop. Some of the shopping malls like Hacienda Santa Barbara and Atlantis Plaza even allow you to bring your dog shopping. You're also allowed to bring your dog on public transportation in Bogotá.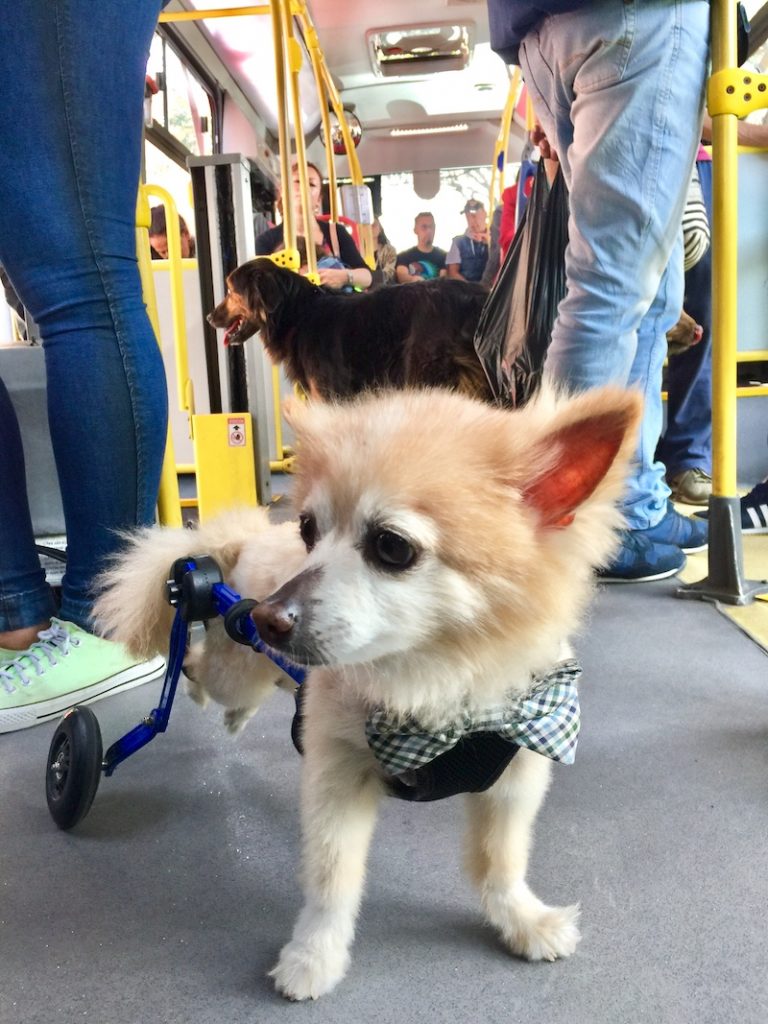 My dog Riley is paralyzed in his back legs so I need to take him with me when I travel since he requires special care. He has now traveled to five countries (United States, Panama, Costa Rica, Colombia, and Peru) and taking him in and out of Colombia is an easy and straightforward process. Here's a quick guide I've written up on how to travel with your furry friend in Colombia.
Taking your pet on the plane
You do need to pay for your pet to be on the plane or get them approved as an emotional support animal once and it's free. If your dog or cat is small, it is permitted to go in a dog carrier under the seat. If you have a large dog, it will need to be checked as cargo or get your dog approved as an emotional support animal to allow it in the cabin. Each airline has a different fee, and you typically have to pay this at the airport before your flight but some let you reserve and pay in advance. The main thing is to make sure the airline is aware that you're bringing a dog or cat beforehand because they only allow a certain amount of animals on each flight. If you're traveling on a national flight (Bogotá to Cartagena for example) just bring the current vaccination certificate and you'll be fine.
Bringing your pet to Colombia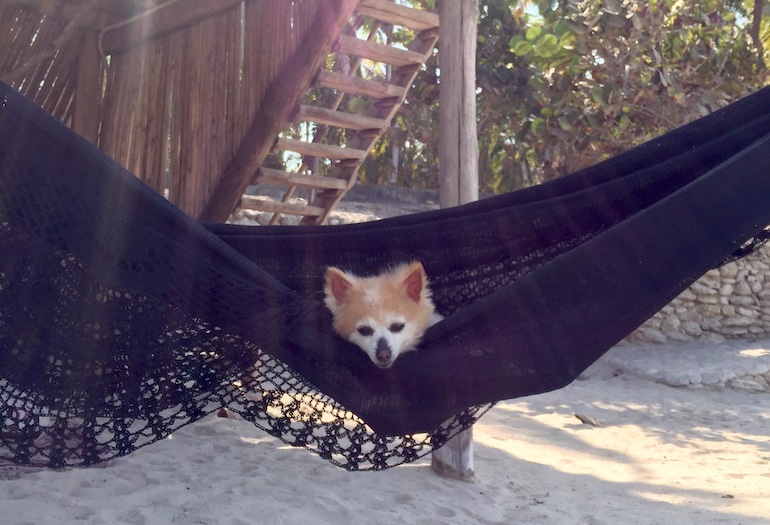 What you need:
International Health Certificate from a veterinarian, this can be done 10 days or less before your trip.
If coming from the U.S. this must be endorsed by the USDA. If coming from another country, you need an export form for the animal in addition to this.
Vaccine certificate showing your dog or cat has been vaccinated for rabies. Make sure this isn't expired.
Make TWO COPIES of everything because you never know when you're going to need them.
Ten days before your trip, you'll want to visit your vet and request an international health certificate (known as APHIS Form 7001 in the States). You then have to take this form to the USDA office in your State for them to endorse it, which costs US$38.
This is where I had a scare the last time I brought my dog in because instead of going to the office directly, I mailed it, and it didn't get back in time. In the end, I was saved because Colombia is one of the few countries that will accept an electronically endorsed certificate.
This is a new feature that most vets don't actually know about yet (I called over 10 offices to see if they had this set up). Luckily my vet in Kentucky was super helpful and took the time to set up an account to send the certificate electronically to the USDA, and it was sent back within minutes.
If you're traveling from another country you need an international health certificate and then you need an export form for the animal. Each country has a different process for obtaining this so be sure to check these details.
Once you have your health form endorsed, this, your original vaccines certificate, and an export form (if traveling somewhere other than the U.S.) are all you need to enter Colombia. After passing through immigration, you'll be directed to the ICA office to verify paperwork and pay a 45,813-peso (US$15) fee.
Also, if the breed of dog is a Staffordshire terrier, American Staffordshire terrier, Pit Bull Terrier, or American Pit Bull Terrier, Colombia does not allow these breeds to be imported. The way around this is to ask your vet to change to breed of the dog to something else that looks similar on the health certificate.
If you happen to mess anything up or are not able to get all of your documents together, your pet will most likely still be allowed to enter Colombia. However, you will have to pay a fine of approximately 500,000 Colombian pesos and ICA will visit you twice during a two-week period.
Taking Your Pet Out Of Colombia
Traveling with your pet when you need to leave Colombia is also a straightforward process. You first need to check and see what is required to enter the country you are visiting. If you're going to the U.S. you don't really need to do much! Out of all the countries I have traveled to, the U.S. has the most relaxed requirements for bringing a dog or cat. All you need to show is that your dog has been vaccinated for rabies when you enter customs in the U.S. and you're all clear. You may also want to get an International Health Certificate from a local veterinarian 3 days before your trip to be extra safe since sometimes the airlines ask to see this. An export form is not needed.
Traveling to other countries, especially Latin American ones, seem to require the same documents. But always double check!
What you need:
International Health Certificate, no more than 3 days old
Rabies vaccination
Official export form from ICA
Make TWO COPIES of everything because you never know when you're going to need them.
First, visit a local veterinarian in Bogotá or any city in Colombia to obtain an International Health Certificate. It's best to do this three days before your trip (I've even done it on the day of a trip once). Be sure to bring the rabies certificate and the vet will also check to see if anything else is required for the country you are traveling to. I bring my dog to Animal Center in Rosales if you need a vet suggestion.
Next, make two copies of the health certificate and your rabies certificate. You just never know when you are going to be asked for an extra copy of something so it's better to have these on hand.
Finally, on the day of your flight, you can visit the ICA office at the Bogotá airport to get the export form. This is located as far right as you can go on the arrivals level, a bit outside of the airport. Just ask an official if you have trouble finding it and they will point you in the right direction. You should arrive 4 hours before your flight because they take forever to process each certificate and you never know how long you will have to wait. Also, the office is only open on WEEKDAYS from 7 am – 5 pm and CLOSED ON LOCAL HOLIDAYS. If you're traveling on a weekend or local holiday you need to get your export form the day or two before. The form has a cost of $47,311 Colombian pesos and this is payable with credit card. If you are traveling from one of the other international airports in Colombia you should verify the location and operating hours.