*This post is also available in: Español
Staying in a treehouse is the ultimate way to fulfill your childhood fantasy and luckily as an adult, you can finally make dreams come true! Treehouse accommodation has been popping up all over the world and the trend has made its way to Bogotá.
The treehouse is located in Chicaque, which is a private cloud forest reserve located 1.5 hours from the center of Bogotá. It's known as a place to enjoy hiking trails, bird watching, zip-lining, and simply enjoying the amazing views.
I was surprised that I hadn't heard of this spot before. Very little comes up when you do a Google search for "Chicaque Treehouse" and I only knew about it because my cousin was extensively searching for treehouse lodges during her trip to Colombia. Even though there wasn't much information, we decided to take a chance on it and our gamble paid off!
This place truly is a hidden gem and after visiting and staying there, I understand why. There's currently just not much information about it on the internet and the booking process is difficult to do if you don't know Spanish or already live in Colombia since you have to call or email to make the reservation.
However, for locals or tourists that are visiting Bogotá – Chicaque is an amazing spot to visit for hiking trails and disconnecting from the caotic hustle of the city.
Here's everything you need to know from how to get there, reserve, and stay at this gorgeous treehouse in Chicaque.
Reserving the treehouse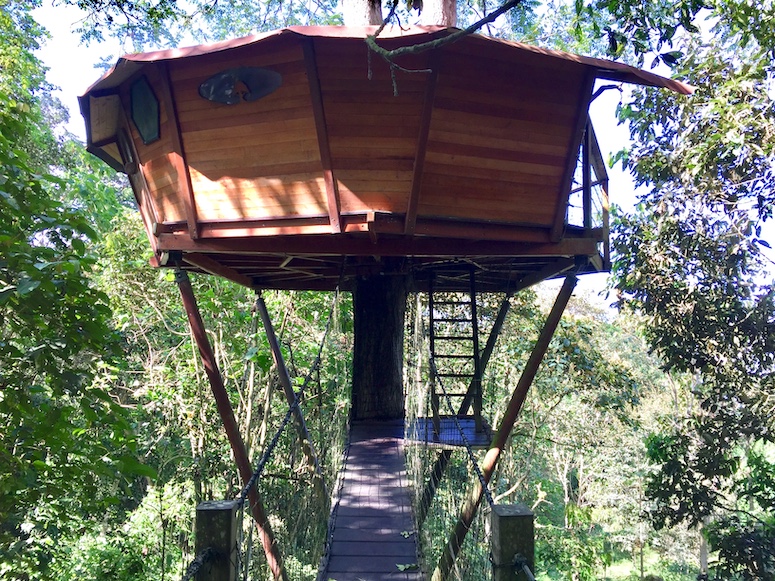 Unfortunately, the most difficult part of staying at the treehouse is the reservation process but I'm going to try and make it easy for you. There is not an automated booking system so you need to contact the park directly to make the reservation by Whatsapp (+573183506147) or email (mayerli.ortiz@chicaque.com) and tell them you would like to reserve Nido Tangara with your ideal dates and the number of people (you'll have a better chance of availability if you stay on a weekday). The person responding does not speak much English so this could be the time to utilize Google Translate for written correspondence.
The cost of staying in the treehouse ranges from 116K – 377K pesos per person based on the number of people (we were a group of 4 so ours was on the lower end). This price includes one night's lodging and two days at the park as well as breakfast brought to you in the morning. Visit this link for current rates.
Once your reservation is approved, they will send you the amount to deposit in Colombian Pesos in a Colombian bank account and then you need to send a photo of your receipt to the email. Or if you are making the reservation outside of Colombia, they will make an exception and let you pay upon arrival.
Getting to Chicaque
Public Transport: Arriving at Chicaque was actually very simple using public transport if you're up for it. Download the Moovit app and put "Terreros" as your end destination for directions on how to get there using the Transmilenio. From Chapinero it took me about an hour to get to the station. Once you're at the Terreros station you'll exit right off the bus and then left on the pedestrian bridge. When you go down the bridge you'll see a business called Servientrega (green and white sign) and there will be a white van sitting in front of here that will take you to the park. The cost of this service is 6K pesos/person and leaves at 7:00 am, 8:00 am, 9:00 am, and 11:00 am so make sure you arrive on time. You can also confirm with the park if you will be coming at a later time and they can arrange transport.
Uber / Cabify / Car: You can also use the transport apps Uber or Cabify to arrive directly to Chicaque by putting "Chicaque Natural Park" as your end destination to get all the way to the park entrance or you can put Terreros if you want to be brought to where the shuttle transport is that's mentioned in the public transit directions. The estimated cost is 70K pesos for Uber or Cabify. Or if you have a car you can put "Chicaque Natural Park" in Waze or Google Maps to get you there.
Once at Chicaque, there is a 1-hour walk to get down to the park entrance so this IS NOT a trip to do with luggage. Optionally they have a van that can take you down to the park for 17K pesos that leaves a few times a day. If you are staying in the treehouse you do not need to pay the park entrance fee since this is included. Or if you would just like to visit the park for the day the entrance fee is 15.5K – 17K pesos based on the season.
Things to do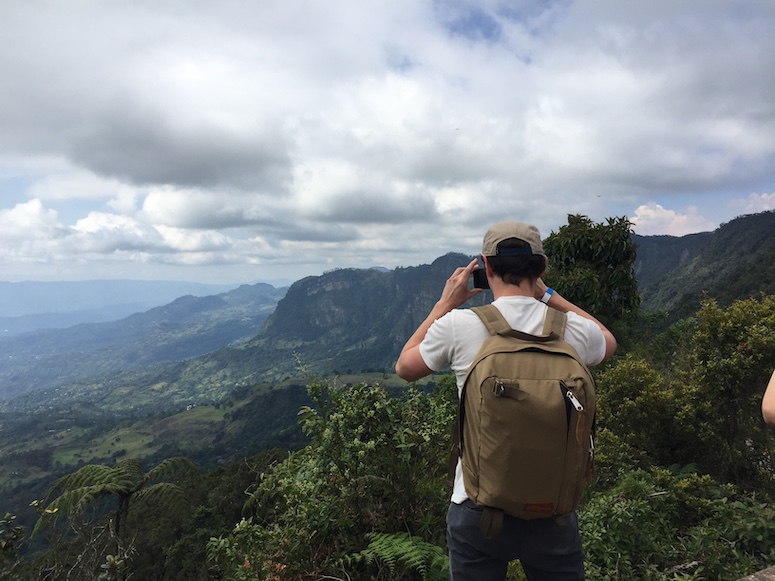 Hiking: The park has seven hiking trails that are well marked and they can be pretty strenuous due to steep inclines. The waterfall hike is the most popular option.
Zip Line: The zip line at Chicaque is 340 meters (1,115 feet) and takes you from the park to the waterfall trail so this could be a great way to start the day. The cost is 19.6K pesos/person.
Eat: You won't go hungry at Chicaque as they have a full-service restaurant at their lodge and the food was actually really good. The only thing to keep in mind is that it has limited operating hours for lunch and dinner so be sure to arrive within this time window.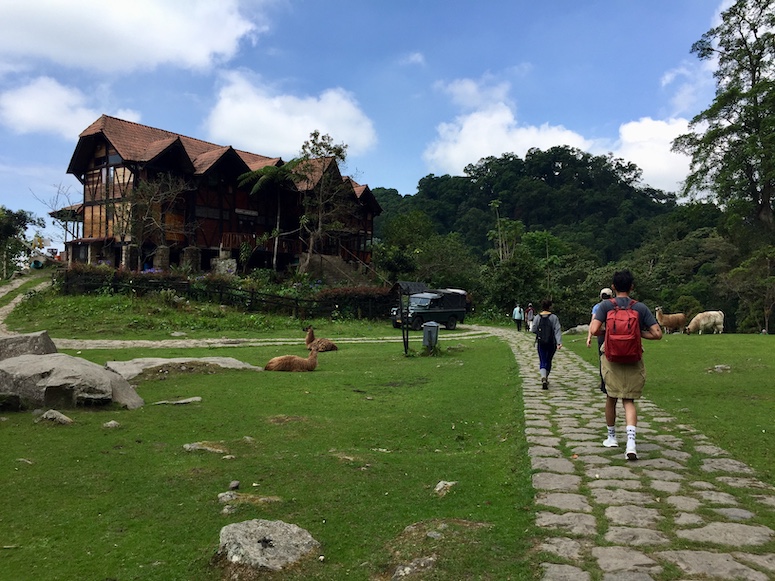 Bird Watching: This activity starts at sunrise and you will be accompanied by a bilingual guide who will take you on a walk to spot many of the over 300 bird species that inhabit Chicaque. The cost of the guide is 222K pesos total.
Horseback Riding: If you don't want to hike or take the van back to the park entrance at the end of your stay you can opt-in for horseback riding to the top. This has a cost of 28.5K pesos/person.
What's it like staying in a treehouse?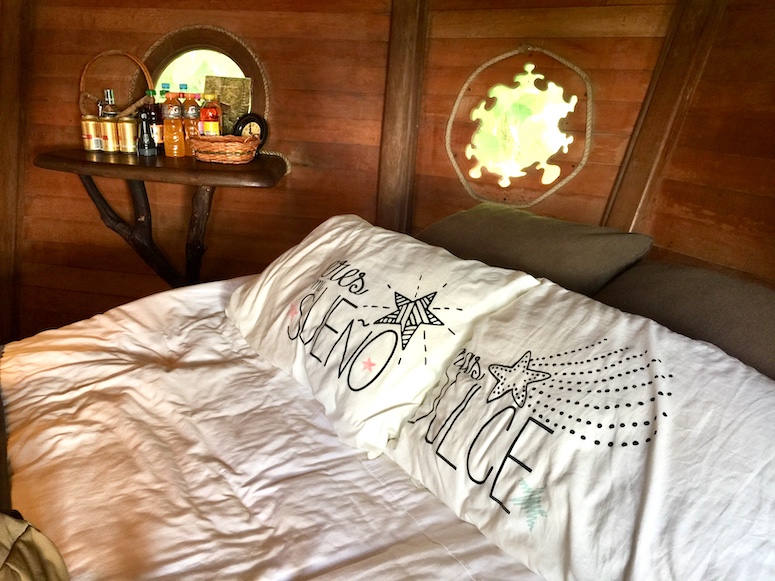 Staying at the Tangara Treehouse in Chicaque was a surprising luxury experience for everything offered. It's a 7-minute walk from the main lodge and there are a wooden drawbridge and ladder that takes you up to the treehouse. The treehouse has a spacious terrace with seating and hammocks that's perfect for enjoying a glass of wine with friends. The inside features a double bed, a single bed, and another pull out single bed so you can fit up to four guests. There is a dry bathroom inside, meaning you put sand over your waste (we designated this a pee only toilet) as well as a full bathroom outside with an amazing hot shower. Then having a full breakfast brought to us in the morning topped the whole experience off.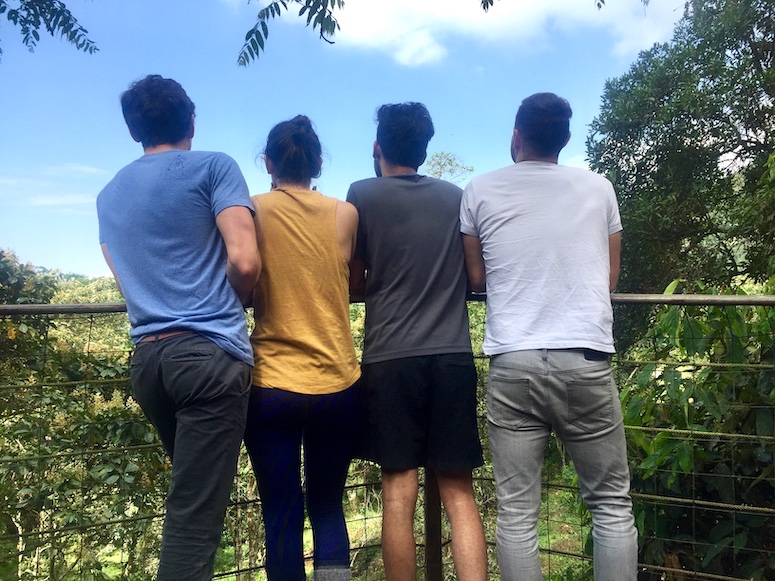 *This post is also available in: Español