With a bustling cosmopolitan center, amazing coffee, huge foodie scene, and trendy nightlife, Bogotá is one of Latin America's coolest capital cities to visit year-round. Here's how to make the most of a weekend getaway in Bogotá, Colombia. 
Start your weekend trip to Bogotá by either staying in Zona T or Chapinero (Zona G, Quinta Camacho, or Chapinero Alto sections).
Zona T is where Bogotános go to party. It's more of a commercial area with lots of restaurants, bars, and shopping malls, but lacks the character that you'll find in Chapinero. If you want to be close to the action BOG Hotel, GHL Hotel Bioxury, and The Click Clack Hotel are stylish options near the nightlife.
Chapinero is a more local area of the city and you want to stay in the Zona G, Quinta Camacho, or Chapinero Alto sections. In these areas, you'll find charming coffee shops, creative cuisine, and breweries. It's overall a very quiet and safe option in the city away from the party scene but still close enough to get to. If you're on a budget, Aurora Hostel, Chapinero Hills, or 12:12 Hostels have dorms starting around $10/night and private rooms for around $30/night. There are also some amazing boutique hotels in the area like the Artisan D.C. Hotel, Casa Lelyte, and Casa Legado.
Either neighborhood you choose is safe, walkable, and central for getting around the city. You can also read my post The Best & Safest Neighborhoods To Stay In Bogotá, Colombia for an overview of all the neighborhoods in the city.
Friday: Biking, Museums, & Views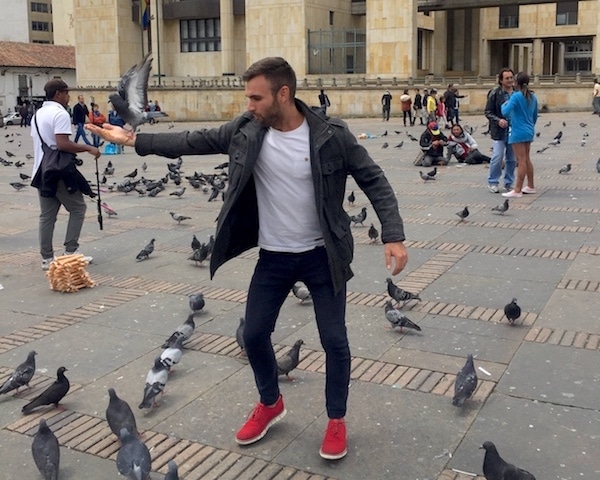 Begin the day by getting to know Bogotá's La Candelaria neighborhood and surrounding areas. This charming colonial neighborhood is lined with cobblestone streets and vibrant street art and one of the most visited areas by tourists. Grab a coffee and quick bite at Arte y Pasión, a charming café and barista school that prepares pour-over coffee right on the table for you.
After coffee, visit Plaza Bolivar for an iconic photo of Bogotá. Purchase a small bag of corn from one of the vendors for 1K Pesos, put a little in your hand, and hold your arm up and some of the pigeons may fly up to eat it out of your hand. It's may be disgusting but playing with pigeons is surprisingly fun!
But don't spend too much time playing with pigeons because you have a bike tour scheduled at 10:30 am! I've been on the Bogotá Bike Tour twice and it's the best first-day activity to get an overall feel for the city. I also love the types of spots they take you which include La Candelaria, a traditional fruit market, a coffee factory, viewing street art, and a game of Tejo, Colombia's national sport.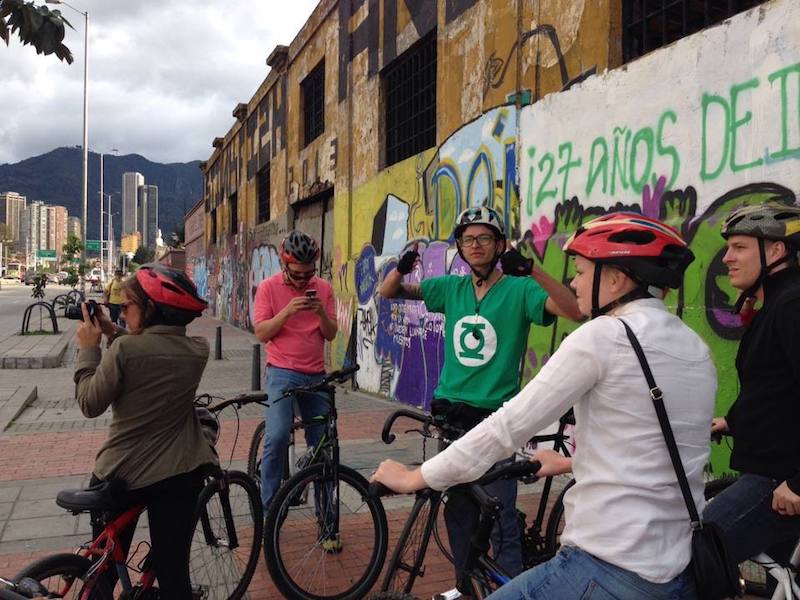 The bike tour ends where it began in La Candelaria and there are two more things you must do before you leave the neighborhood: Try Ajiaco Soup and visit the Museo del Oro (Gold Museum). 
Ajiaco is a type of chicken soup that originated in Bogotá and it is perfect for the chilly weather. Most websites and guidebooks recommend trying Ajiaco at La Puerta Falsa, but I prefer to find a place that is off the beaten path and getting off the beaten path ended up being at a really nice place! I did a search in Spanish found that Hotel de la Ópera won a contest for the best Ajiaco in Bogotá a few years ago.
The Ajiaco soup here did live up to its title, but the bonus was that I got to have it on a rooftop overlooking La Candelaria – and I was the only one up there!
Now that you're stomach is full, you can visit the Gold Museum (4K Pesos). This is something that kept getting left out in during my trips to Bogotá and after finally visiting, it is something I recommend you must do! The museum is filled with over 6,000 artifacts of Pre-Colombian gold and it was incredible to see the craftsmanship and reasoning for each piece.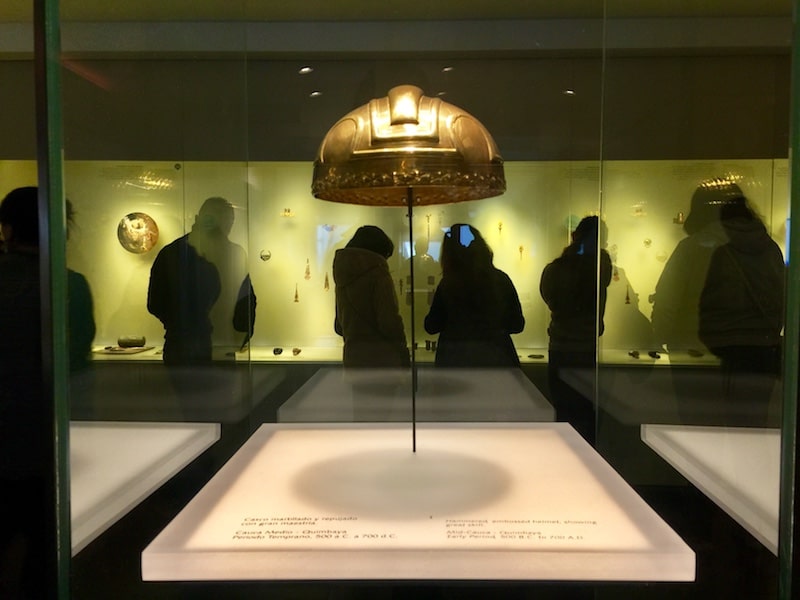 Be sure to leave the Gold Museum by 4:30 pm if you can because you want to get to the next spot while it's still light out! 
From the Gold Museum, take an Uber or taxi to Monserrate for a breathtaking view of the city. Once at the base of the mountain, there is a ticket booth where you can take a cable car to the top for 20K Pesos round-trip. This is always one of my favorite stops in Bogotá because it makes you realize just how huge this city is.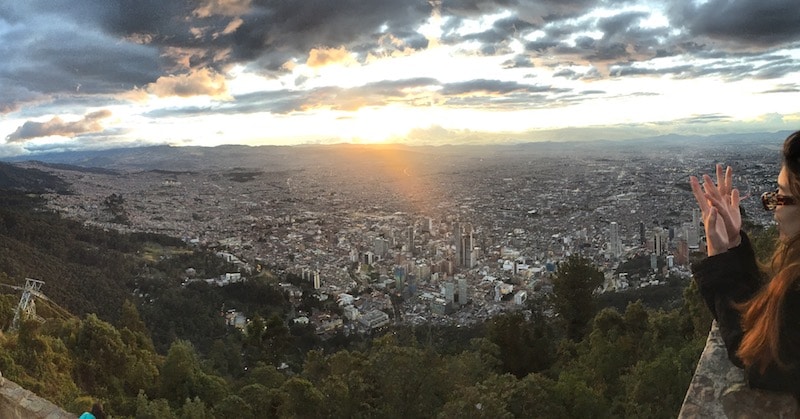 You can take your time walking around up top and there are plenty of vendors selling food, souvenirs, and coca leaf tea to help with elevation sickness. If it's a clear day you'll also be able to watch the sunset over the city at 6 PM.
For dinner, make a reservation at Segundo, in the Zona T entertainment district of Bogotá. The overall hip design and creativity of the plates makes it a fun atmosphere to start a night out!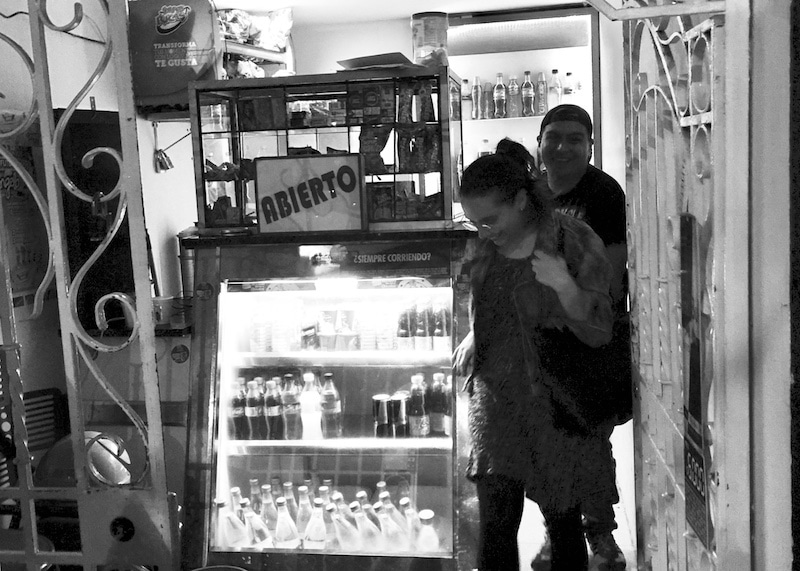 After dinner, you have to get a drink at one of Bogotá's secret speakeasy bars. There is one called Vietato (Calle 86A # 13A – 22) about a block away from Segundo and you need to put Pastrami into Google Maps to get you there. Once at Pastrami, go to the convenience store next to here and you need to give a password to the employee (write the Vietato FB Page to obtain the password). He'll then open a refrigerator door that is actually the secret entrance to the bar.
Once you have a few drinks down, it's time to party! The nightlife in Bogotá is amazing and you have so many options for a wild night out. If you want to party with Bogotá's high-society crowd, then Floyd or Clandestino are the places to go. Floyd normally just has electronic music while Clandestino has a floor with Latin music and a floor with electronic music so you get the best of both. Or if you would like to party with Bogotá's hipster crowd, El Coq or the iconic Armando Records is a staple in Bogotá's nightlife scene offering several music ambiances.
Saturday: Coffee, Shopping, & Andrés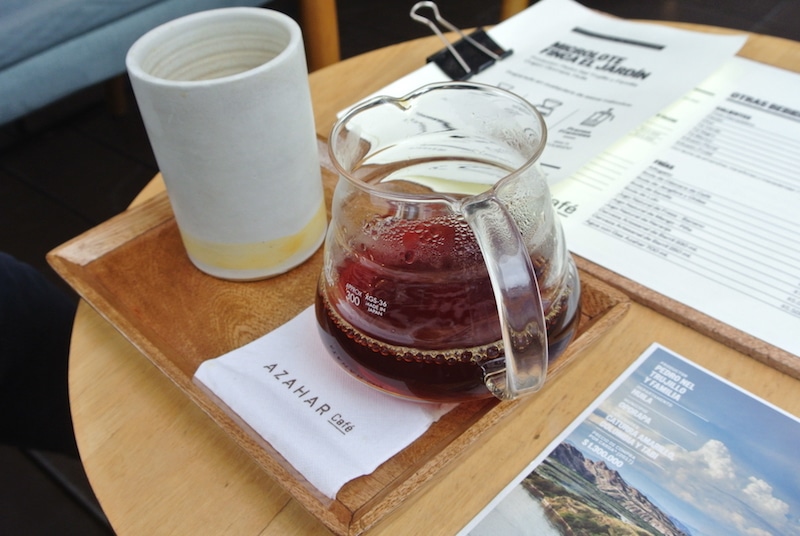 Begin Saturday with a local coffee and breakfast at Azahar Café in the upscale Parque 93 neighborhood. This gorgeous café features modern design surrounded by windows to let the natural light in. They can prepare various brewing methods like Chemex, V60 (pour-over), and French press. I also love that they are pet-friendly and have an ALL DAY breakfast in case you had a late night out.
After breakfast, it's time to do some shopping. Bogotá has a creative scene of independent Colombian designers and boutiques with items that you cannot find anywhere else, making it an awesome shopping destination. La Percha, located in the Quinta Camacho neighborhood, is a great spot to start. This neighborhood looks like nothing else in Bogotá and is filled with restaurants, shops, and houses with mid 20th-century architecture. Walking through here feels like walking through an old English village.
La Percha is focused on fashion and houses clothing, shoes, and accessories from over 60 Colombian designers. 
Once you're hungry, stop by 7 Cabras for lunch, also located in Quinta Camacho. This Mediterranean inspired restaurant is one of my favorites! I ordered an appetizer of hummus and a main dish of seafood pasta and both were flavorful and restaurant is very well designed.
After lunch, if you would like to explore another area of the city, take an Uber to the La Macarena neighborhood. This neighborhood is known for its bohemian vibe and international cuisine. While here, you need to visit Café Origami. Hence the name, the café creatively utilizes origami in the design. Light fixtures, wall art, and figurines are all made out of paper. On Saturdays, they typically have free or inexpensive origami workshops at 3 pm. You should also walk around and explore some of the other dining options like empanadas at Grosso, Spanish tapas at La Taperia, or Colombian food at La Jugeteria.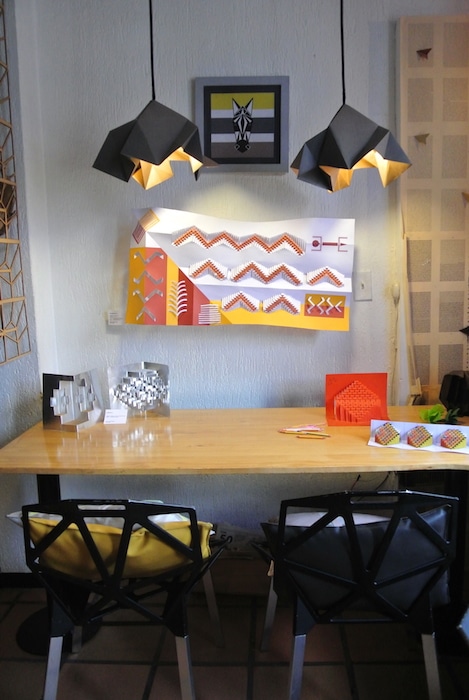 Your Saturday night in Bogotá is going to be at the most legendary party: Andrés Carne de Res. It's kind of hard to explain what Andrés Carne de Res is because it's something that you have to experience to understand. There are two locations, one in the city and one in Chia. If you are going to visit Andres Carne de Rés, you need to go to the one in Chia.
The Chia location is around 50 minutes from the city so I recommend booking a spot on the Andrés Carne de Res Party Bus because they take care of the transportation both ways, entrance fee, you get free cocktails on the bus ride there, and have a fun group to party with. Once there you can order typical Colombian dishes, drinks, and dance on a table. I think after going you'll have an understanding of crazy Colombian culture.
Sunday: Flea Markets, Movies, & Mojitos
On Sunday you have to spend the day in the Usaquén neighborhood. This is an artistic neighborhood with historical Spanish colonial architecture filled with trendy shops, restaurants, and bars. Every Sunday, artisans from around the city set up booths for the weekly flea market and it's entertaining to walk around viewing handcrafts and trying delicious homemade foods.
If you need a caffeine fix, stop by Catación Publica for a passionately prepared cup. This coffee shop sources and roasts their own coffee beans and provide lessons on everything you need to know about the entire coffee process.
After filling up on street food, head to Cinema Paraiso in Usaquén to watch an independent movie. The films shown are from Colombia, other parts of Latin America, and around the world. The best part is that you can order wine, beer, or food from the cafe to enjoy during the movie.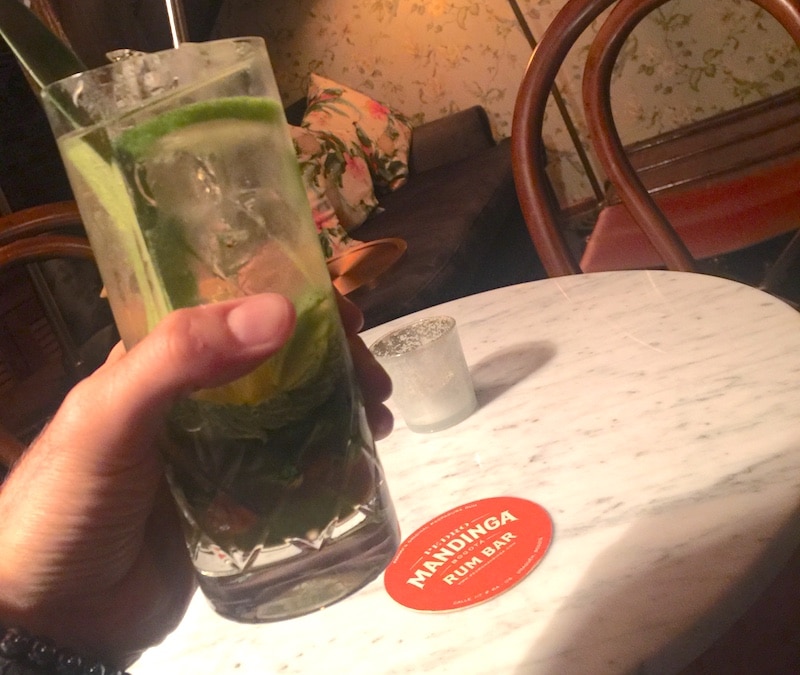 End your day in Usaquén with the best mojito I've ever had at Pedro Mandinga Rum Bar. I am a little biased on this one because I am a frequent customer at their location in Panama City, so when I found out they opened one in Bogotá I had to try it out. The design and ambiance of this location has the same classic tropical feel as the Panama one and I felt right at home ordering a mojito. However, this location has three floors and I want to live on the attic level. It's filled with comfortable sofas that will keep you hanging out for hours.
And how was the mojito? Still the best I've ever had. 
---