*This post is also available in: Español
For people looking to rent a stylish penthouse, loft, or apartment in Bogotá, Colombia – here are the best options on Airbnb. 
I recently had a friend visit Bogotá, Colombia that has really good taste in design and needed an apartment that met this criteria. The budget didn't matter so much but it was the style, location, and uniqueness that were of value. This incited a search through every Airbnb listing to find some of the most designer Airbnb properties that you can rent in Bogotá right now and there are some gorgeous options to choose from. 
---
Designer Loft in El Nogal | BOOK NOW 
1 bedroom · 1 bed · 2.5 baths – Starting at $98 USD/night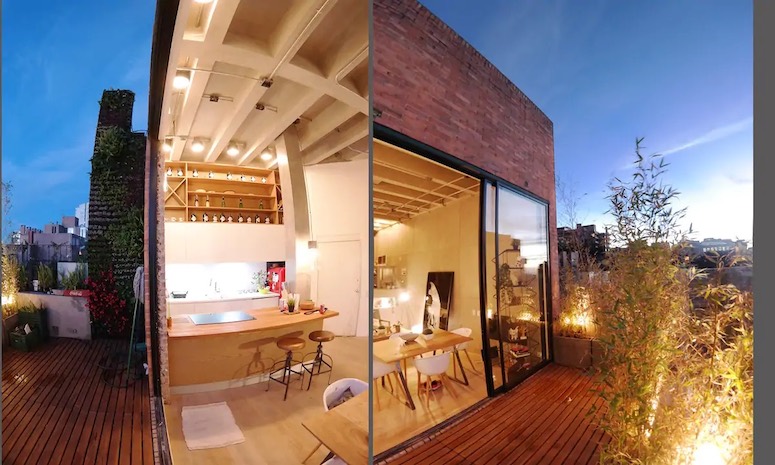 I actually got to see this apartment in person and the level of design is stunning. The owner completed gutted a top floor apartment in the exclusive El Nogal neighborhood to create a designer penthouse full of unique touches. This place is for people that appreciate art & fashion with industrial style finishes. The apartment has tall 5 meter high ceilings, a large terrace that opens up to the living area, and an Italian-style kitchen perfect for entertaining. A partially raised second level brings you to a large studio workspace with a full guest bathroom and then flows into the master suite complete with a large soaking tub. 
---
Sleek & Modern Suite | BOOK NOW  
1 bedroom · 1 bed · 1 bath – Starting at $48USD/night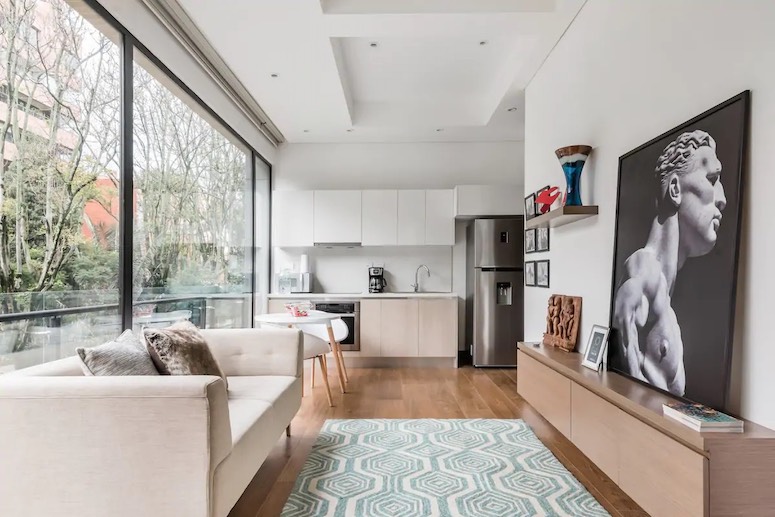 This apartment is packed with sleek style and smart design for people that want to be steps away from the lively Zona T area. One of the best parts of staying here is being able to enjoy the rooftop pool & terrace (who said you couldn't have a pool in Bogotá). The building also comes with a small gym or you're near Parque Virrey for a beautiful spot to go running. 
---
Fashion Designer Home | BOOK NOW
1 bedroom · 1 bed · 1 bath – Starting at $42USD/night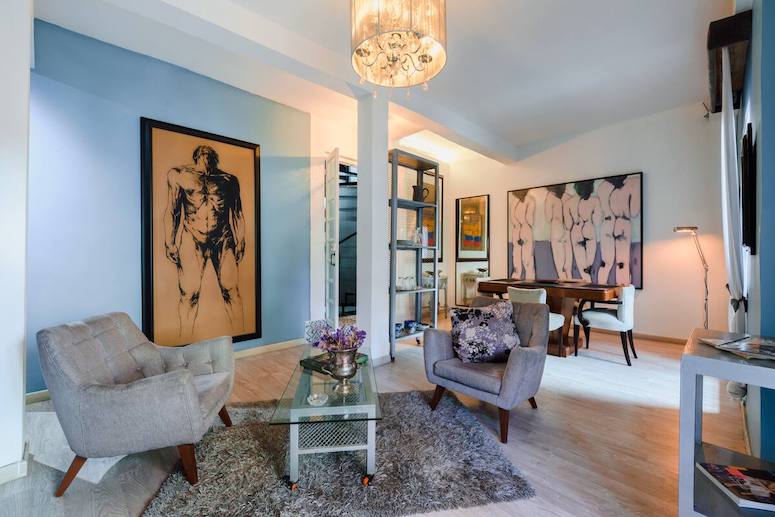 A sophisticated apartment located right in the Zona G neighborhood, home to a famous Colombian fashion designer who has his atelier in the building. The apartment has an eye for fashion with one-of-a-kind high fashion photos and artwork in the apartment. It has a cozy bedroom with a bathroom equipped with a soaking tub, a European-style terrace full of plants, and a small kitchen equipped with everything you need.
---
Fashion Designer Loft | BOOK NOW
1 bedroom · 1 bed · 1 bath – Starting at $48USD/night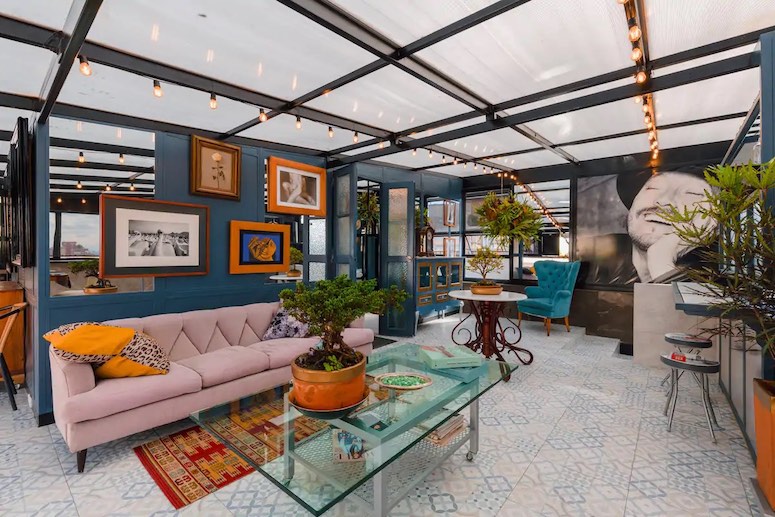 This unit is also located in the same building of the Colombian fashion designer. It's located on the top floor and the entire apartment is a covered terrace ceiling letting in lots of natural light and beautiful views of the city.
---
1 bedroom studio · 1 bed · 1 private bath – Starting at $31/night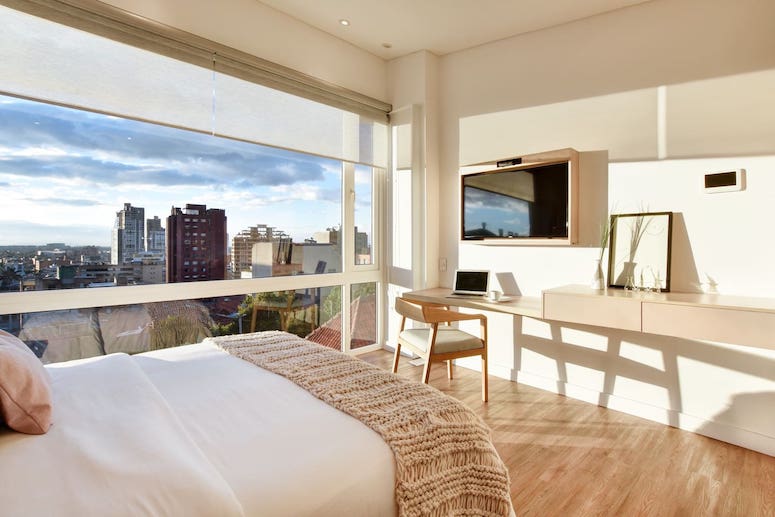 Urban Heights is located in Chapinero Alto and a stylish option for people looking for short to long-term stays. The studio apartments feature modern and fresh decor with efficient kitchens, room cleaning once a week, and a beautiful communal terrace. The location is amazing and you have the Statua Rota Brewery located directed in front, top restaurants like Mini Mal and Mesa Franca, and steps from the Mistral bakery for fresh pastries and coffee.
---
Duplex Penthouse With Jacuzzi | BOOK NOW
1 bedroom · 1 bed · 2 baths – Starting at $250USD/night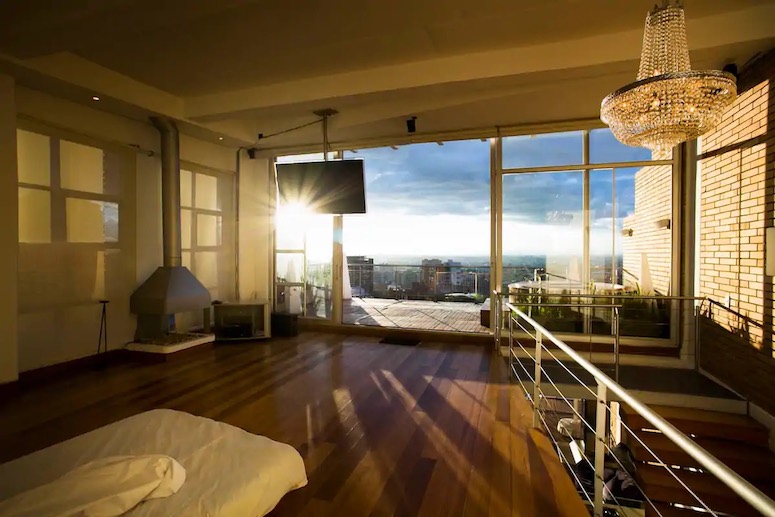 This luxury penthouse is centrally located near the main shopping and nightlife district with beautiful views over the city that you can enjoy from one of the three terraces and an outdoor hot tub jacuzzi. 
---
Cassa Luxury Homes | BOOK NOW 
2 bedrooms · 2 beds · 2 baths – Starting at $156USD/night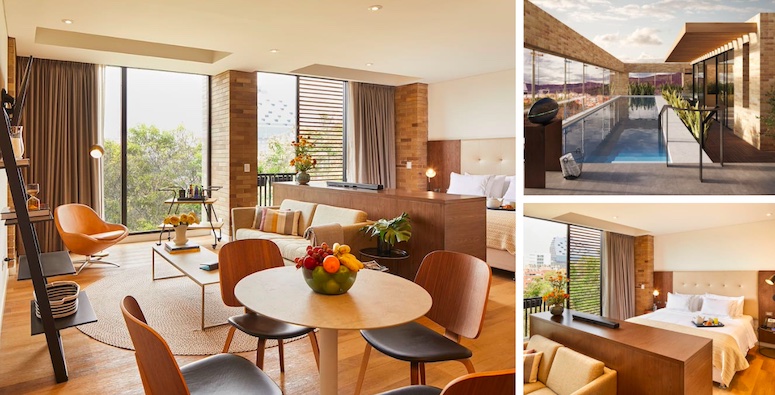 Cassa is for the traveler looking to experience boutique luxury with the feeling of being in a home with hotel amenities. The building is super well located in Parque Virrey, a central and prestigious address in Bogotá perfect for exploring the city on foot. All units have been tastefully decorated with elegant furnishings, modern kitchens, double-sink bathrooms, flatscreen TVs with Netflix, and more. The building's amenities are also why this is a hidden gem. As a guest, you can enjoy the heated rooftop pool, gym, bicycles, daily cleaning, and breakfast is brought to your room each morning. 
---
Huge Terrace Apartment For Foodies | BOOK NOW  
3 bedrooms · 3 beds · 3 baths – Starting at $90USD/night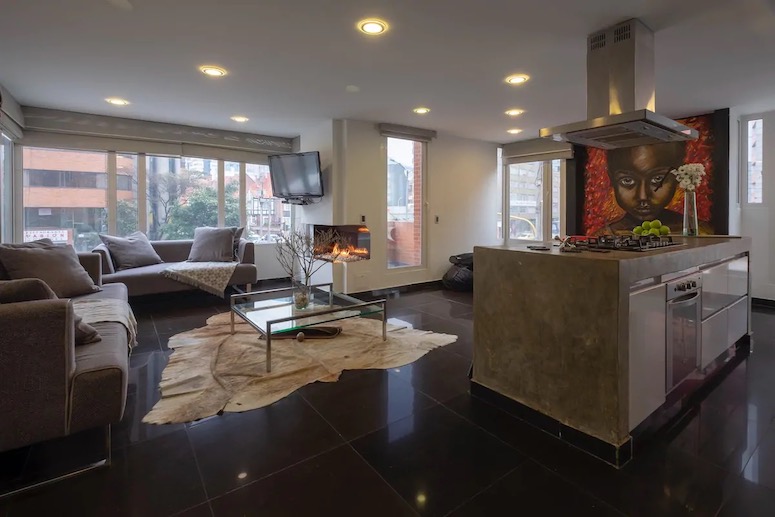 This apartment offers a large living space with modern decor and a beautiful large terrace and fireplace. The best part is the location as you're in the middle of three dining districts: Zona G, Quinta Camacho, and Chapinero Alto so it's perfect for people looking to be in the middle of Bogotá's gastronomic scene.
---
1 bedroom · 1 bed · 2 baths – Starting at $43USD/night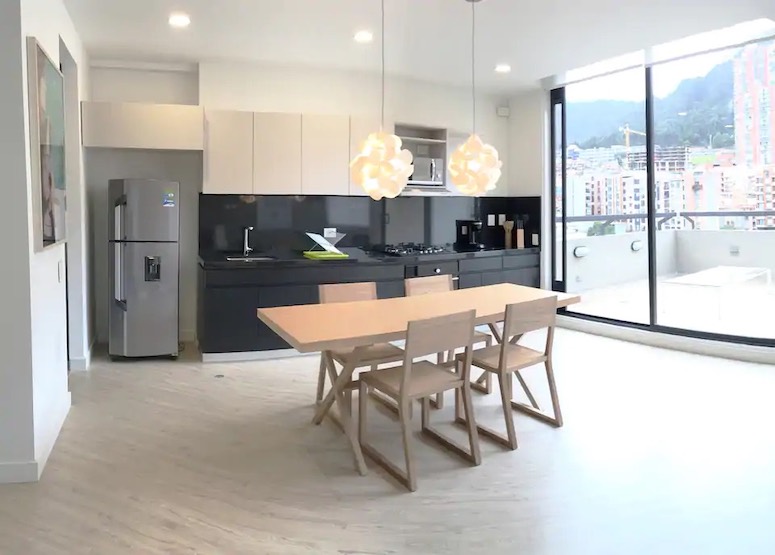 This beautiful apartment is located in the charming & quiet Chapinero Alto neighborhood where you'll get to be steps from experience some of the most delicious restaurants, bakeries, & cafés in the city. The apartment comes fully equipped with stylish decor and your own private terrace. This apartment is geared towards longer-term stays as they require a 1-month minimum. 
---
Industrial Loft in Parque Virrey | BOOK NOW 
1 bedroom · 1 bed · 1.5 baths – Starting at $54USD/night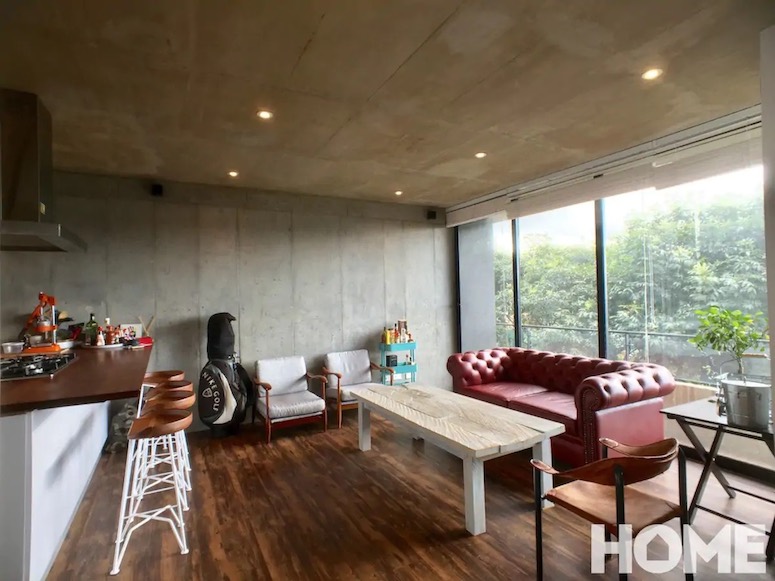 This apartment overlooks the beautiful Parque Virrey where you'll get to enjoy the tranquility of the park but be walking distance to restaurants and nightlife. The design incorporates industrial finishes and unique furniture to give the place character.
---
Attik Luxury Apartments | BOOK NOW
2 bedrooms · 3 beds · 2.5 baths – Starting at $150USD/night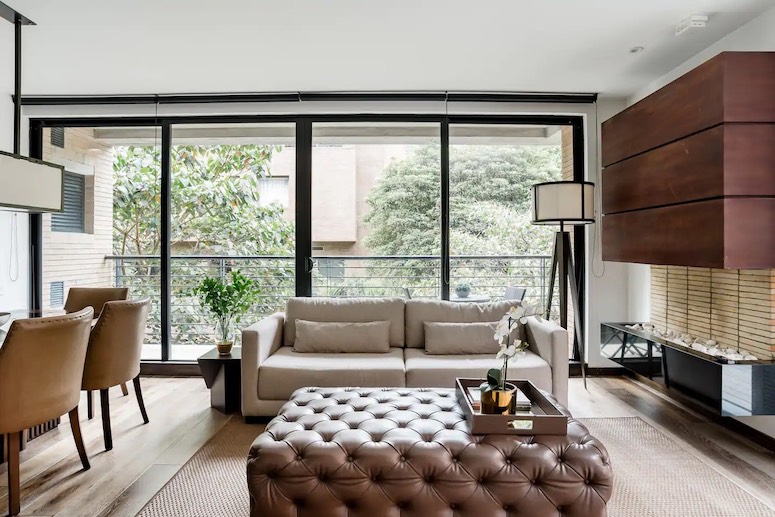 Located near Parque 93 for great restaurants and shopping. Feel a sense of calm simply by stepping through the front door of a richly decorated apartment with a 1000 Sq Ft Terrace. Deep earth tones used in furnishings, floors, and wall colors create a warm and homey environment. Relax by an open gas fireplace in the evening. Staff are also able to assist with anything during your stay. 
*This post is also available in: Español