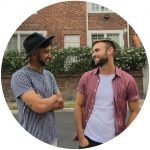 We're Joey & Giovanni, local bloggers behind this website, Bogotivo.com – where we write about the best places to eat, drink, party, and sleep in Colombia's cool capital city. While one of us is American and the other Venezuelan, we love our adopted home of Bogotá. You can consider us your new friends that are here to help you discover the secrets of the city through experiencing the foods, drinks, streets, people, and culture of Bogotá.
Highlights
Get off the beaten path by visiting four distinct local neighborhoods in Bogotá
Discover traditional Colombian food and the latest hip eateries
Become a coffee connoisseur during a coffee tasting at our favorite cafe
Try exotic fruits you'll only find in Colombia
Learn how to make your own mojito during a workshop
Food & drinks included in the price
---
What we'll do
Our day will start in the bohemian La Macarena neighborhood where we will sample authentic Colombian Ajiaco soup, shop for exotic fruit at the market, take polaroid photos in front of street art for you to take home, and visit our favorite bakery for dessert.
From here we will take the bus to Chapinero, known as the hipster area of Bogotá. In this neighborhood, you'll find Bogotá's under 30 creatives, the ​LGBT community, young professionals, and students. It's also the neighborhood that we live in! While in Chapinero you'll visit a beautiful spot to try Colombian coffee, visit a local "fruit boutique" to sample Colombian fruit, and do a mojito making workshop at our apartment terrace to end the tour. You'll also get to visit Giovanni's workshop where he designs and makes clothing.
Throughout the day we are also going to pass through strategic photo opt points with street art, city views, and trendy food spots so we are available to take your photo any time as well as give you tips on taking better Instagram photos.
What's Included
Food & Snacks: Whenever we do a food stop, your first bite is included but you are always welcome to buy more!
Mojito: A mojito that we'll make is included at the end of the tour. Non-alcoholic options available.
Public Transportation: We will be getting around in style using local public transportation so don't worry about having a bus card – we got it.
Umbrellas: The rain in Bogotá can be unpredictable so we will have umbrellas for all guests.
Notes
Meeting point and time: We will meet in the lobby of Hotel Ibis Bogota Museo, located at Tv. 6 #27-85 at 1 pm. Uber is the best way to arrive! Please be on the lookout for two guys with beards sitting in the bar area. The tour will last approximately from 1:00 pm – 5:30 pm. The tour is currently offered on Monday – Saturday but we are flexible to host on other days if it fits your schedule better.
Food allergies or other questions: Please let us know if you are a vegetarian, vegan, pescatarian, flexitarian, etc, have food allergies, or any random things you don't eat! We can customize the stops to meet your dietary restrictions. The tour will usually be with both of us but occasionally will just one based on availability. Our stops will also vary based on the day of the week and the preferences of the group. The tour can be in English or Spanish. If you have any questions, please send an email to bogotabitestour@gmail.com.